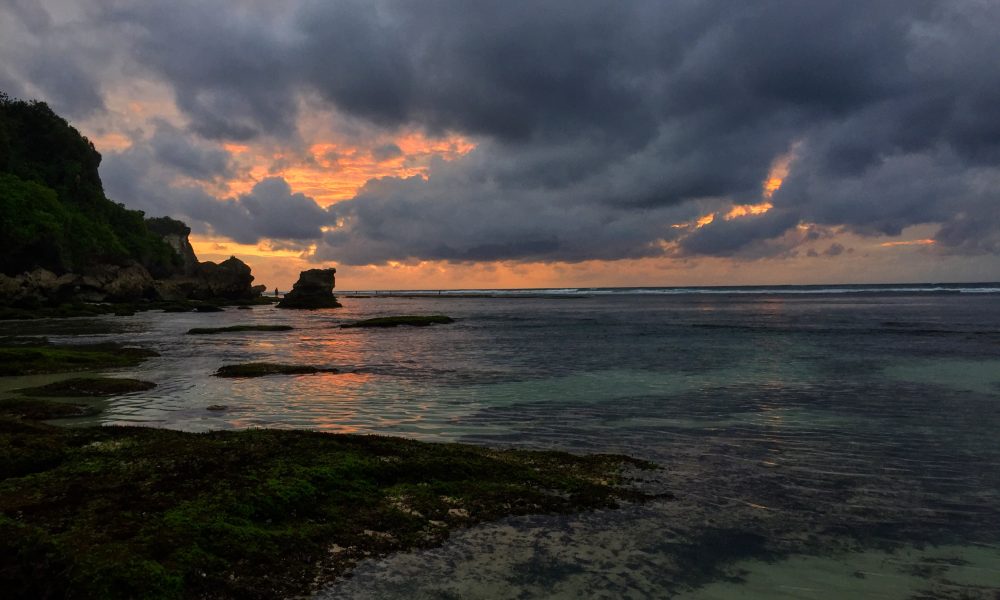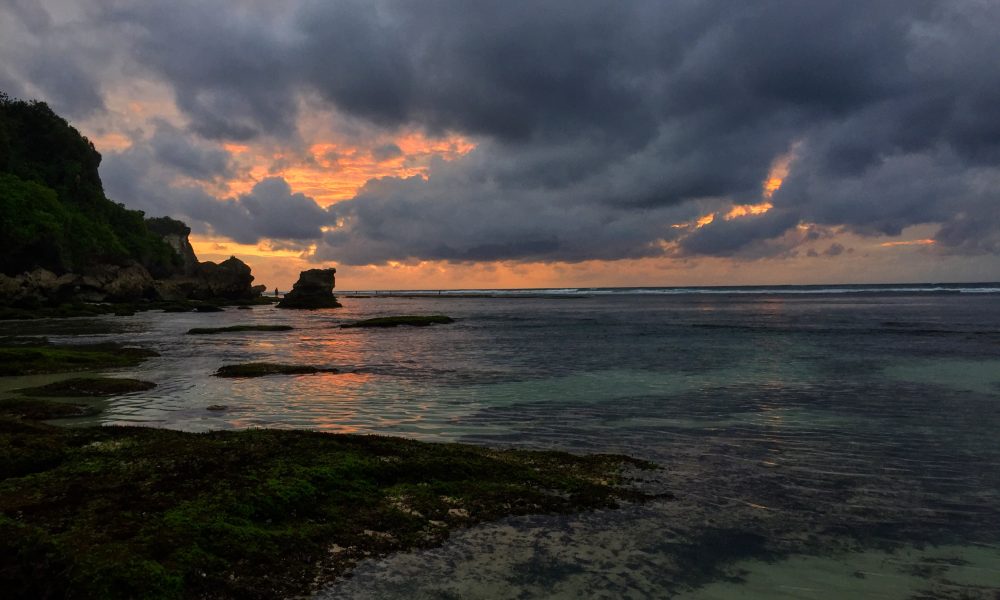 (Many photos from this blog belong to Chris Hamilton. You can find him here.
So far in life, the only time I can claim to have been a millionaire is in Indonesia, where 1,000,000Rp (Rupeahs) is equal to £50. The currency definitely took a lot of getting used to, especially as there are coins as small as 100Rp, which is less than half a penny. It became a problem instantly as I tried to buy a sandwich in Denpasar Airport with 10,000 instead of 100,000. The sandwich shop was a safe haven from the hundreds of taxi drivers begging for your custom, something we certainly weren't prepared for. We were ripped off accordingly, which could have spoiled the start of our holiday if it weren't for the fact that £2.50 extra between us for an hour and a half's cab ride is not the end of the world, but probably meant a lot to the cab driver. "You don't have to worry about seatbelts. The police won't tell you off," we were told. Welcome to Bali.
We drove from Kuta, up through Denpasar (the capital of Bali) to Ubud. The roads were insane, with motor scooters everywhere and very few rules, but everyone seems equally casual, and nobody seems to have road rage. There's certainly no "Baby On Board" signs for the scooters, and often the drivers aren't much more than babies themselves. Someone in Ubud told us that you have to be 17 to get a licence, but that it rarely mattered. We decided not to hire scooters ourselves, even though it probably would have cost us as little as £4 a day.
After that journey, quite late at night, we arrived at our homestay (popular in Bali, sort of like a B&B). Perhaps it was nice that they showed absolutely no judgement seeing two men to their room with just one double bed… It was actually us who were more taken aback, at which they gave us an extra room for the first night until they could sort out an extra bed being added. I don't think this was the last time people assumed we were a couple.
The next day, after a free breakfast provided by the homestay (Balinese bread tastes like cake!), we walked five minutes to find ourselves at the sacred monkey forest sanctuary. On the way, we noticed that dogs walk around just like human citizens, paying little attention to other dogs/people, and crossing the road with etiquette.
The jungle was beautiful to walk around, with various temples and great scenery. The monkeys themselves were untrustworthy (we saw one lull a woman into a false sense of security before plunging its hand straight into her handbag), and you're in big trouble if one bites you, but one of the guides was nice enough to help us out. He used food to coax them onto our shoulders for a little bit. In the process, however, their dirty little paws ruined my entire outfit! I only really had myself to blame.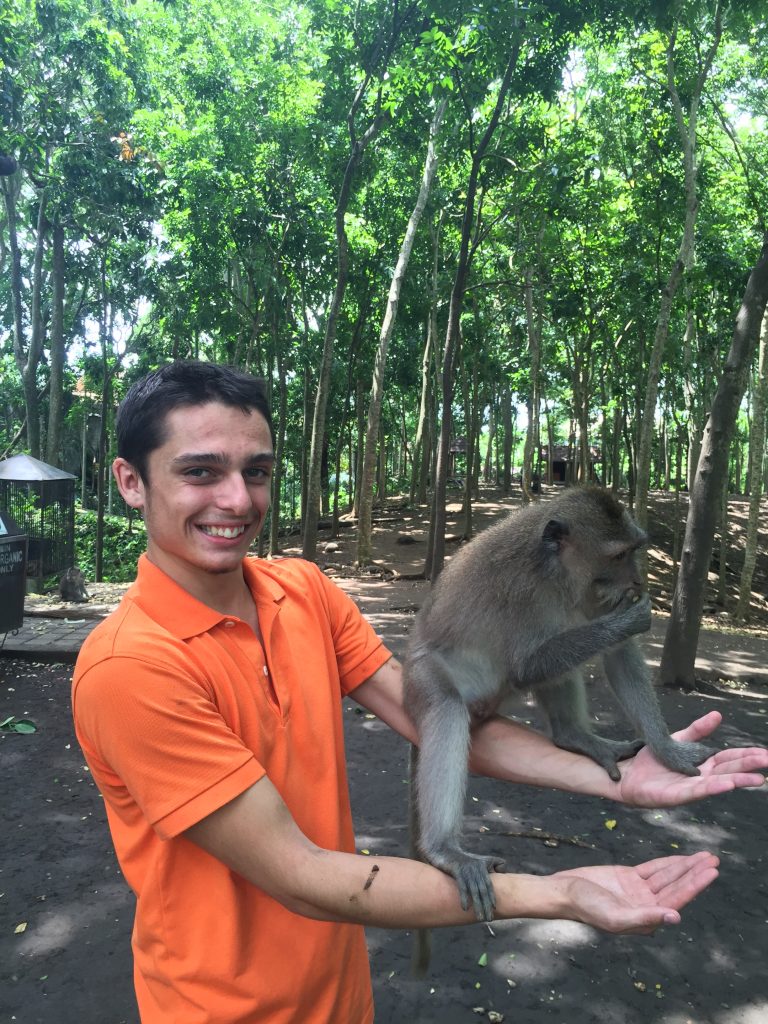 Afterwards, we walked through Ubud market and had a very cultured lunch of burger and chips. Although when walking around Ubud you might prefer to look at all the folk passing by with all sorts hanging off the back of their scooters (including ten-foot long bamboo sticks everyone was decorating for a festival we were to miss out on by a single day), you could quite easily do yourself an injury falling through one of the many holes in the pavement, into the running water below.
Ubud was the most central location we'd visit on the island, so we made a trip with a driver to many different locations, the first of which were Ubud's own rice fields. They're a very picturesque set of layers, and one of the most important locations to visit in all of Bali. A lady in the rice fields was very happy to take 40,000Rp from us to hold her baskets for thirty seconds to take photos, after which the rain started, so we rushed out from the rice fields to find our driver at the entrance with umbrellas for both of us. He looked after us very well!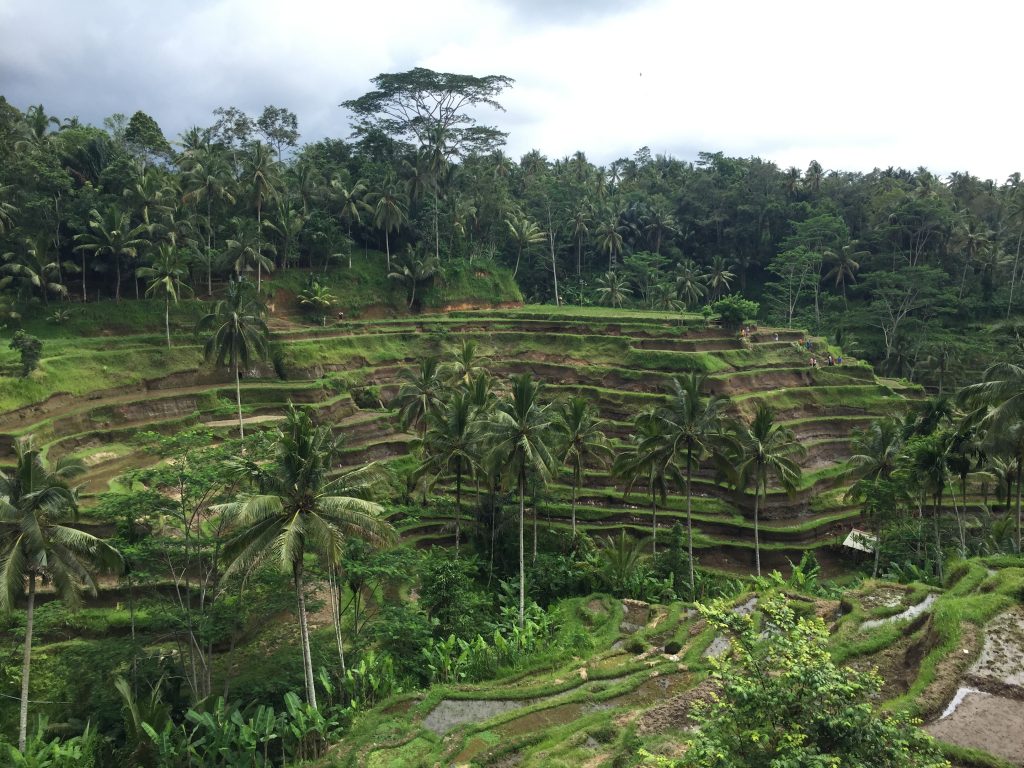 We visited a temple after this, where bare knees and shoulders were not allowed. They give you a sarong to cover up with. Just the same though, the experience would have been a lot nicer were it not for the rain.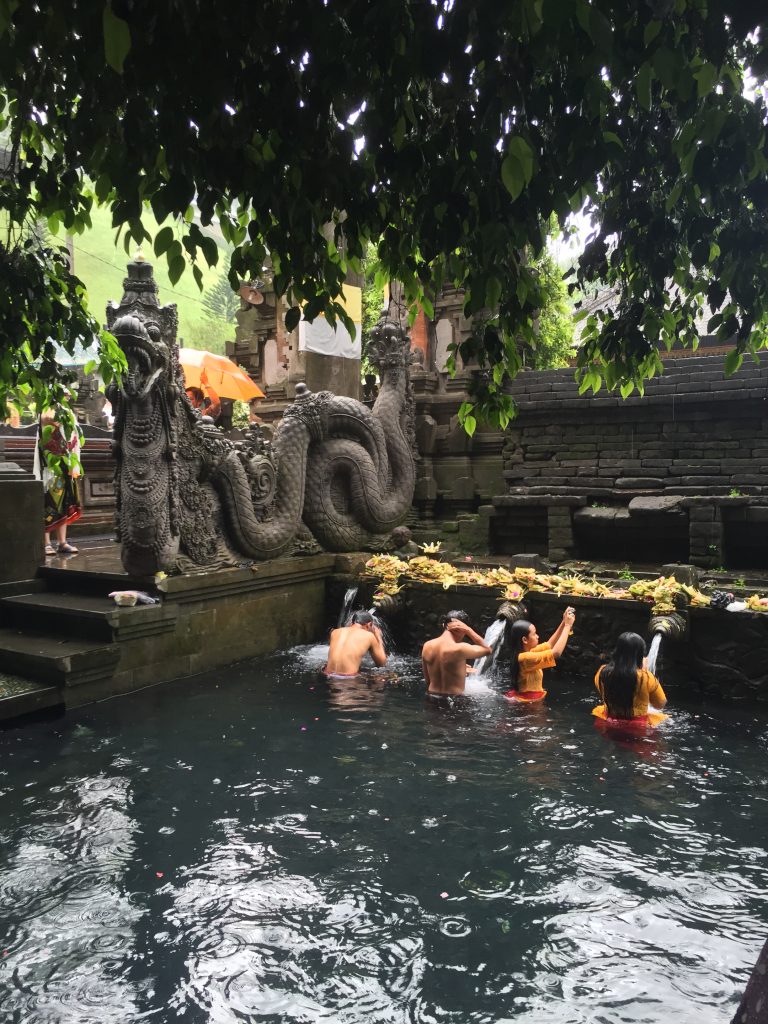 Luckily, by the time we reached Tegenungan waterfall, the rain had mostly stopped. Despite high hopes for sunshine, we had to settle for complete cloud cover.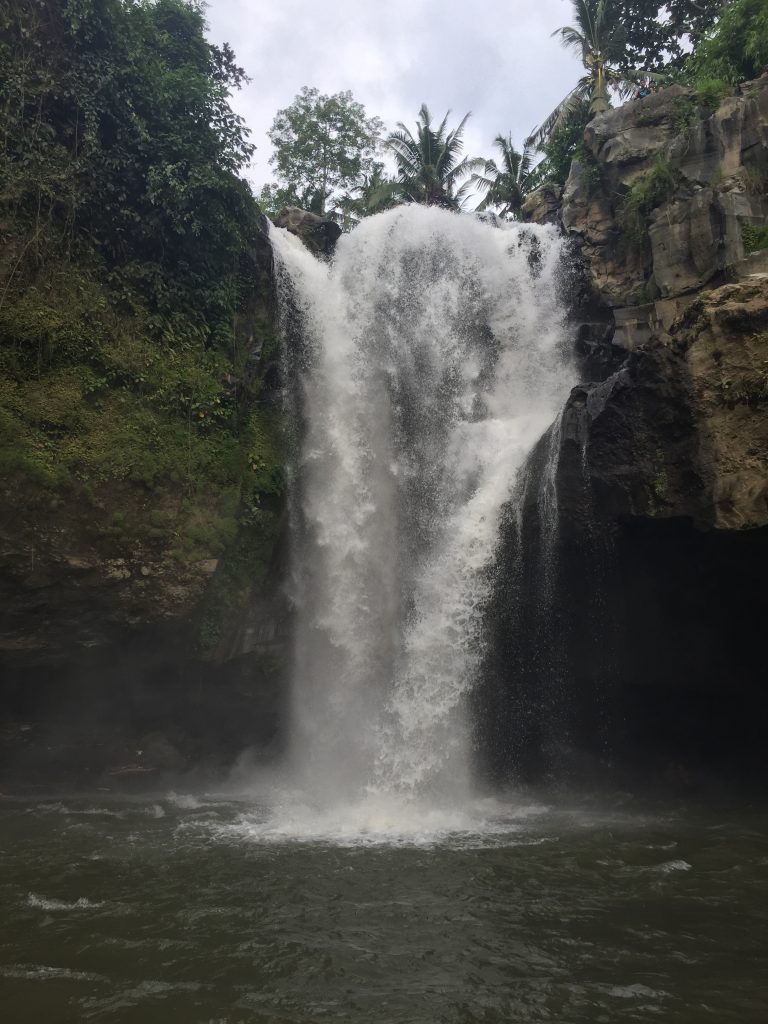 Up at 2am the next day to climb Mount Batur in the hopes of a beautiful sunrise. A difficult walk at times, an older lady (who we later found out was the wife of our guide) followed us all the way to the top with her cooler box after coaxing me into a promise to buy a coke from her once we got there. At being charged 30,000Rp for the coke, which I had only really agreed to out of politeness, I said I'd prefer to pay 20,000 for it (in Ubud, it would have been just 10,000). The numbers seem so high until you remember you're haggling for the equivalent of 50p, and I quickly gave in and paid the full amount. The guide and his wife were not young, but we certainly struggled more with the walk than they did.
While waiting for sunrise, which did not appear due to the clouds, the guides all cooked eggs in the volcano's steam and served banana sandwiches. Anybody who knows me knows of my aversion to bananas, but that was all it took for a barrel of monkeys to appear.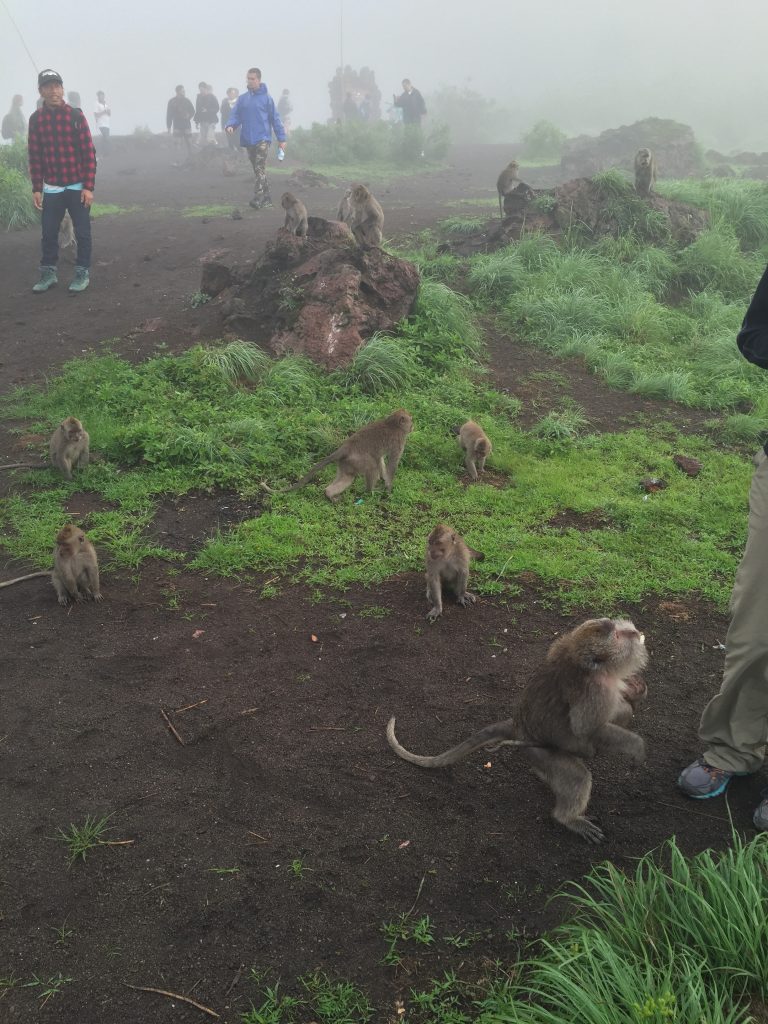 After the unsuccessful viewing of the sunrise, the guide took the five of us in his group onwards to a part away from the rest of the hundreds of people climbing the volcano. He said to us, "it's not part of the tour because it's an active volcano", but the views and heights were impressive.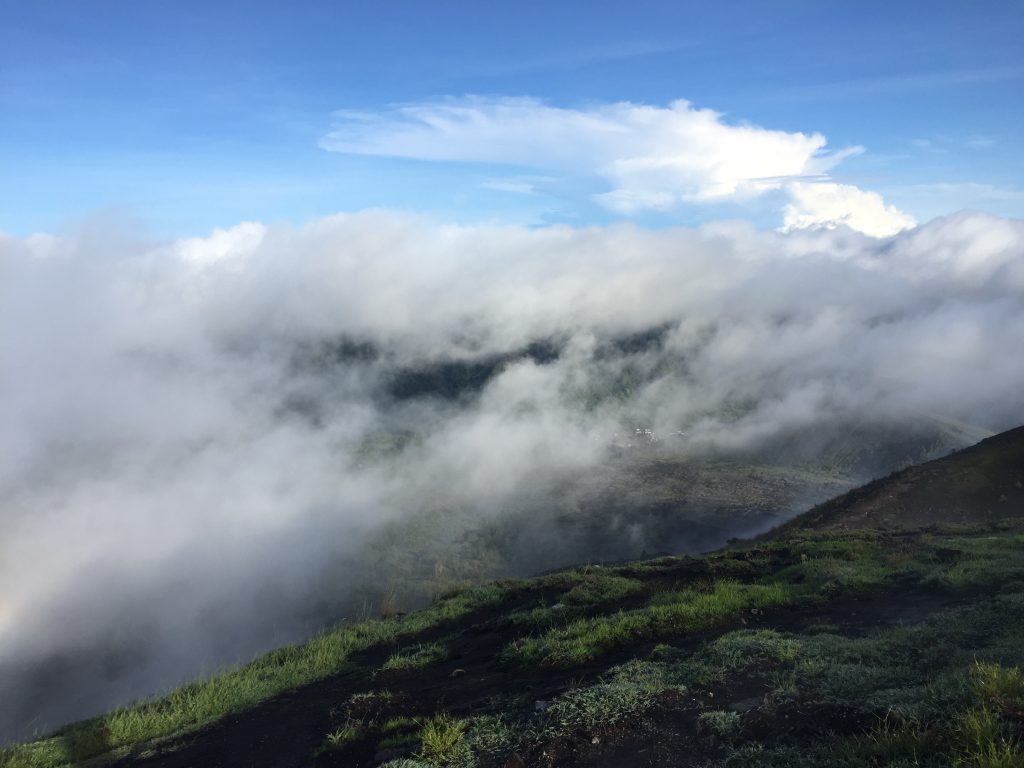 Here's a snippet of conversation with some Balinese kids atop the volcano:
Kid 1: Hello guys where you from!
Us: England!
Kid 2: Wayne Rooney.
…after which they just carried on with their day with no explanation! Not so satisfied that he's the figurehead of the English!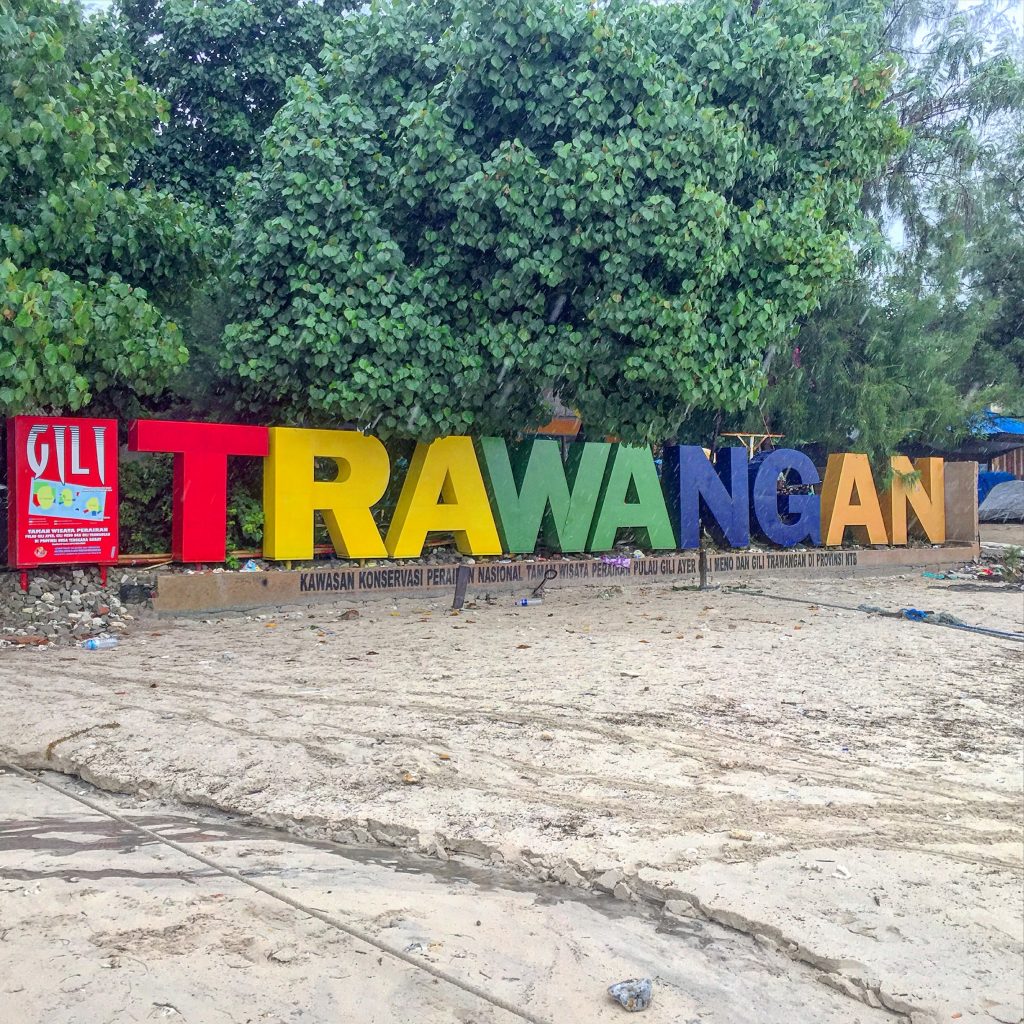 Catching a ferry to the island of Gili Trawangan the next day was less than pleasant due to the rain. The rest of our time at the Gili islands was much the same way, but on the first day, we managed to walk a circle around the entire island. It's known for its party scene, cats with no tails, lack of motorised transport (in vast contrast to Ubud), and picturesque views, but in my books, it was a massive disappointment. The beaches were quoted in my tourist book as some of the best in all of Indonesia. In reality, they were horrifically dirty, covered in masses of litter and so much dead coral they were impossible to walk on barefoot.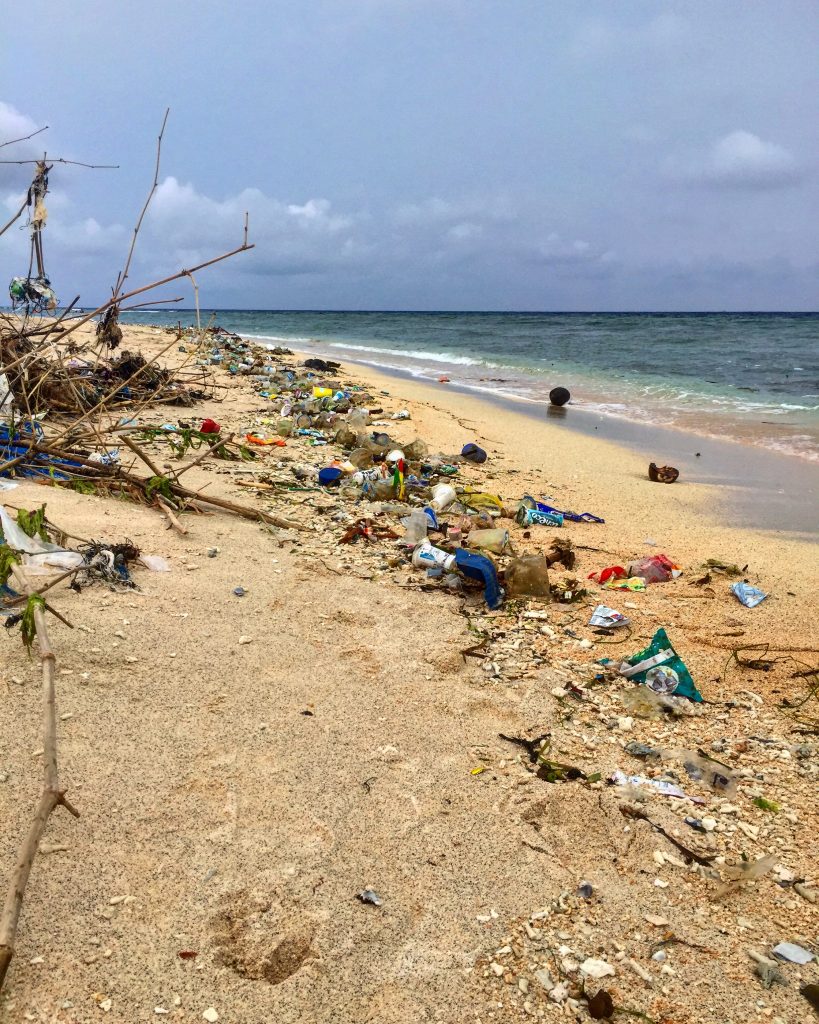 There are flies and tonnes of litter all over the place, and most of the island is building sites. Not the paradise I was told it was! Smokers everywhere, and the noise of speakers blasting tuneless preacher music from the island's mosque that doesn't follow any pattern or song. It's almost impossible to describe it and how irritating it is, especially when it starts at 5am, and continues on in intervals throughout the day. You can hear it pretty much all over the island. Needless to say, I didn't enjoy my time on Gili T at all.
However, we went on a snorkelling trip around the trio of islands. It was nice to see the beautiful fish around the reef and some turtles too, but the trip ended early when the entire boat full of 20 customers unanimously voted to go home because of the torrential rain. The guides said we'd have to stay on Gili Air for a bit, waiting for the rain to stop, and have some lunch. It didn't let up though, and we had to endure 30 minutes of being rained on to get back to Gili T, but at least we got to briefly visit another island.
While out for lunch one day, we were approached by some Javanese people who asked us to take a photo. We agreed, and were very confused as they then went to ask another person to take a photo too, and then… walked back up to us. We then realised that they wanted a photo with us! This turned out to be a fairly common occurrence on the islands. We saw it happen to a handful of other people across the trip. You can also find "Hello DVD!" people here on Bali, which do seem like a blast from the past.
The rain continued, and continued, and just when we thought it couldn't get worse, it did. Our homestay, which seemed to be run by a lone 15-year-old, kept losing electricity, plunging us into darkness every time. The rain dripped through the ceiling and down the walls, and our room started to smell like sewage.
We had to wear our swimming trunks just to get to the nearest restaurant, 100 metres away. Luckily a good one, as we had no choice but to go to it. We got absolutely drenched. The path was completely flooded.
So there we were. Drenched, stuck in the hotel room. No change of clothes because the hotel had taken them to the laundry and didn't manage to get them dry for us. No electricity, no light, and with water running down the walls.
The rain still hadn't stopped on the morning of our departure from the island. After the boat trip back to Bali, we drove along the coast all the way down to Ulu Watu. Both two-hour boat rides and both transfers cost us just £27 in total. Small mercies.
Our homestay in Ulu Watu was a considerable improvement, and though it rained all day and all night when we got there, we were able to venture out to one of Bali's most famous temples and beach that day. We even saw hints of blue sky, although again, no great sunset.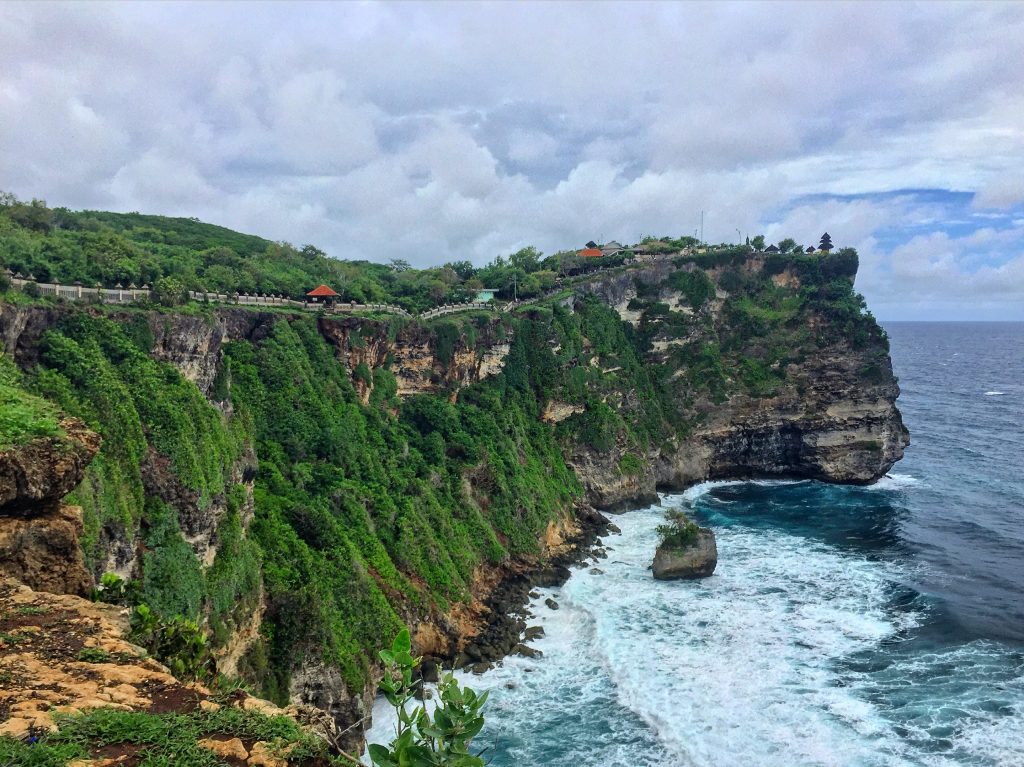 What we did see, however, was an aggressive monkey bite a child's leg until he kicked off his shoe, which it then stole. The parents tried bribing it with food, and eventually managed to swipe it back, but the monkey was most displeased! Be careful around these animals, they aren't predictable.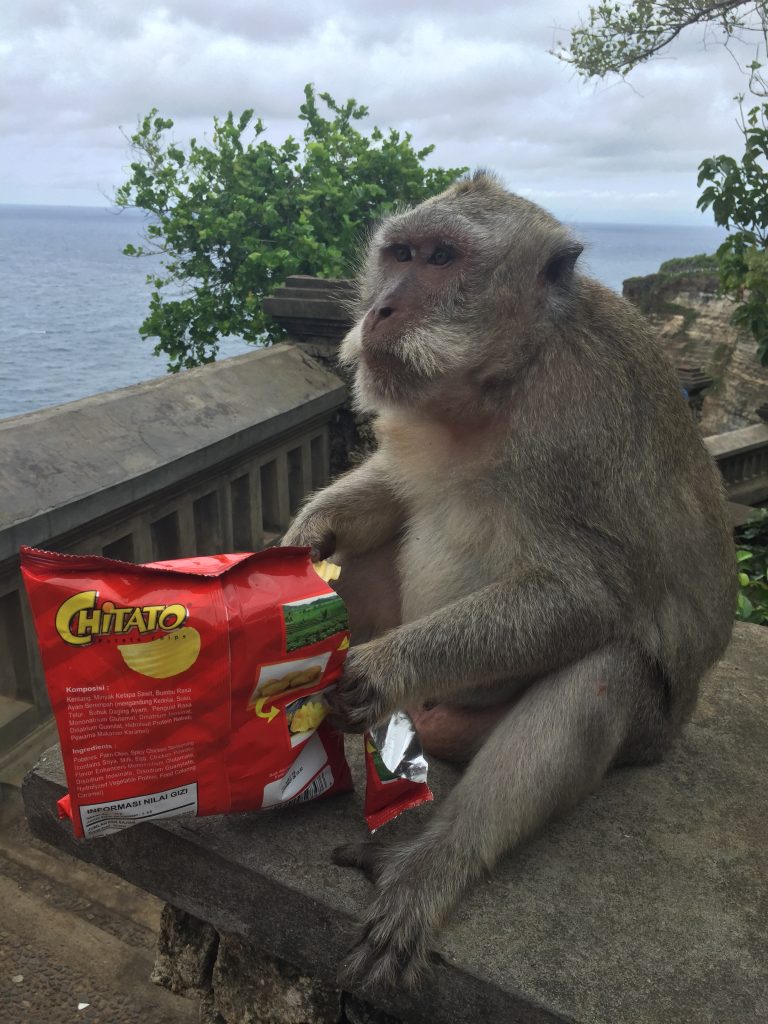 The final part of our trip was in Seminyak. This is the main tourist area, and is where the hotels are nice and the bars are posh. That doesn't mean that this part of Bali is the exception to the rule though: you'll still be asked to buy stuff everywhere you go.
Completely due to good fortune, we found ourselves unexpectedly in a very fancy hotel with all the luxuries. We checked in on 13th February, sharing a room (but not a bed), and had to explain to a few people that we weren't a couple. It's a fairly difficult job when you go to a restaurant together on Valentine's day.
We were able to sunbathe at this point in the trip, which was lucky, as we could make use of the hotel's nice pool area.
Pizza Hut here had some really great options I've never seen before, like the pizza crust being made of chicken strips! We also had a strange experience when trying to give our waitress a tip. She pulled a face at us a little bit like this:
While we were in Seminyak, we visited the best water park in Asia, and hung about in The Potato Head and Sky Garden, two of the island's most popular (and expensive…) bars. Personally, I didn't find either one particularly welcoming nor worth it, but they're a definite mark-up in luxury as opposed to what you can find elsewhere in Bali. While in Kuta, we were able to see the only half-decent sunset of the whole two-week trip, from Kuta Beach.
Soon after this, it was time to go home to Sydney.