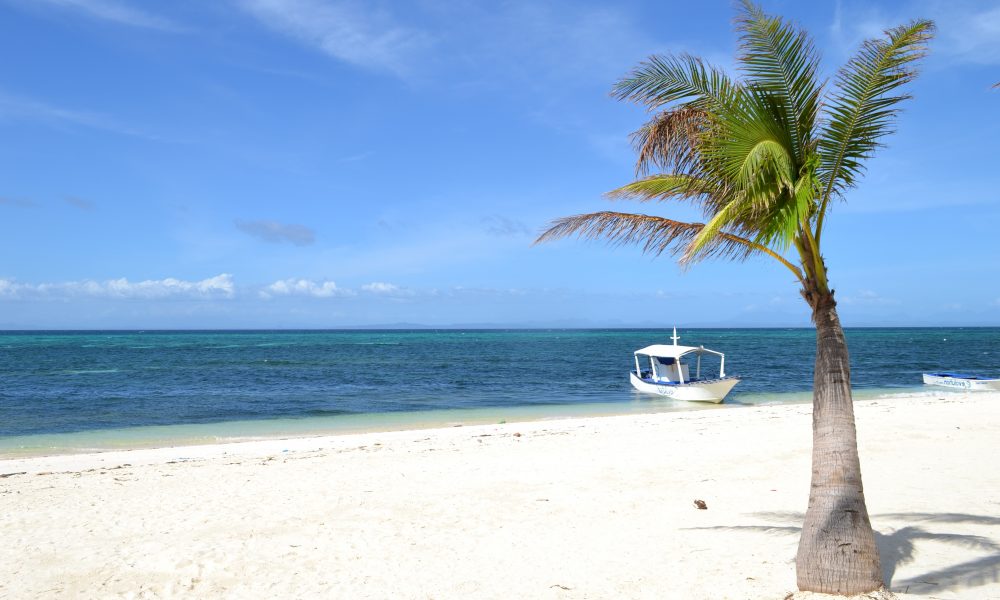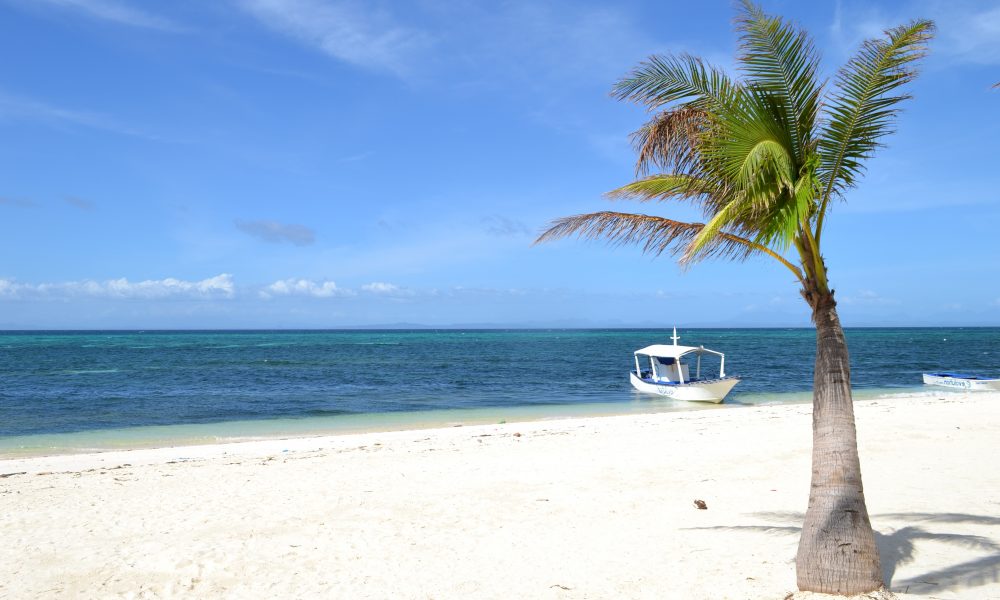 The Philippines is comprised of thousands of islands dotted sporadically throughout the Western Pacific.  With a somewhat far-flung, isolated location under its belt, what exactly is it that this set of islands has going for it that draws in thousands of visitors year-on-year?  I'll admit it now – if I hadn't have been living in Korea at the time, never in a million years would I even have dreamed of making the effort to travel half way around the world to grace the Philippines with my presence, especially when Vietnam, Malaysia and Indonesia are all on route. However, when it comes to selecting a prime living location for travelling, Korea is king and the Philippines was just a short, low-cost flight away. A lot of my friends spent time in Boracay as it is a popular location for hammock-lounging by day and partying by night, but I wanted to try somewhere different. Due to the sheer expanse of the country, I may as well have stuck a pin in a map to see where the trip would take me, but alas, I did a little research and came up with a little known place called 'Malapascua Island'. The island's claim to fame stemmed not only from the fact that it boasts one of the most colourful, pristine diving locations in the world, but if you're lucky you can enjoy an up-close encounter with the elusive thresher shark. Decision made, bags packed, we set off from Korea for ten days on an island that looked sure to be nothing short of paradise.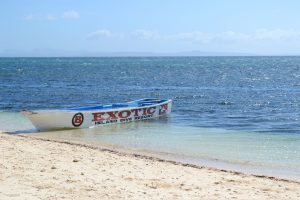 The flight was bumpy. The area has notoriously bad weather and is known amongst pilots for its tricky to navigate, plane-jolting storms. Our journey included a four hour stopover in Manila where we were basically shoved into a cupboard as the entire airport shut down and the staff left. Nobody had a clue what was going on. After what seemed like weeks later, we arrived at Cebu airport. It was here that we were picked up by our private driver, Kemi, who drove us to the very most northern tip of the landmass on which Cebu City is located. The drive was scenic. Never before had I seen such lush green vegetation in all directions. Malaysia seemed pretty green to me, but then I went to Thailand. Following Thailand was Bali which is undoubtedly the most beautiful island I have stepped foot upon, but even now it seems as if the Philippines might steal the top spot when it comes to sheer volume of green. We arrived at a make-shift port and we waited here for around 45 minutes. At this point Kemi had wandered off and left us unattended to simply guess which of the many boats turning up might be ours. I didn't mind the wait – Korea was minus figures at this point, so this was the first time I had seen the sun in some time. Over an hour later, a boat came bobbing in towards the shore, except, it couldn't quite reach the shore. At one point I thought they were going to make us swim to it, but a good samaritan offered us (and our very large suitcases) a seat (an opportunity to squat) in her incredibly unbalanced, thin, ropey and very much capsisable boat. We obliged. After safely navigating the shallows, we then got onto a much larger boat which seemed equally as unsafe. I clung on for dear life for the entirety of the 45 minute journey to the island. Our suitcases were precariously balanced on the edge of the boat with nothing to hold them down or stop my laptop sinking to the bottom of the ocean should a 10 foot wave occur. I can't remember the journey as such. I spent the entire time willing my possessions to not slip off board with every slight imbalance caused by the choppy waves. I saw the island in the distance, although at the speed the boat was going it remained the exact same size on the horizon for what felt like an eternity.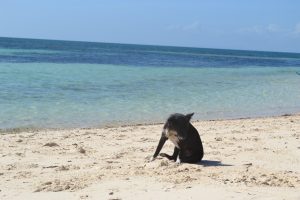 When we arrived at the island there were three members of staff waiting on the beach to greet us. This had never happened before. I felt like royalty. I donned my sunglasses and prepared myself to look like an absolute rock star as I arrived onto this paradisical island in style. They cast the stairs onto the beach for us to make it to dry land, (presumably with us still dry), but they didn't quite reach and as majestically as I may have navigated them, I stepped off the boat into knee deep water.  Welcome drinks downed, jeans rung out – let the holiday begin.
Malapascua is a lovely little island. It has everything you could want from a beach break away from the hectic working world. The waters were genuinely the clearest I have ever seen and the beaches were blindingly white, so much so that you would burn from the reflection. The beach was clad with palm trees, and hand crafted fishing boats bobbed up and down along the coastline. The resort had its own security as it was a private beach – this was a nice touch as I am very quick to tire of men trying to sell me fruit salad, sunglasses and pirate DVDs from the early noughties as I'm trying to catch some rays.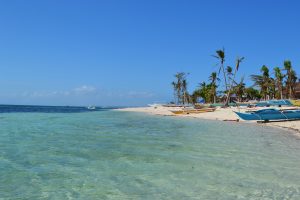 It's not really somewhere you go if you aren't a diver.  The accommodation was basic on the basis that you would spend minimal time there if you were a diver, and there was very little else to do other than to relax on the beach. In fact, on most days I would have the entire beach to myself from dawn 'til dusk. That was fine by me. I'd just been through two weeks of winter camp at school which equated to two weeks of kids whose parents had shipped them off for the holidays to learn English so that they didn't have to look after them – needless to say, their hearts weren't always in it. I enjoyed my time lounging on the beach listening to music, reading and paddling in the shallows (I'm scared of the sea). People said the diving was great and seeing the thresher sharks was a treat, but the coral and seabed had clearly been damaged by the recent typhoon.
It soon became clear that the resort was still in recovery. We learnt that the majority of the island was flattened in the typhoon and the residents were only just getting their lives back together. Some homes were still rubble and others were non-existent. You could see just from looking at the beach that serious damage had been done by the way every palm tree on the beach sloped to the left and as we went for a stroll it wasn't long before we came across some damage beyond the resort's boundaries.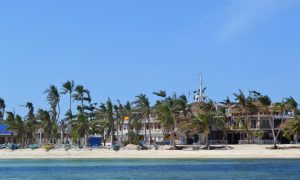 It's a great shame we didn't see Malapascua in its prime, but to me it was still paradise. The staff were all friendly, good-humoured and attentive. The food was unbelievable considering everything on the menu needs to be transported by boat to the island – so you could forgive them if they were to be a bit lazy, but the chefs were far from it. The resort had a pet dog who we named Rolf (I think his name was Blacky). Many a sunny day was spent with Rolf by my side soaking up the sun on the beach. Man, I loved that dog. It's an island that I'll always have a soft spot for because it was the closest to a secluded paradise as I have ever come across.  When it was time to go and the boat pulled away slowly, the island became smaller and smaller until eventually it became nothing. Maybe it was the idea of heading back to cold Korea for work or the fact that I hadn't seen the sun in so long that made me fall in love with the island, but, whatever it was made me feel incredibly sad to leave. I'd love to return some day – it's a long way to go, but let's see where my travels take me!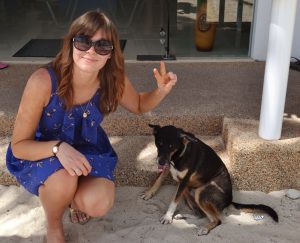 ** Note**
We did spend two days in Cebu City, but it was so awful that it's not worthy of the effort it would take me to type it out.  So to summarise, here's the light version of what I thought:
Crime. Bland. Danger. No character. No soul. Crime.