Inntravel specialise in slow holidays, providing an amazing opportunity for solo travellers to explore new places at their own pace whilst all the hard work of mapping out a route and carrying luggage ahead is taken care of. A unique concept for those who like to remain off the beaten track, their planned routes tend to be out in the countryside and along quiet roads to allow for a stress-free experience, but no route is put into the hands of travellers until it has been tried and tested. And that's exactly where the idea for their #CyclingAdventures campaign came from – sending bloggers, like me, off on a journey to discover the magic of exploring on two wheels.
As far as I'm concerned, there are only two ways to explore a city – on foot or on two wheels. So when I was asked to take part in a campaign that is built around sharing and building the love for slow holidays, where city exploration takes place on two wheels and no more, I was pretty chuffed. This was an excellent excuse for me to get out and about and not only do some much-needed exercise, but to discover a new city. Putting aside the ever so slighty ulterior motive that I am moving to Cambridge in October and quite wanted to see what it had to offer, I knew that as an incredibly bike-friendly city, it would a great choice for my adventure and one sweet ride.
I started my trip the only way I knew how – at the pub.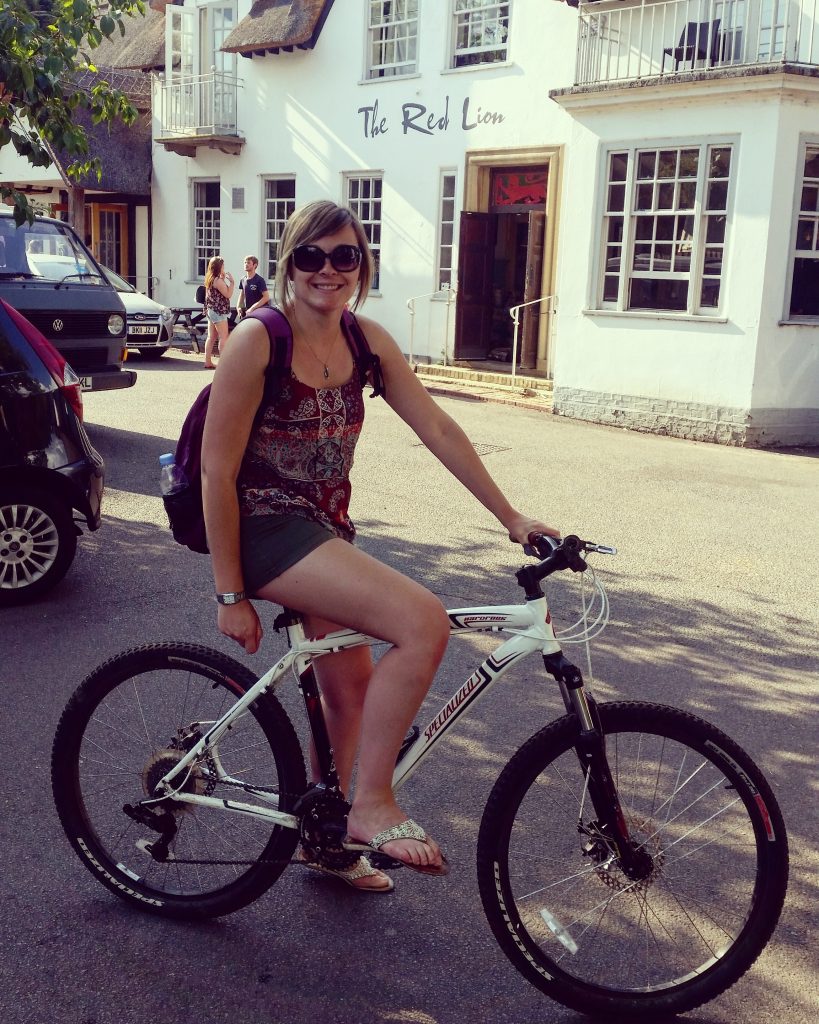 At the risk of sounding like an alcoholic so early on in this story, this is actually a really lovely pub and has a huge beer garden. I only stopped for a bite to eat though, promise! I would definitely recommend either beginning or ending your cycle adventure here in Granchester, especially on a sunny summer's day. Anyway, lesson number one – forget about the university, because it turns out that Cambridge is actually really well-known for something else I had no idea about – its meadows and cows. I kid you not, there are cows literally everywhere! Lesson number two – avoid said cows on bike.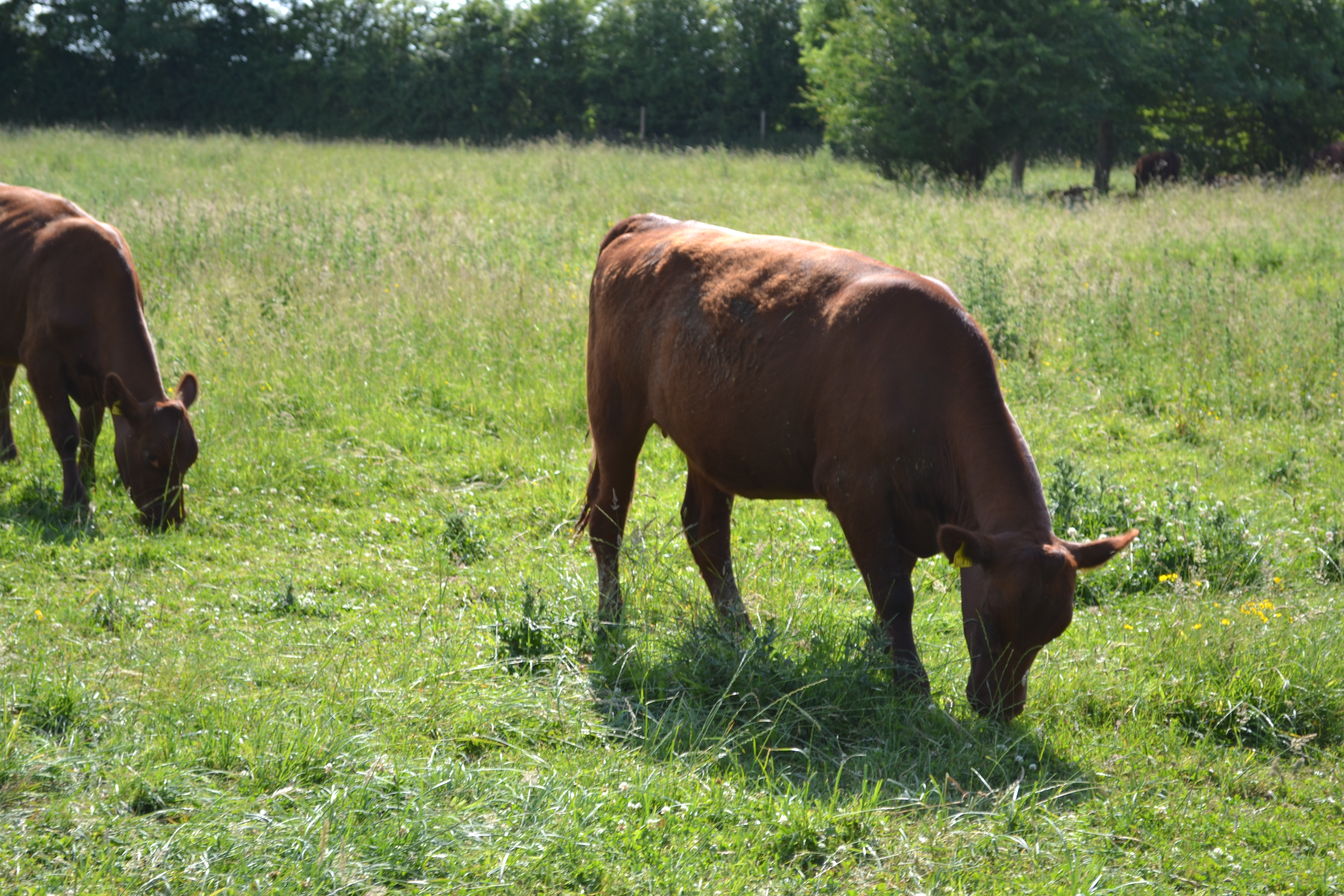 So I began my journey into the city centre through the lush, green meadows that grip the banks of the River Cam. I should point out at this point that I managed to coincide my trip with a freak heat wave where temperatures were over 30 degrees, which is a) unheard of and b) explains why there were so many people down in the meadows picnicking, barbecuing and actually swimming in the river, battling against the continuous stream of rowers, kayaks and punters!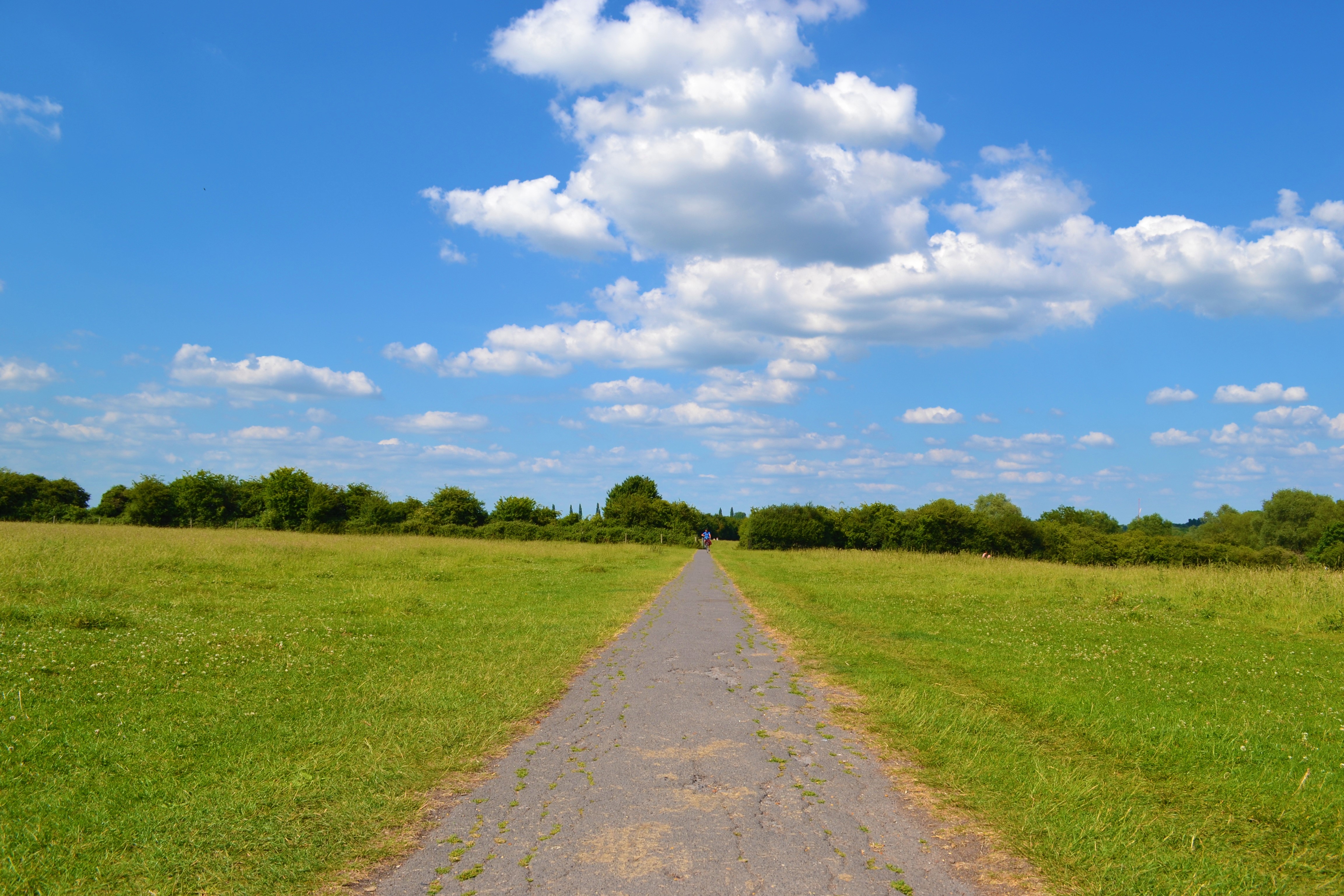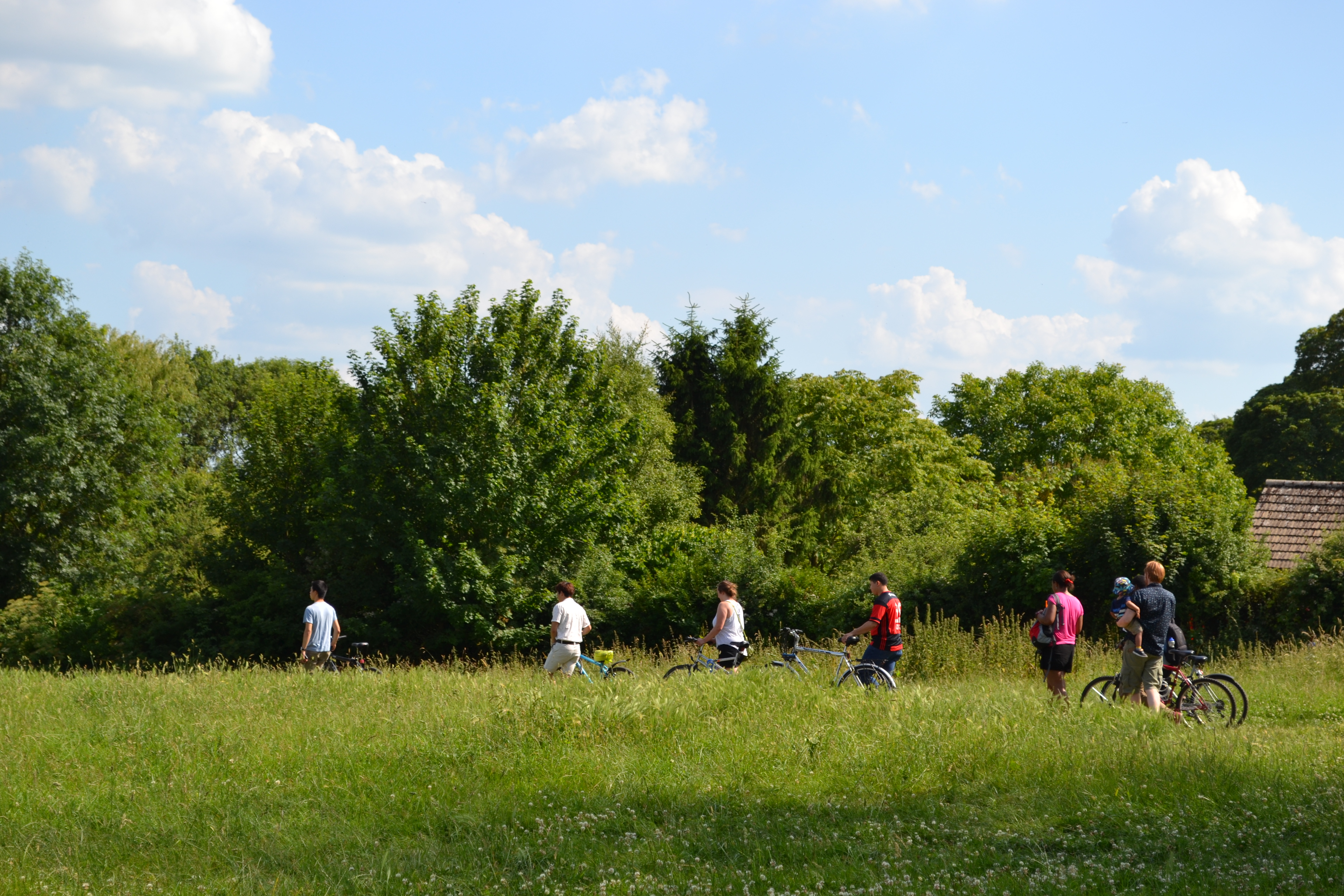 As I made my way into the city, it became abundantly clear from the off and was no real surprise that cycling is the way to go here, with special traffic lights for cyclists at junctions and cycle lanes literally everywhere. I felt at home! But then my smugness soon turned to shame as it became very obvious quite quickly that mountain bikes weren't the norm here… As I crossed the river into the city, it was Queen's College that first caught my eye, giving me a sneak peak at just some of the amazing architecture and scenery that was to come.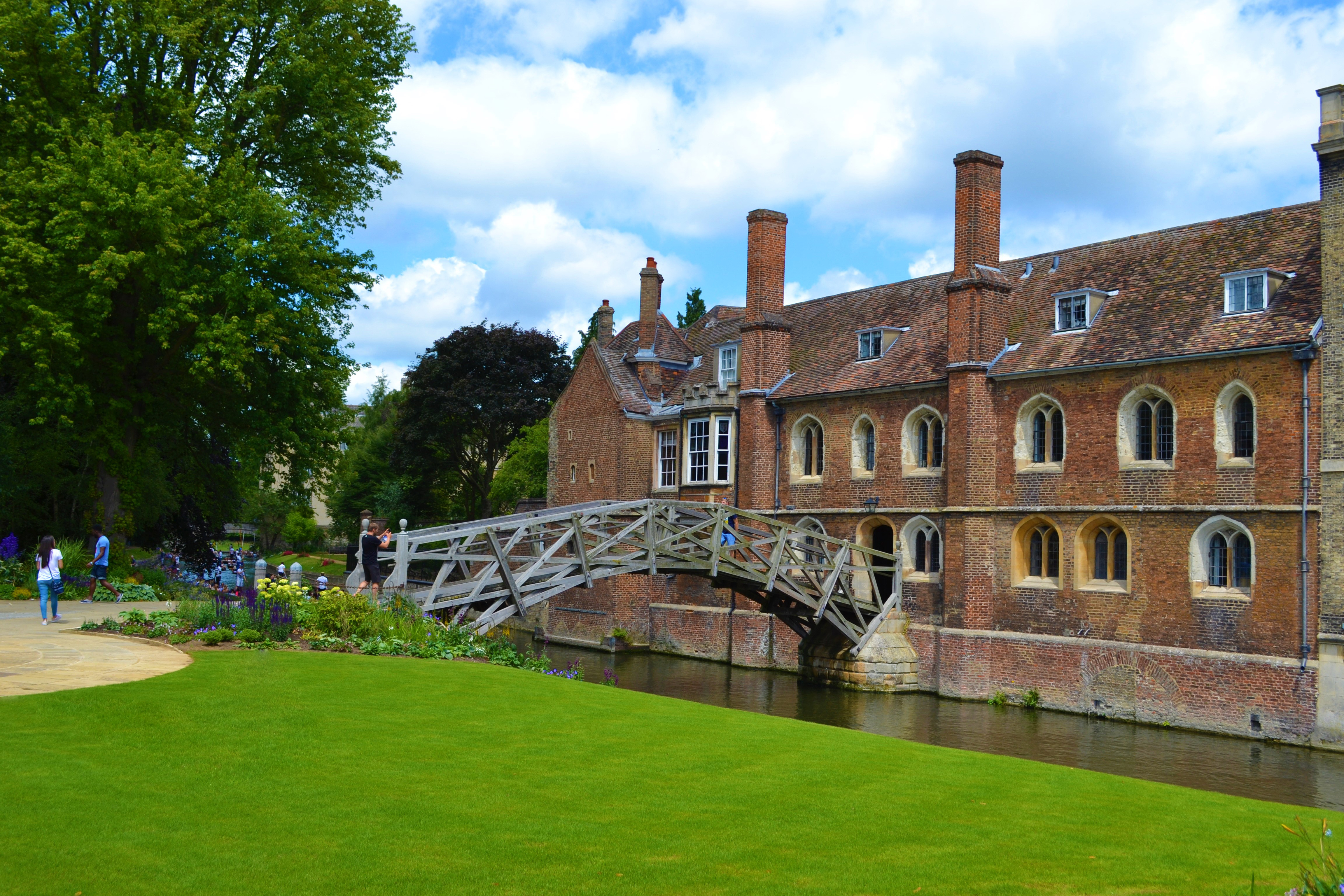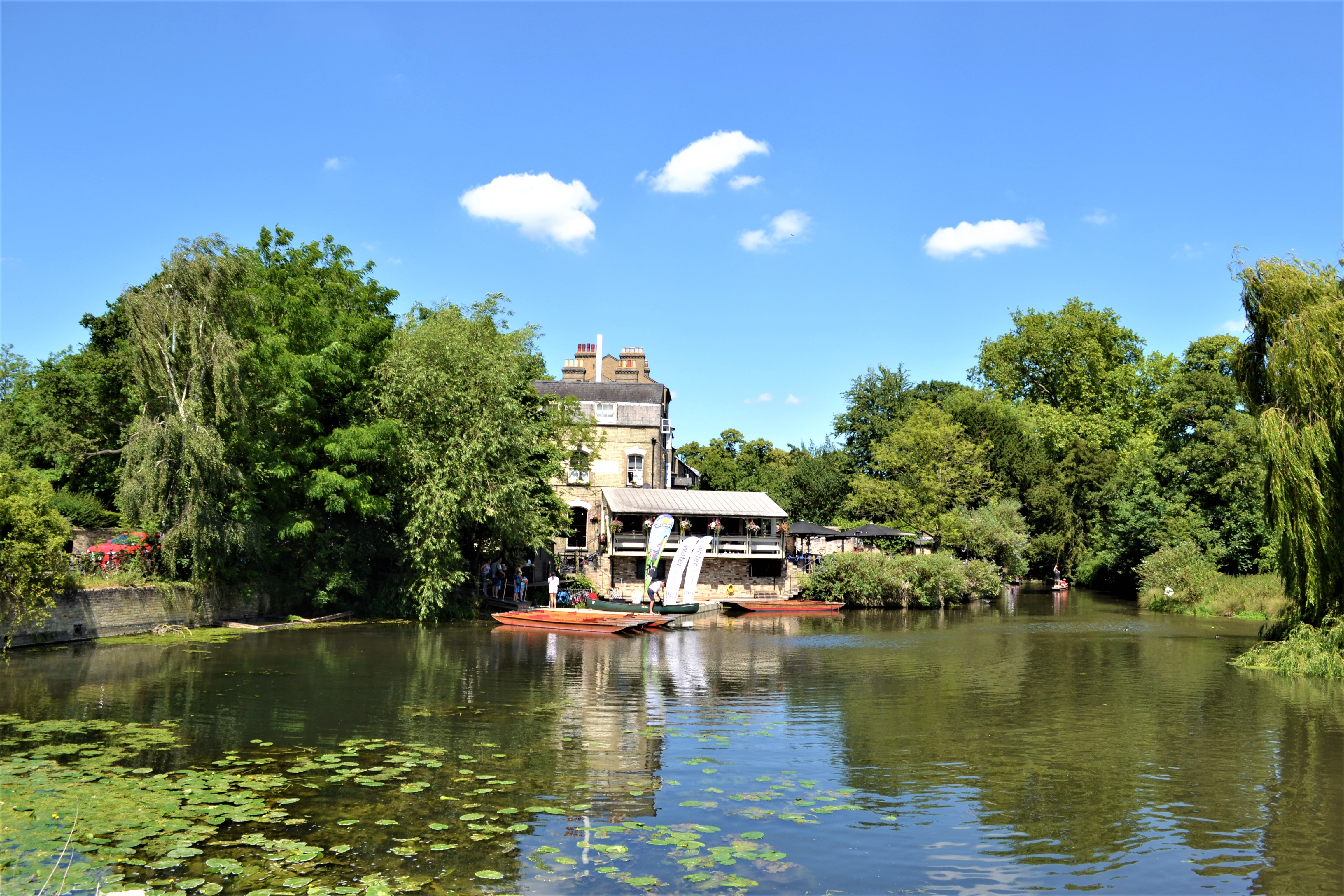 There's a really nice pub on the opposite corner to Queen's that's perfect for dining al fresco, neighbouring the path that leads to the backs and more verdant meadows.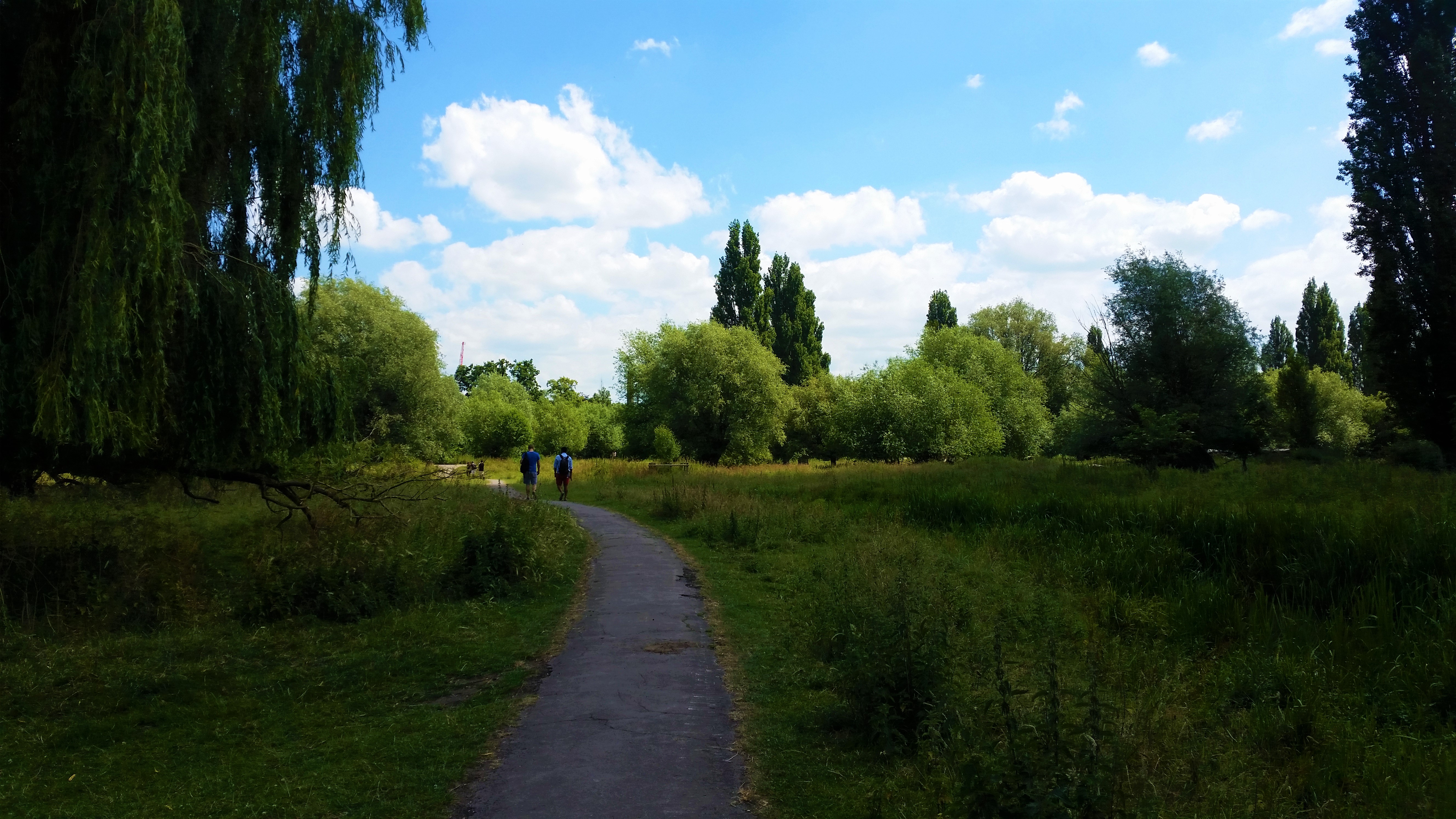 Now, it's here you can rejoin the path that runs all the way from the south of the city to the north-east, however, as the path runs through the iconic college backs, actually following it is borderline impossible, with many of the colleges closed to the public. It's not the end of the world though, as you can cut into the city and rejoin the river after Trinity College to continue. Now call me misty eyed, biased, easily impressed – whatever you like – but to me, the college backs are nothing short of spectacular. So, despite the scorching heat, I did spend a fair bit of time lounging around here, reading a book, eating a burrito – that kind of thing.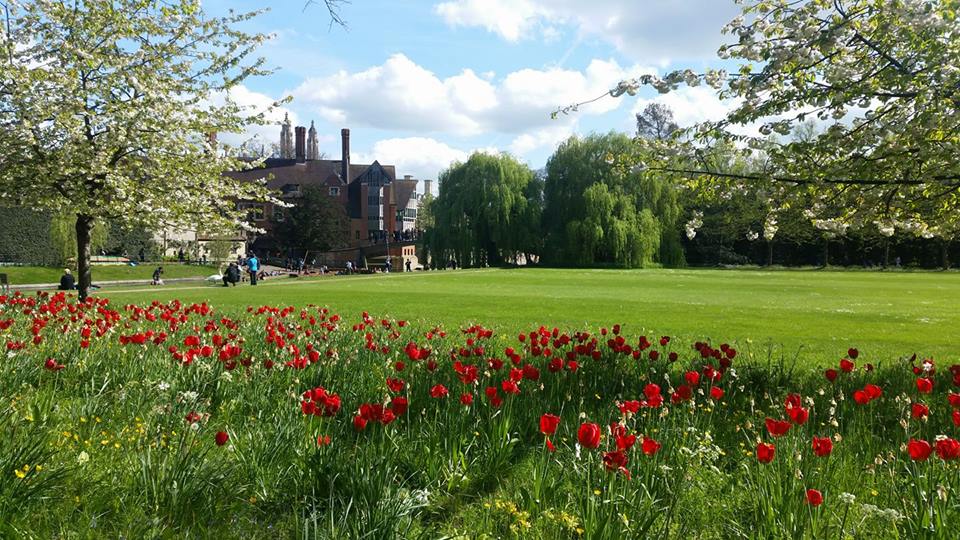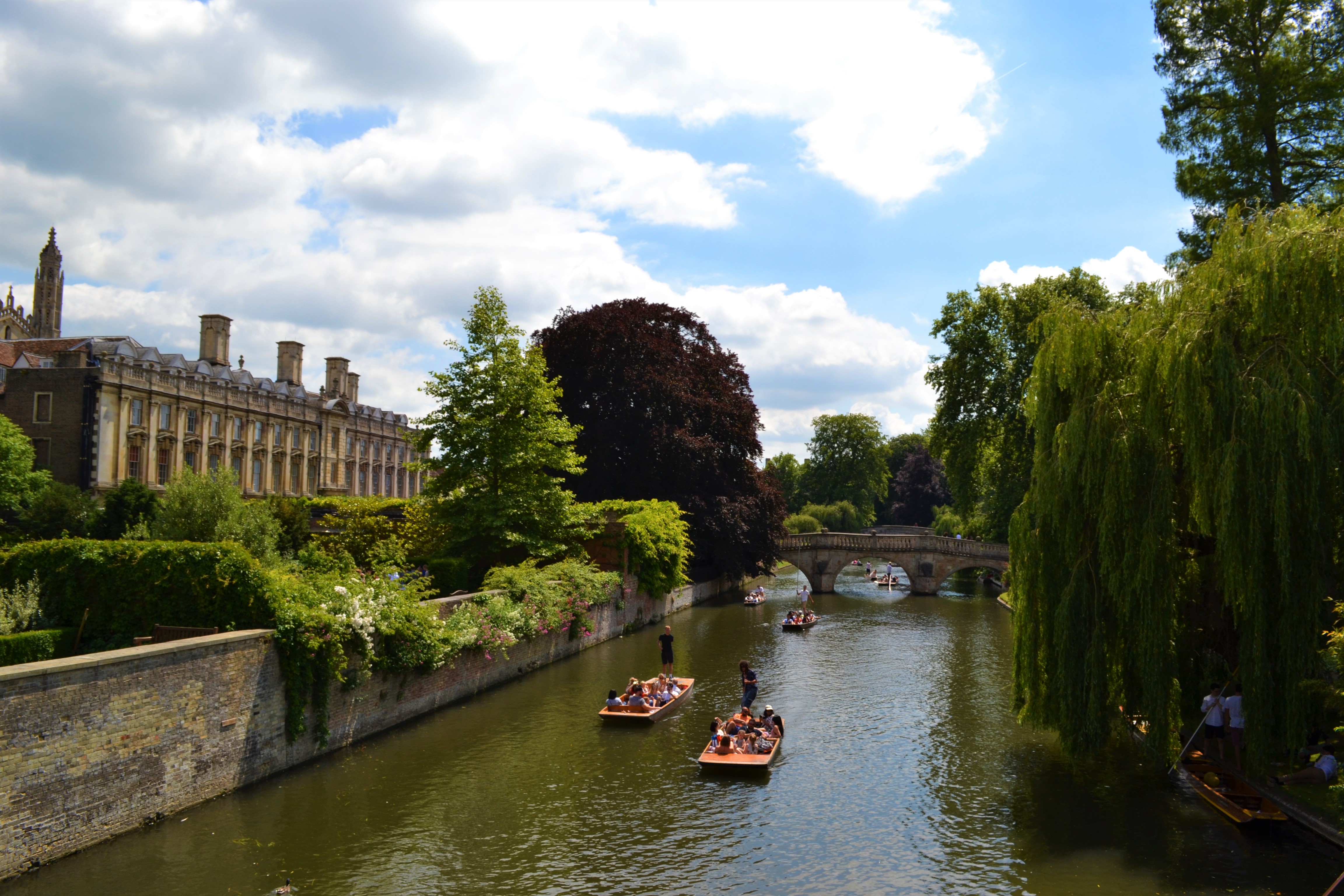 Asides from the allure of the 31 colleges that make up the University of Cambridge, one of the major appeals here is punting, which is your ticket into the college backs. And on a day like this, there's nothing better than gliding along the Cam, bubbly in hand being regaled in the city's rich history! There are a few places to pick up punts along the river, but if you miss them, I have no doubt you will be helped out by one of the – what seemed like several thousand – people who will stop you every ten metres and try to sell you a punting tour!
From here, I tried to follow the college backs as much as possible, taking in the grandeur of the towering buildings and the strong sense of tradition that resonates through the streets as I went.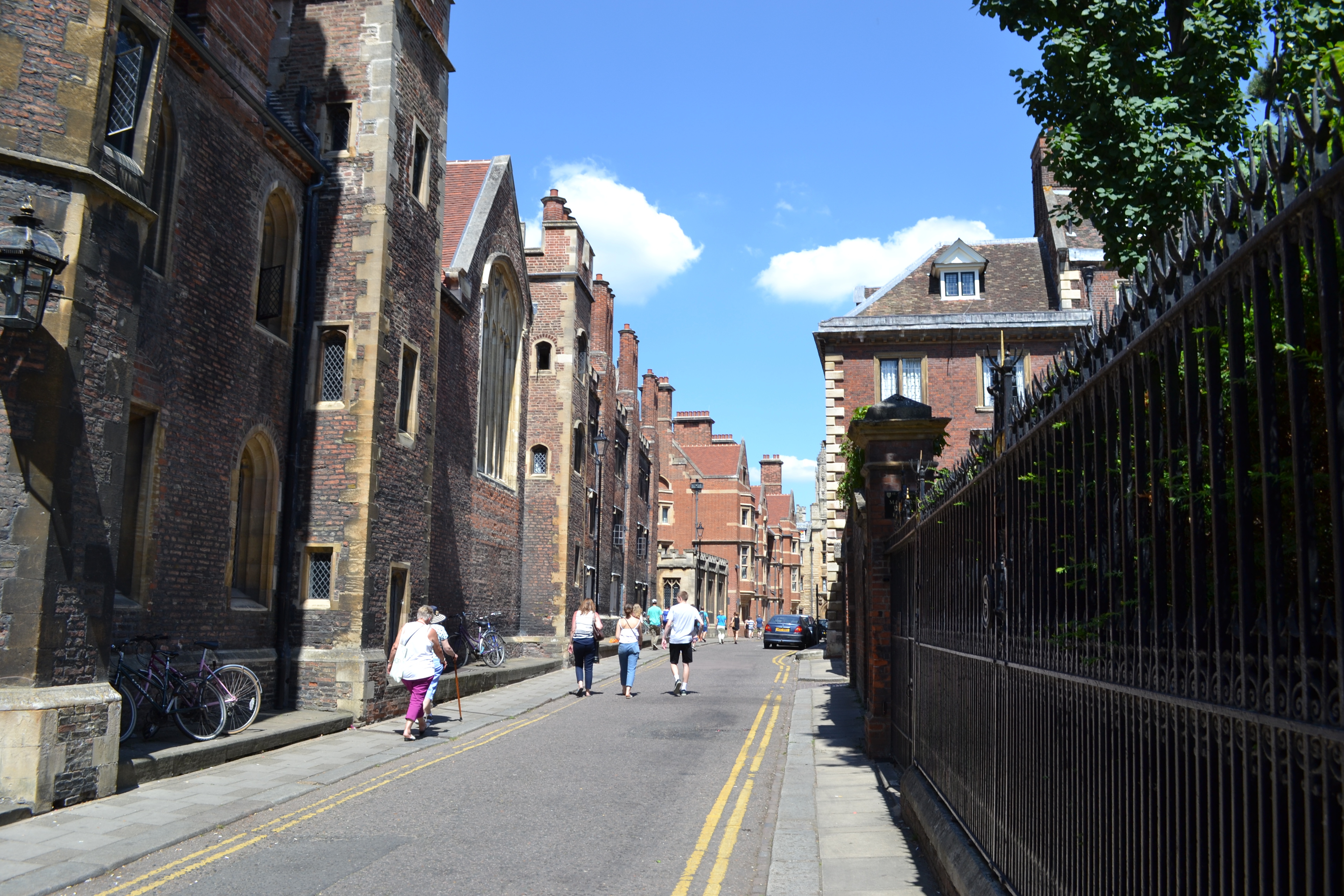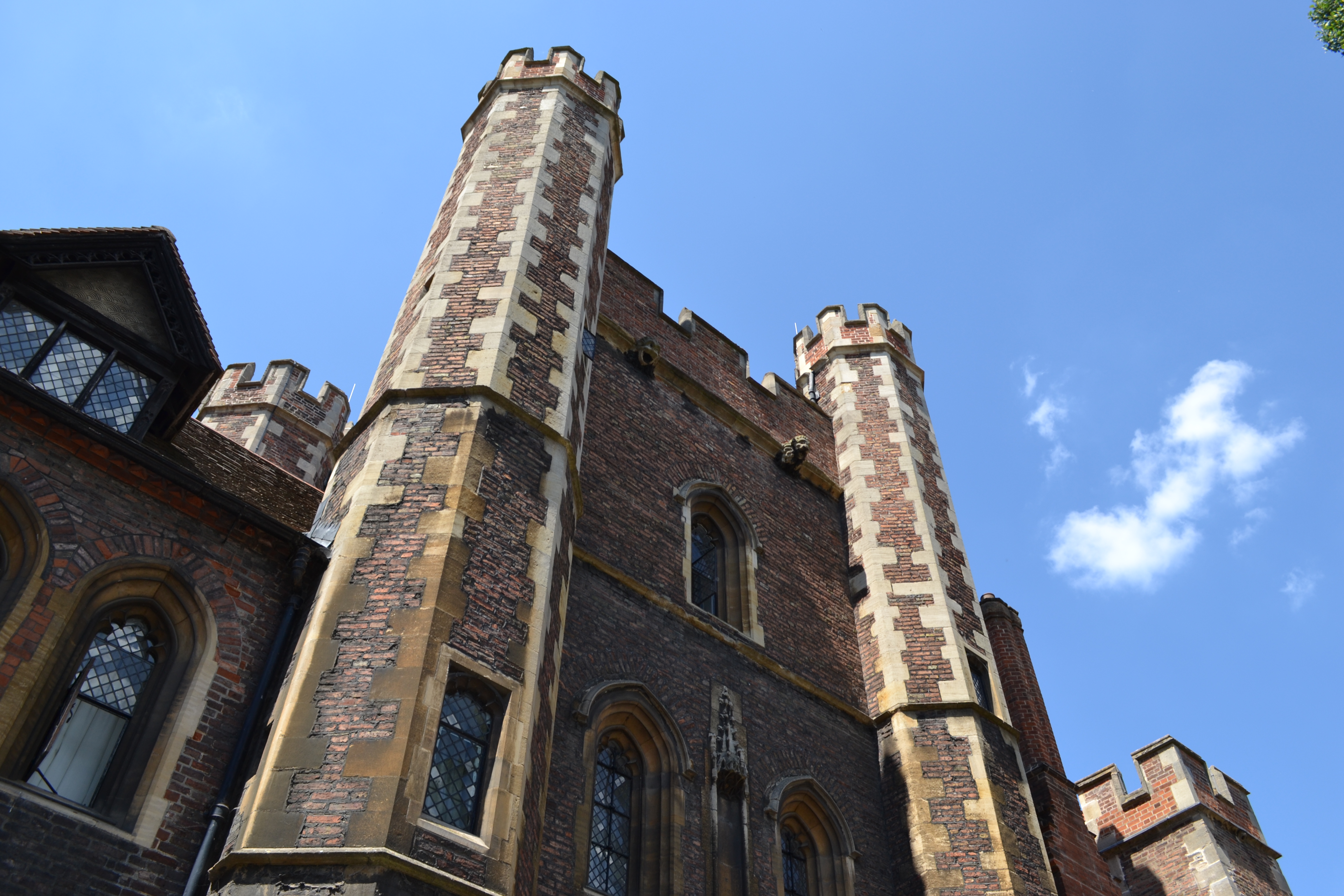 Cambridge is one of those cities where you could easily just throw the guide book away and see where the road takes you, as at every turn you are greeted by something more impressive, quaint, inspiring or surprising than the last. And for me, turning the corner to see the majestic and downright stunning King's College embodied exactly this.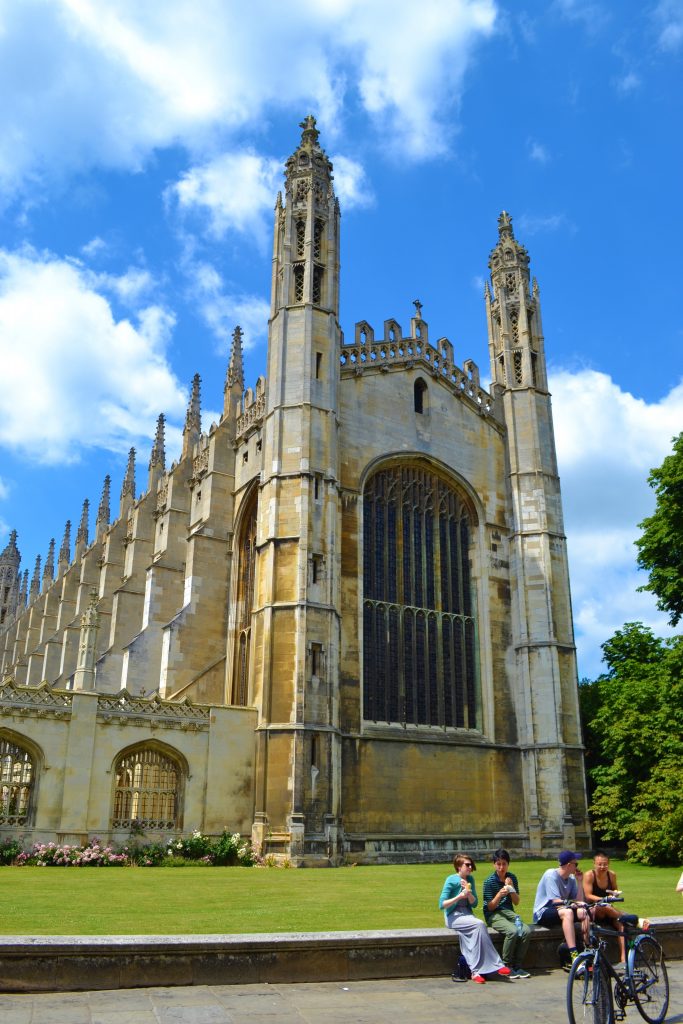 The college was founded back in 1441 and the building has remained symbolic of the city and university ever since. An impressive architectural feat, it's no wonder swathes of tourists were scrambling for the camera, desperate to capture the chapel's striking appearance amid the glorious sunshine!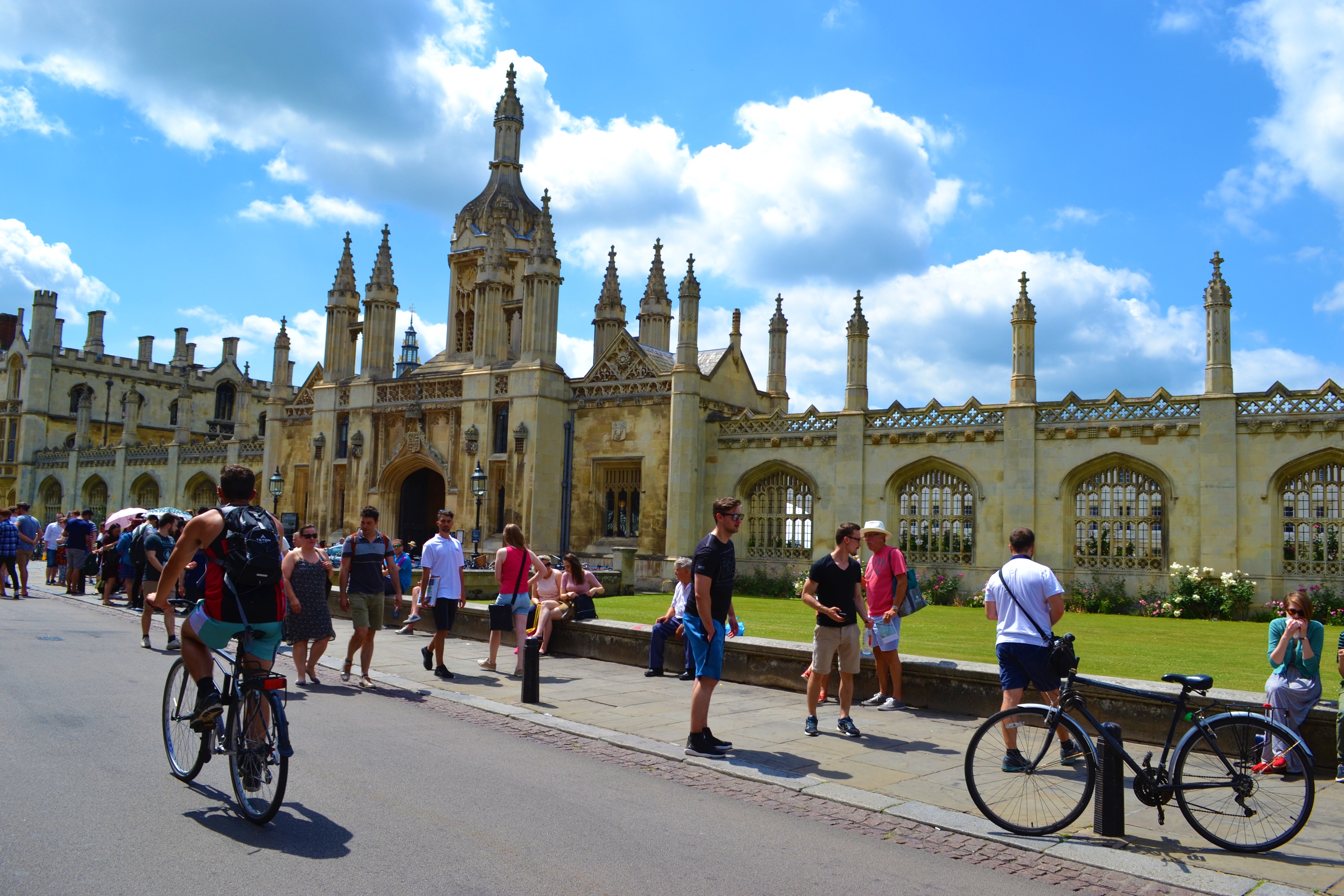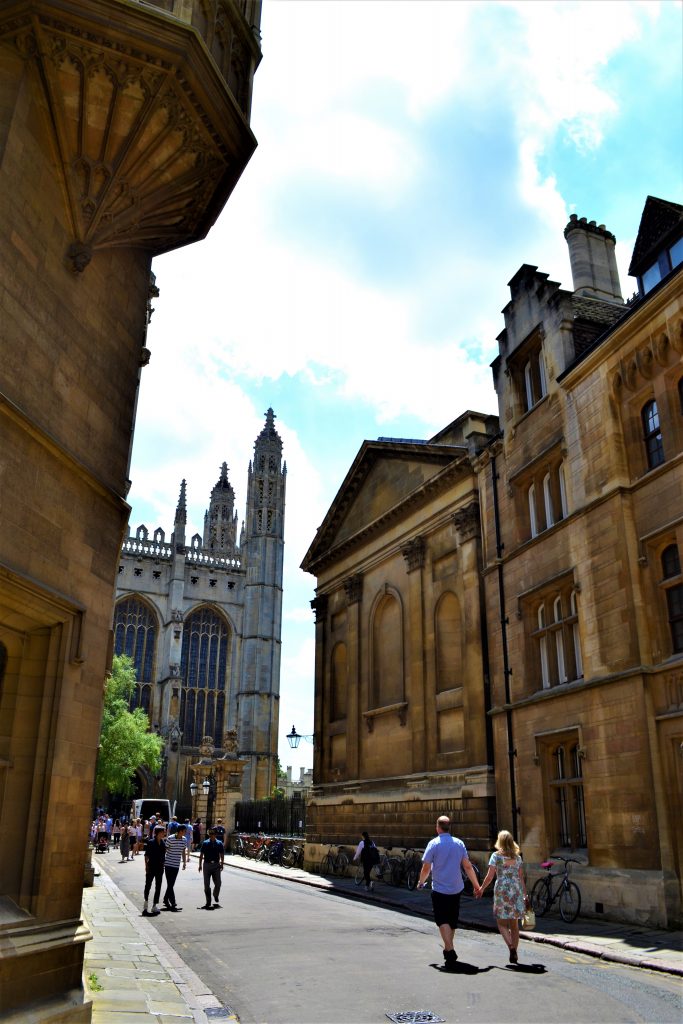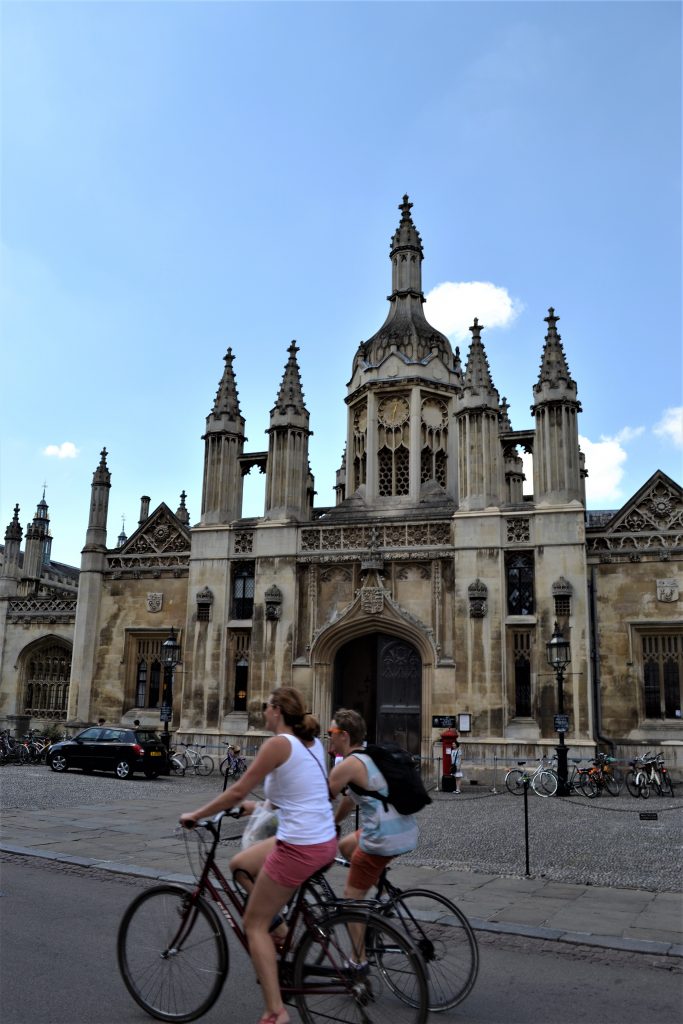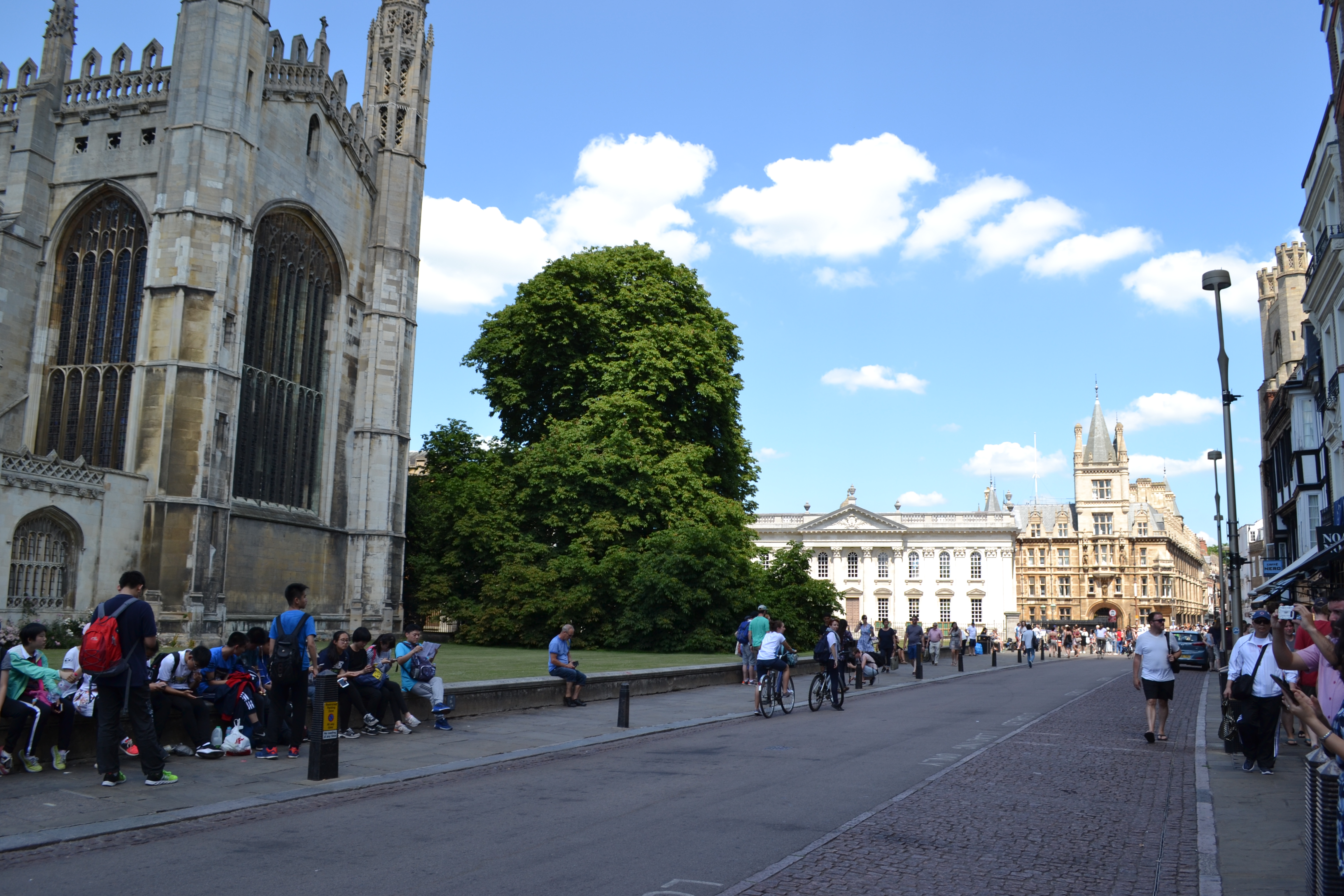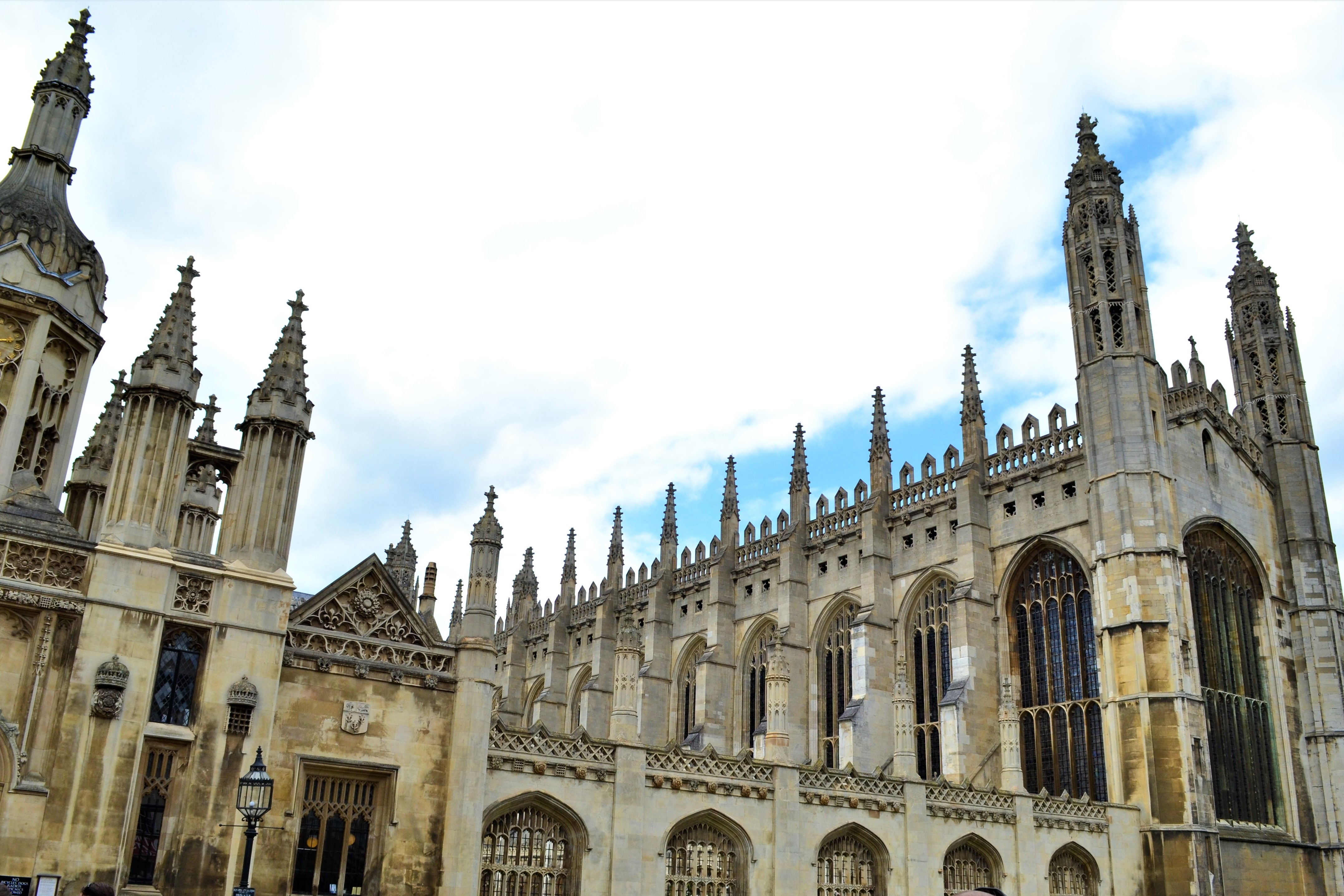 From here I continued my journey along the backs as best I could, crossing back over the river and heading up towards Jesus Green. This massive expanse of grass is a popular hangout for students and tourists alike. Overlooking the river, you're free to play sports and barbecue at your leisure here, and it's another ideal spot to curl up with a book and chill out by the river, which is exactly what I did.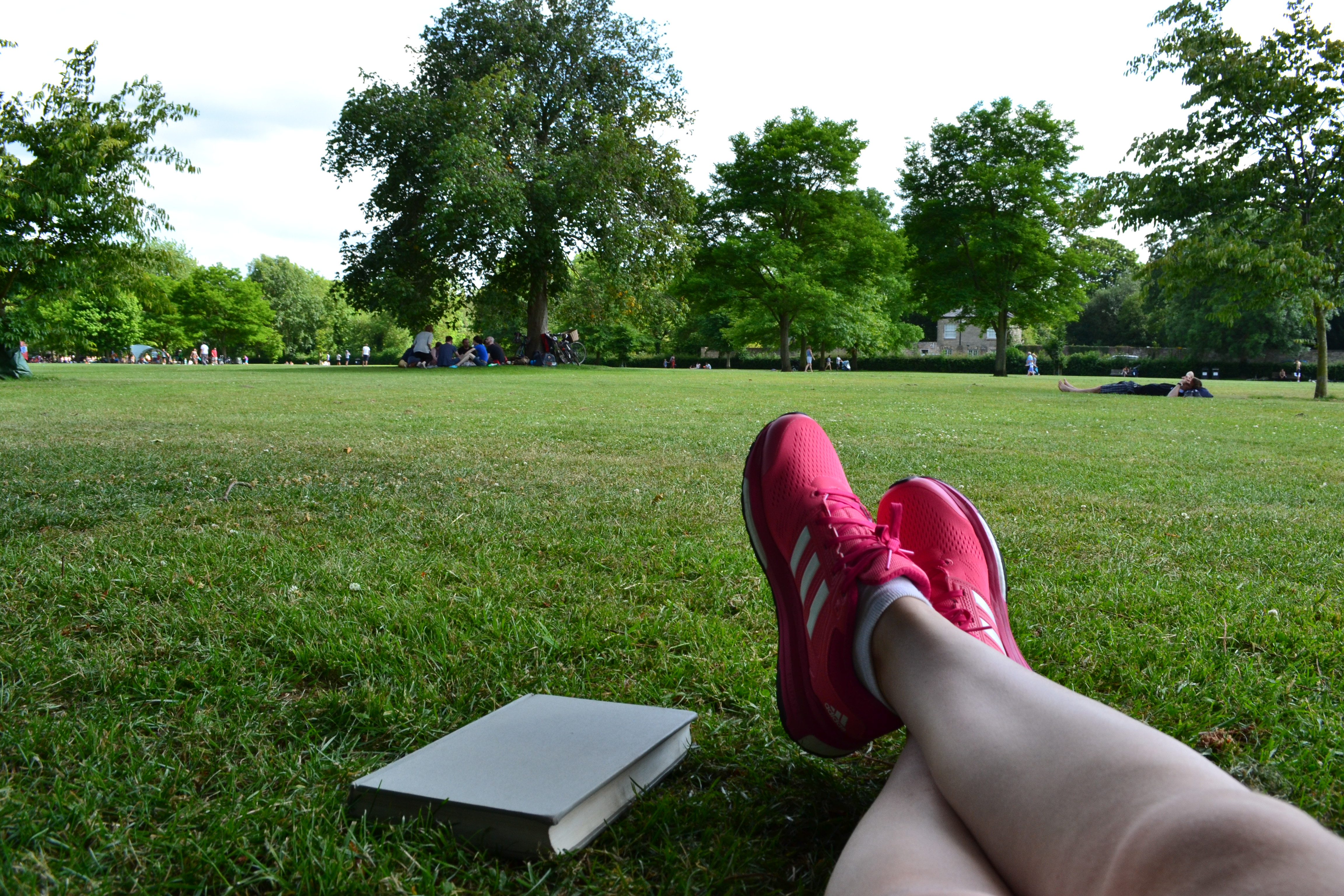 Cycling the length of the river along the canal would be an amazing trip, and is one I will be keeping up my sleeve for another day. Re-energised, I made my way back along the Cam, this time along the city side towards the main market square.
As the boardwalk ends and you return to tarmac, you'll be greeted with St.John's college, one of the most prestigious and richest colleges. But it wasn't this that caught my attention, it was the big, red shiny tourist bus.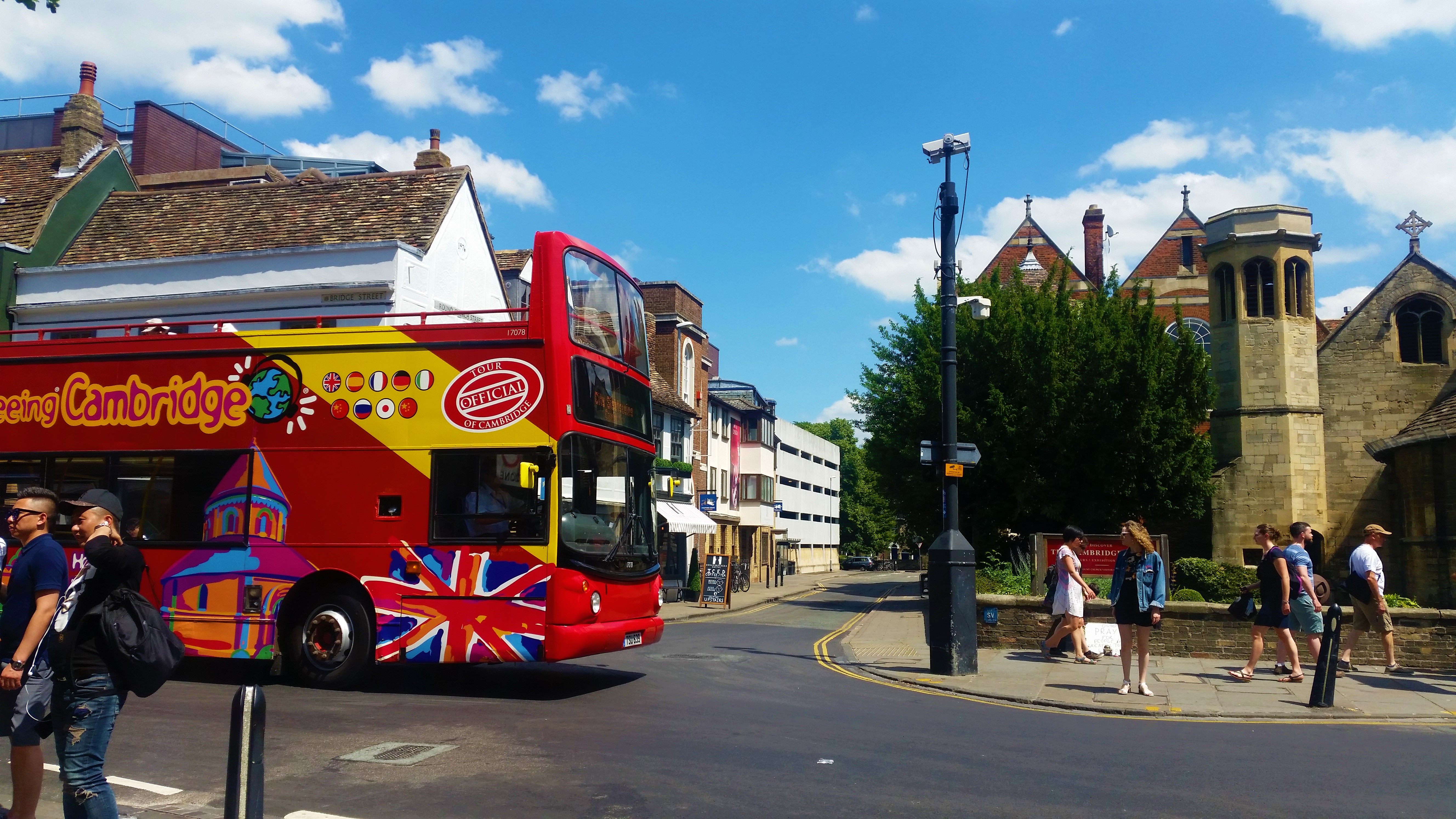 I've never been on one of these in my 26 years of life, but it served to remind me how lucky I was to be down on the ground exploring everything at my own pace and not stuck on a bus full of people I probably don't like, whizzing past everything that's great about Cambridge! I am a firm believer that a) solo travel is in fact the best and only way to travel, and b) that being able to stop and take an extra photo, absorb another view and not feel rushed is a real luxury, which is why slow holidays make so much sense to me!
If anywhere, the market square is the perfect spot to park up, however, finding somewhere to lock your bike in Cambridge can feel a bit like trying to win the lottery.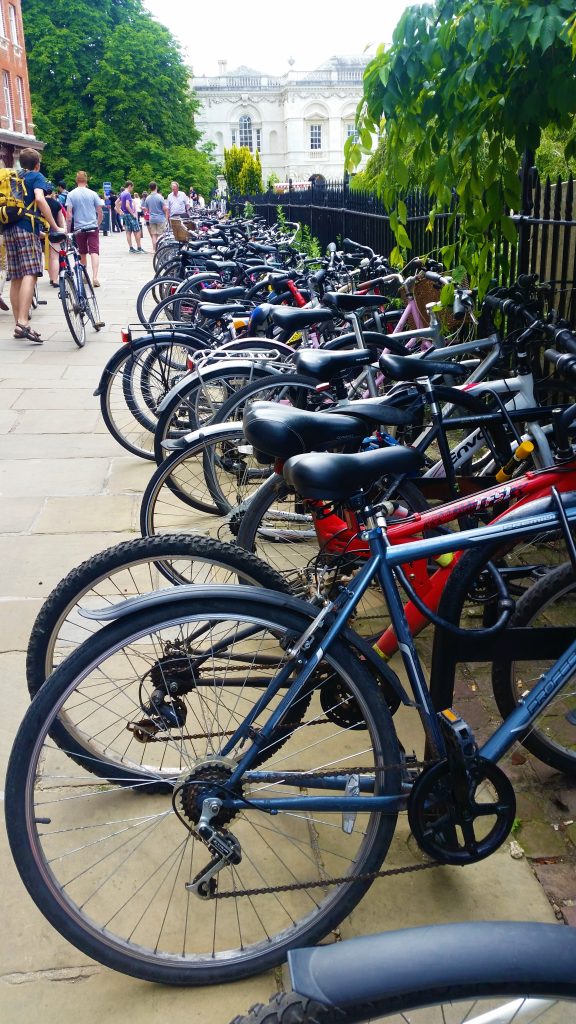 I'm pretty sure the market here is daily, but either way, I took full advantage of the fact there was a lady selling ostrich burgers! The food was amazing and didn't taste anything like I'd expected, so definitely give this exotic cuisine a go if you're in the city. You'll find all sorts around the main square, from St Mary's Church that offers amazing vistas which stretch as far as Ely from its tower, to eateries and international flagship shops.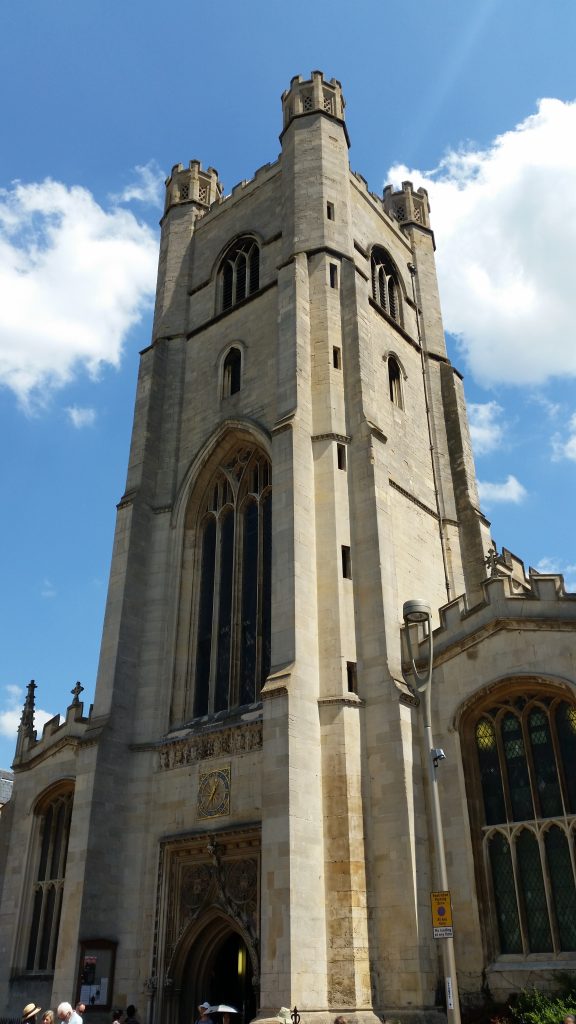 Back on two wheels, I journeyed along King's Parade, soaking up the views of the monumentally impressive college one last time before directing my attention to the Corpus Clock, which everyone seemed to go nuts for. I didn't quite get the appeal if I'm honest as it for some reason featured a really bizarre, and quite frankly unattractive, bug-like creature – but I did later read that it was unveiled by Stephen Hawking, which instantly makes it more impressive.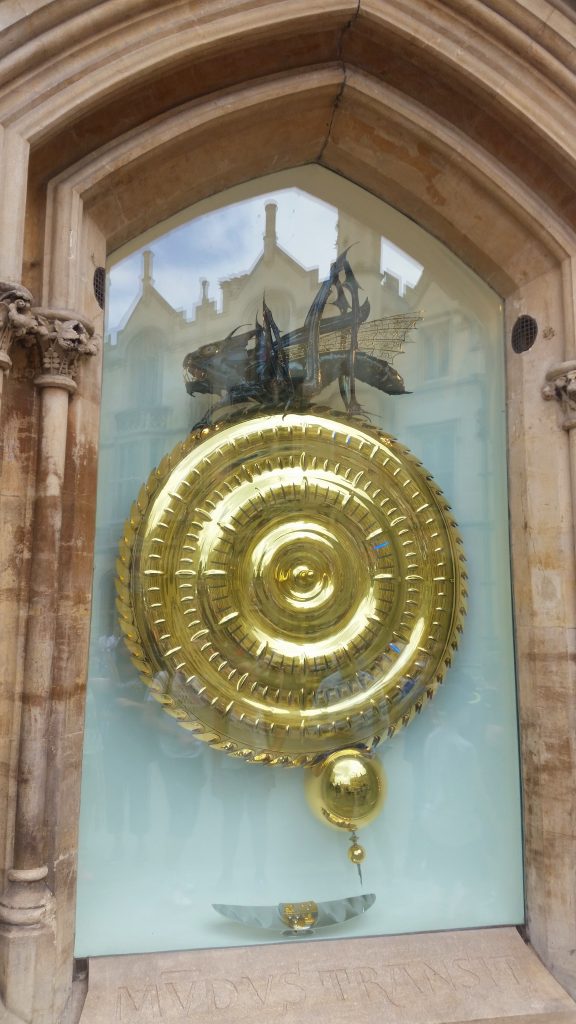 I swung a left from here as I saw a pub out the corner of my eye that seemed to be attracting more attention than the insect clock, and let me tell you, the insect clock was a huge smash hit. It turns out the pub was where Francis Crick interrupted patrons' lunches back in 1953 to announce that he and James Watson had come up with their proposal for the structure of DNA! I had to go in for a drink… There's also a very interesting room at the back where the ceiling is covered in graffiti, courtesy of World War II airmen.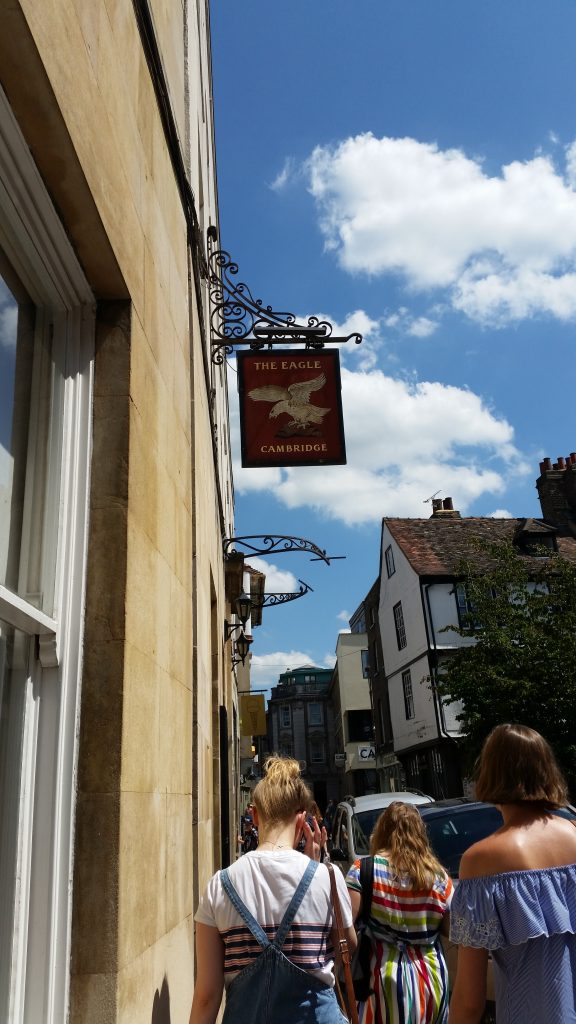 My much-deserved half pint of local ale rounded off my cycling adventure rather nicely and I set off on my way back to Granchester. For me, cycling was indeed the perfect way to explore the streets of Cambridge, as not only were they were built for bikes, but I felt like I could spend an entire day getting lost in them and never tiring, which is rare of a city. In fact, when I set off, I had no idea exactly how long my cycle would last or any idea of the city's geography, but I found myself cycling for the best part of a day. Stunning!
Thanks Cambridge, and I'll see you in October… with a more appropriate bike!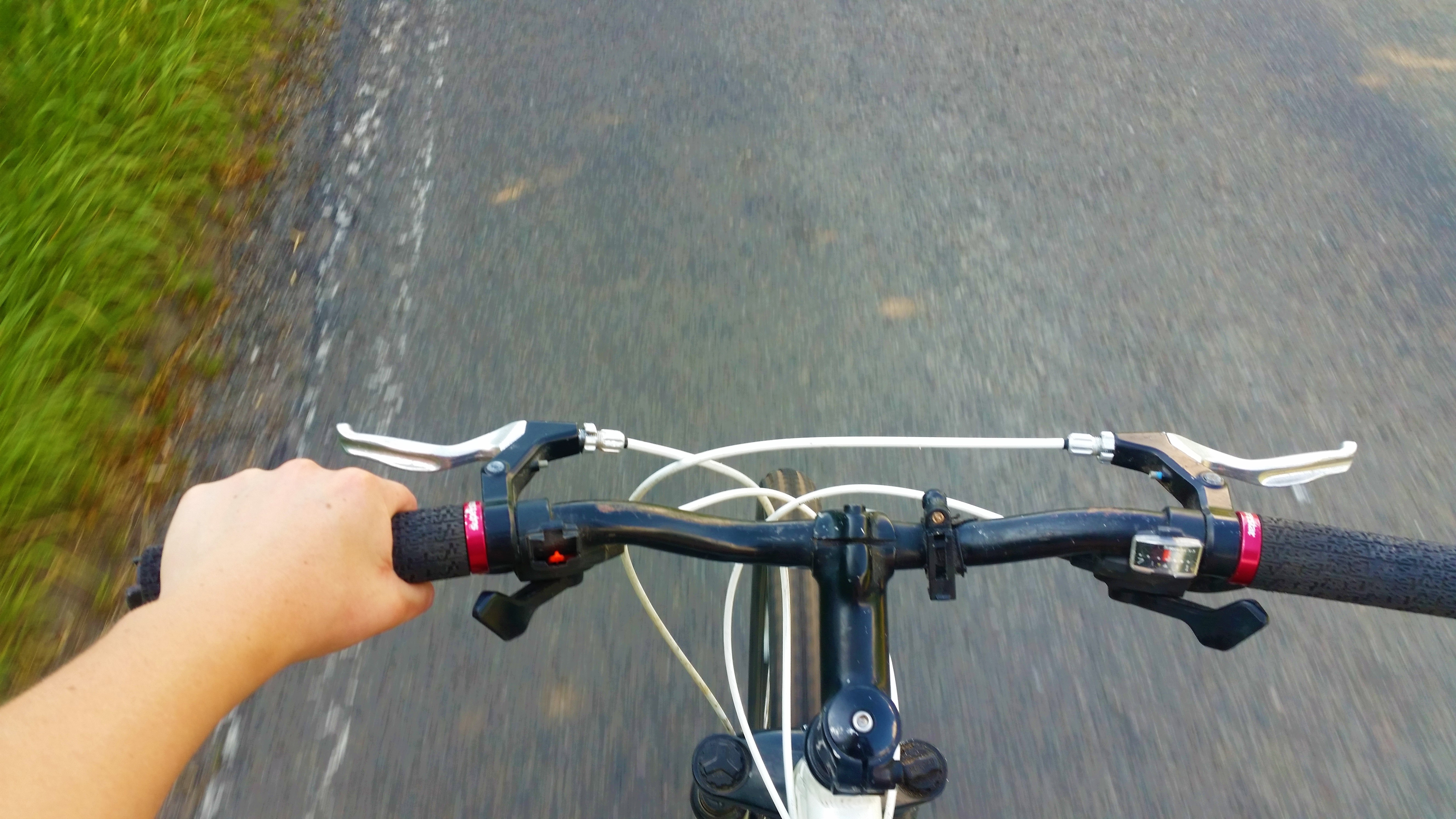 Disclosure: This post is in collaboration with Inntravel.