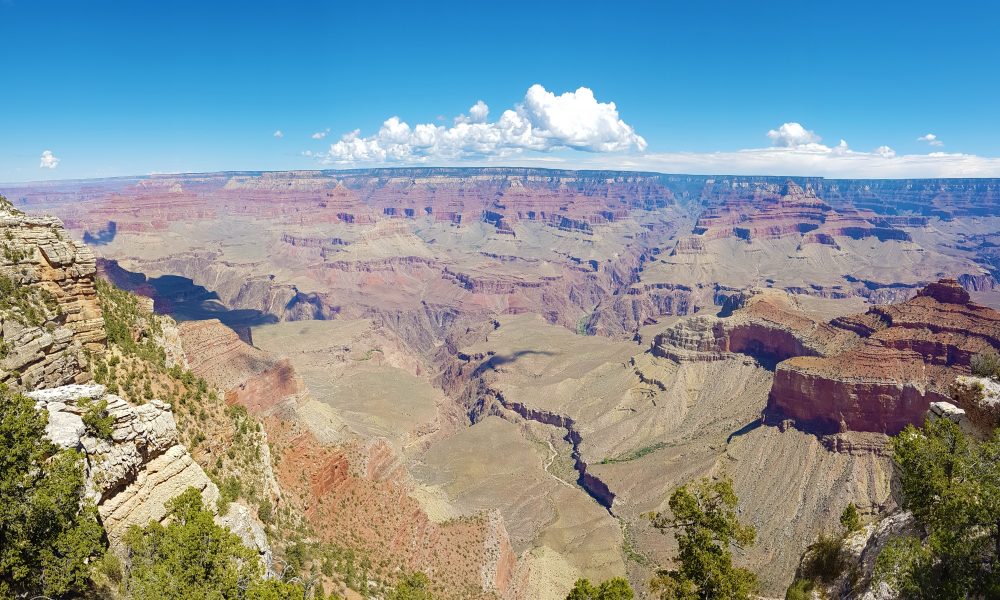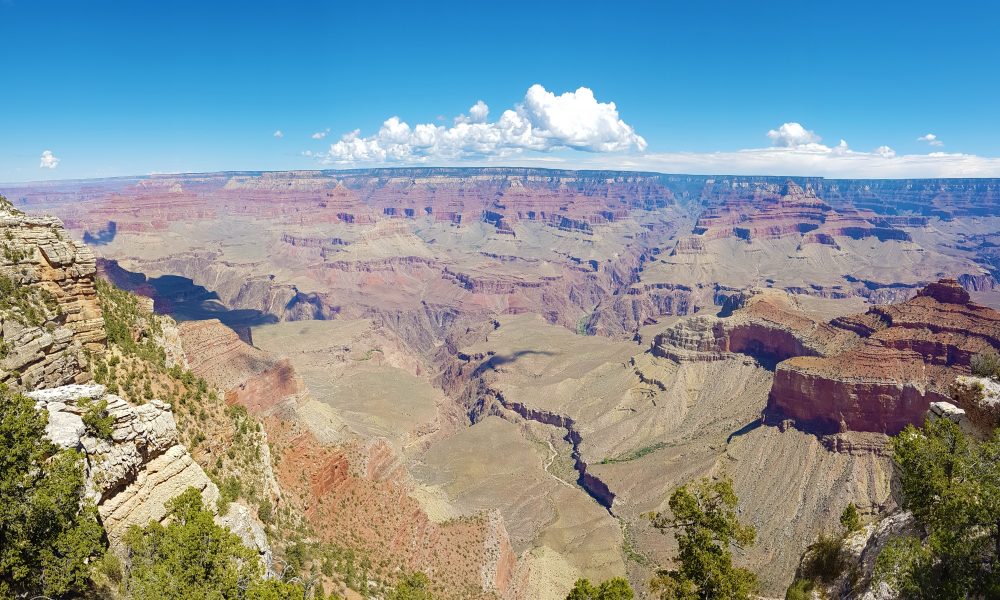 In short, yes. But do read on…
If you've checked out my Instagram of late, you'll have probably clocked that I'm taking a bit of a break from travel. It's not that I want to, I just kind of have to. Plus it's for a worthy cause! I put in an application for a PhD at the end of 2016, meaning I knew all too well that the 'hiatus' was coming and that I had a good ten months to make the most of being a fully-fledged, employed adult with money, responsibilities, possessions and an acceptable sleep pattern before reverting to student ways. I decided I had to take one last big trip before I found myself drowning in a sea of tatty old books, e-journals, research questions and trepidation (whilst being drip fed ramen off a stipend). I was also long overdue a meetup with some friends over in Maryland so – in the interest of killing two birds with one stone – I booked a flight to the land of the free.
I soon lost count of the number of people who asked me: "Why an earth are you going to America…again?!" Well, firstly, I quite like America and have a penchant for the accent. Secondly, when I was 18 I read a really inspiring book by British comedy legend, Dom Jolly. It was called The Dark Tourist and centered around taking trips that raise eyebrows. In particular, taking a leisurely ski trip to Iran, and visiting both North Korea and the Cambodian killing fields featured heavily in his engaging and eye-opening dialogue. I'm pretty sure this book – alongside a growing discontent for the cookie-cutter notions we're fed by the media and those around us of what travel should be – inspired a whole new generation of travellers. And that includes me. Ever since casting my eyes upon this book my main aim when travelling has always been to steer clear of the masses and take on the role of the 'dark tourist'. But having done my fair share of the unusual and untested over the years, this time around I wanted to conduct a bit of an experiment. I wanted to see whether those 'do-before-you-die-super-iconic-hotspots' were dubbed so for a reason, or whether they really are just tourist traps ready to bleed you of both your cash and soul like the millions of tourists that have gone through the motions before you.
I wanted to take a proper cliche American roadtrip. In the same way that Americans might idealise the great British adventure (popping to Lizzy's house in London and drinking some tea, before hitting up Warwick Castle, Bath and Cambridge if time allows), one of these roadtrips just once in your lifetime is a rite of passage.
I'm going to be splitting my trip up into lots of mini, digestible blog posts just as soon as I get around to writing them, but there's of course no better way to kick off my cliche blog series than with a few words on the almighty Grand Canyon! Gather round, kids. Here we go…
Ill-planned beginnings…
In the interest of saving time, I flew from Baltimore to Las Vegas. It's not cheating per say, it's just quite far. My time in Vegas is an entirely different story all together, so let's skip forward in time to the evening before my roadtrip kicked off where I'm stood in the car rental place at the airport.
Whilst many dream of breezing along Route 66 in style with a classic set of American wheels, coupled with chic interior, convertible roof, flashy exterior and all round indulgence, not I.
Oh no, I'd like to introduce Frank the Ford.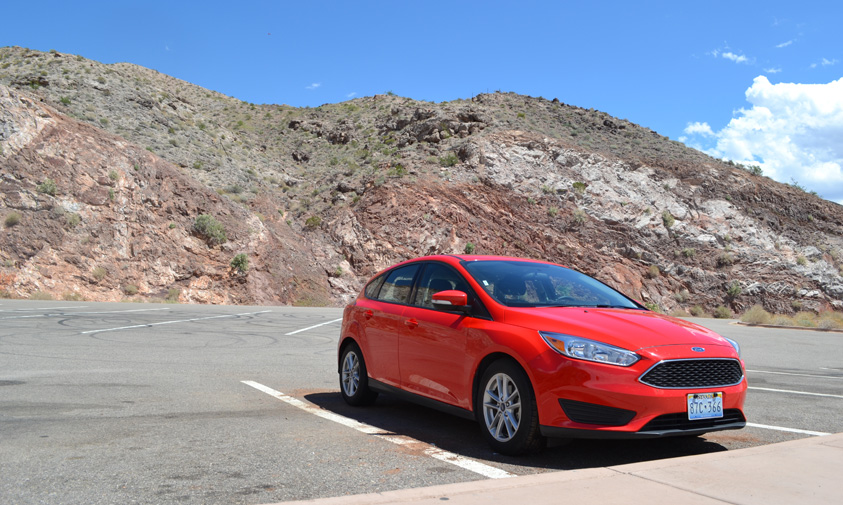 What he lacked in aesthetics, he more than made up for in familiarity, space, and all round safety – mostly borne of the fact that *apparently* nobody owns a red car in America as they look cheap, so nobody was inclined to steal such an unappealing hunk of mechanics. I didn't believe it at first, but this logic actually seemed to hold up, as I think I passed about three red cars on my entire four day trip.
How did I end up with such a classy wagon? Well, a top tip when it comes to renting a car in the States is to always choose the 'economy' range. It's of course the cheapest of all available options and will almost always indicate to you at booking that you'll receive a Smart Car. Now, I'm pretty sure Smart Cars don't even exist in America, and if they did, they would get run off the road by mega pickup trucks, so you're pretty much guaranteed to receive a free upgrade to the next class of cars, which is what happened (not for the first time). I was presented with a myriad of different cars to literally choose from, ranging from Chevrolets to Toyotas. I don't know what came over me, but much like when I sometimes panic in a restaurant and order a salad (I actually hate salads), I took the keys to this monstrosity. Let's just say we had some teething issues at first as I managed to leave the pick-up place with my wing mirrors tucked in. It was dark and I couldn't see a thing. Not only that, but I was fighting with my brain, urging it to adapt to driving on the 'wrong' side of the road immediately. This actually resulted in me driving the incorrect way down the Las Vegas strip and turning right on several stop signs. Say what you like though, Frank was like an average HP laptop or a sturdy bag for life – he was dependable. I almost feel bad that I spilled two litres of cherry coke on him whilst taking a corner too quickly.
I'd booked into a Hooters Hotel in Vegas because I thought it would be funny. As it turns out, staying in a Hooters is not funny. Nor is it beneficial if you actually want a moment's sleep. Like most hotels in Vegas there was a casino beneath, creating a hum that penetrated the entire building. The smell of weed crept through the vents and there was a series of suspicious looking marks at various points around the room, but then, what did I expect? I even felt uncomfortable in the restaurant dining alone. With scantily-clad girls everywhere, I had no idea where to look – they probably thought there was something wrong with me as I addressed the ceiling when ordering.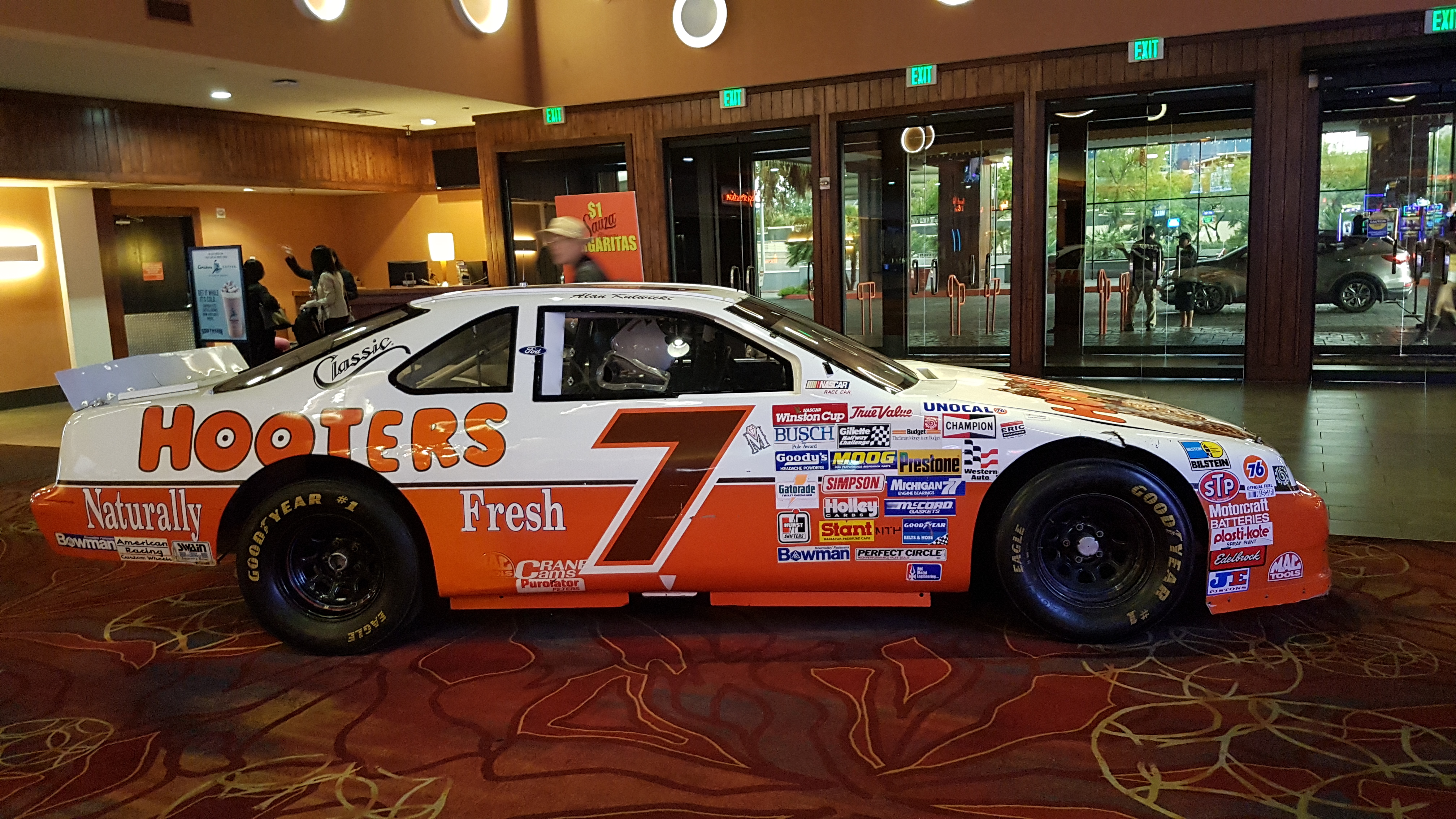 I got up at around 6am in an attempt to beat the traffic out of Vegas, as well as the onslaughts of people at the Hoover Dam. This was a great shout. If you've been to Vegas you'll know how bad the traffic can get, so this certainly helped to keep my stress levels to a minimum when driving abroad in a highly bullyable car in sheet rain. It took me less than an hour to reach the dam from the city, but the first thing that struck me whilst driving and seeing Nevada during daylight for the first time was just how desolate it became so quickly. I'd never been to anything like a desert before, so to me this was a fascinating drive (to begin with at least).
Visiting the Hoover Dam
Rocking up before 8am when the Visitor Centre opens is key to defeating the queues at the safety checkpoint (Frank was my only crime), and the multistory here is hands down the best place to park. I think it was around $10 to park up, but I'd managed to arrive during an incredibly active storm, so I was pleased to be parked literally metres away as the rain came down in buckets. Lightning was illuminating the skyline in all directions, but not to be deterred, I put on a sexy little waterproof number and headed down to the dam, completely alone, as you might expect in such weather. I'm British – I deal well with precipitation.
The dam itself is actually pretty impressive. Whilst completely unsuitable for those who suffer from the woes of vertigo, the walk along the wall is quite special. I struggled to look down or get too close to the edge, but I felt smug from where I was as most people were confined to snapping photos from moving vehicles as they drove across it. So many opportunities to photo bomb.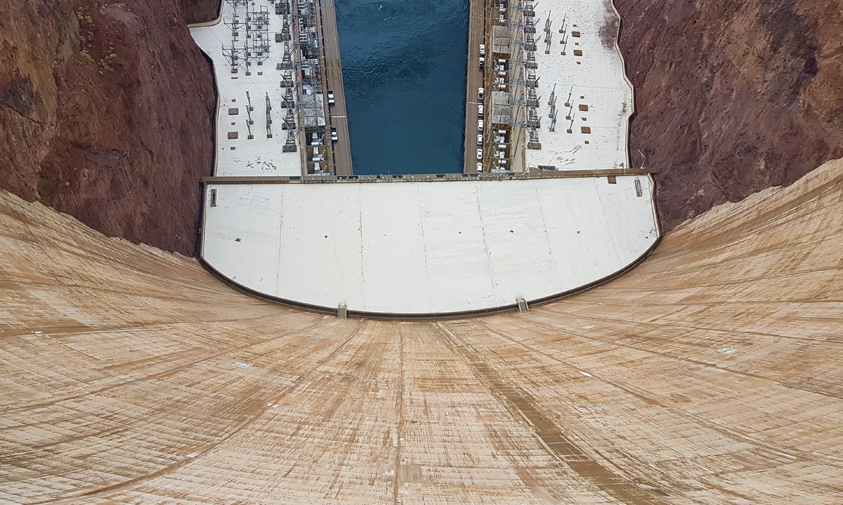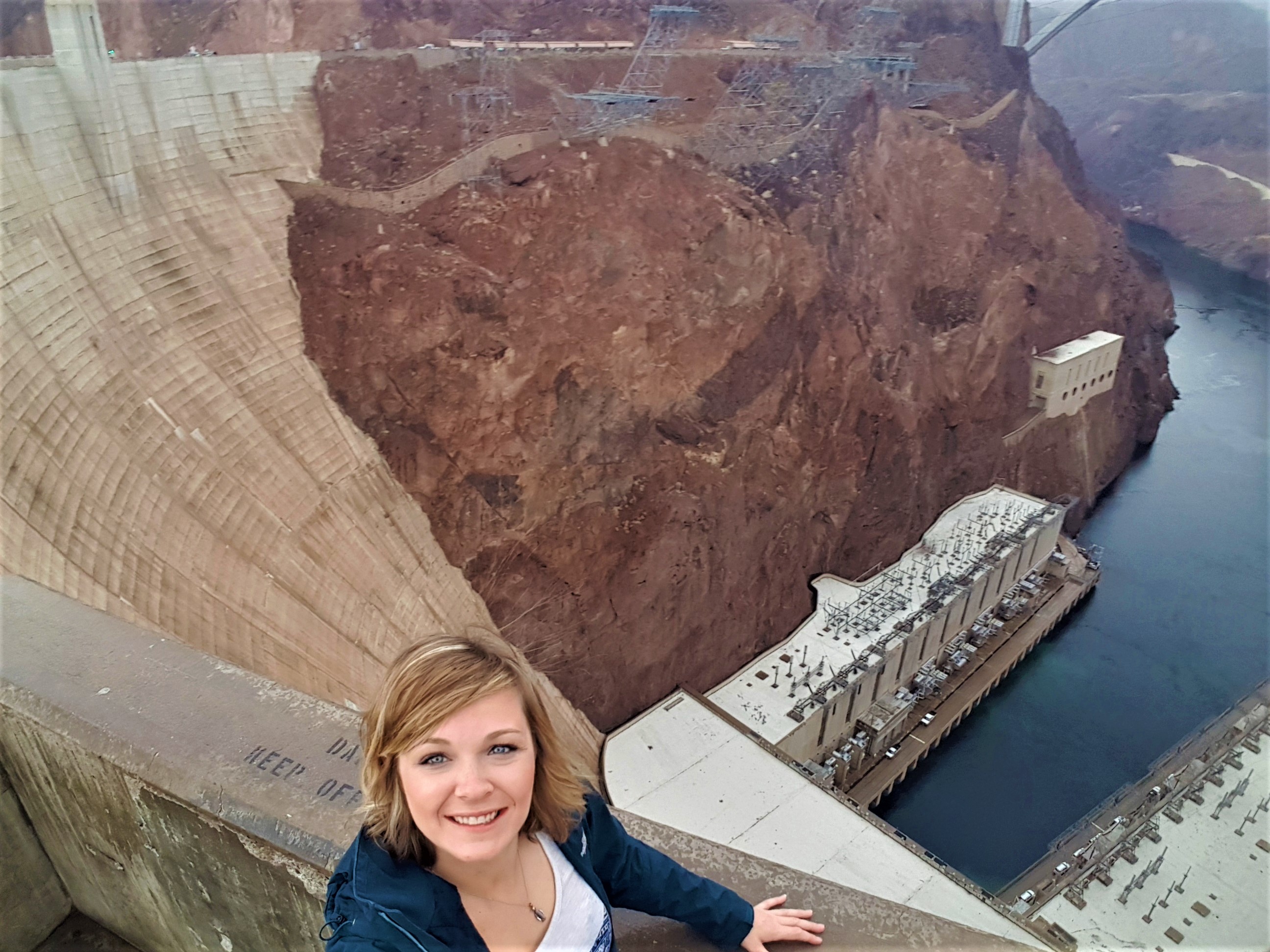 It's like looking down the barrel of a gun into its steep structure, but the most postcard-worthy views come from the Mike O'Callaghan–Pat Tillman Memorial Bridge facing it. You'll need to drive back the way you came to reach it where there's a sneaky car park on the left (free to enter).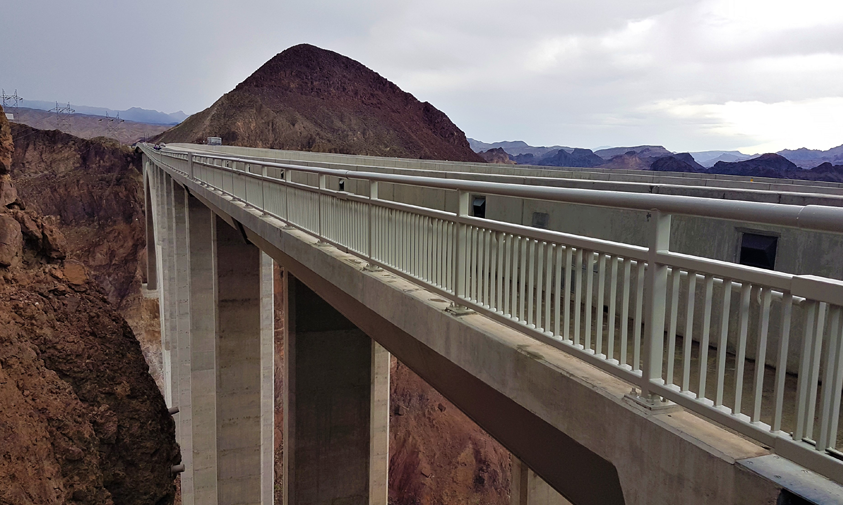 The structure itself spans the Colorado River, bridging the gap between the states of Arizona and Nevada, but from great height – 270m to be precise. Walking across this gave me the heeby jeebies, mostly as the safety of a railing with large gapes didn't feel like quite enough should my jelly-legs have given way. But, reaching the centre to get full perspective as to the sheer size of the dam was worth the trauma. It brought back memories of that wonderful time in Austria when I climbed a black route mountain and got stuck at the top…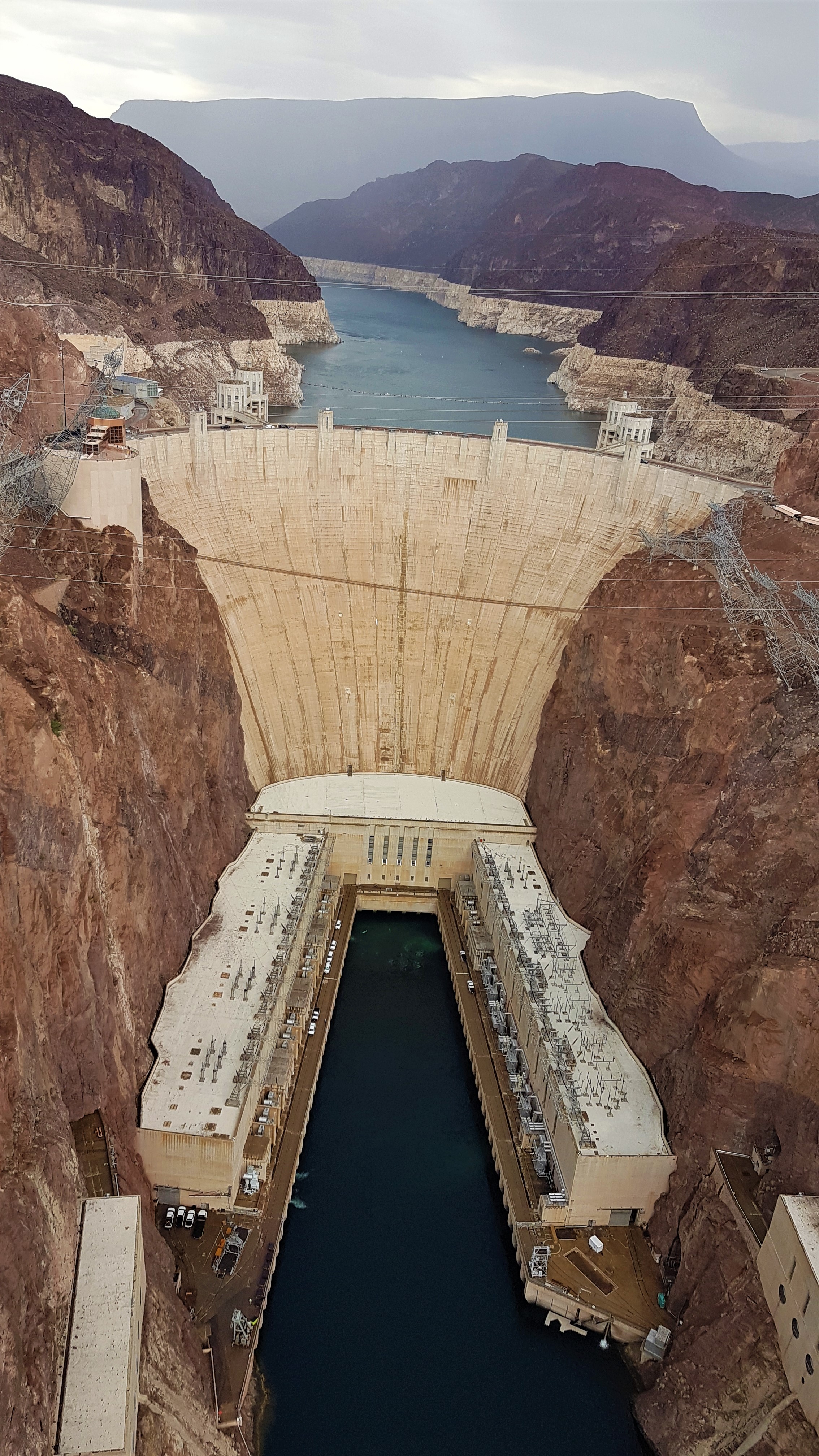 Anyway, photos snapped, feelings of heart in mouth achieved, I cracked on towards the Grand Canyon.
The drive itself from the dam to Flagstaff (the town I was due to stay in) was around just three and a half hours, but it felt ridiculous to not experience at least some of Route 66.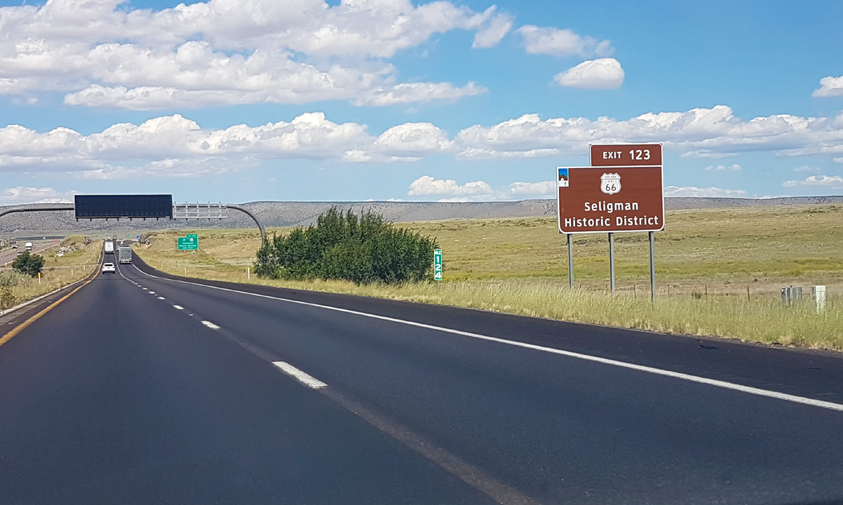 We spend our entire lives looking for short cuts and ways to shave minutes off travel – in fact I literally throw myself a victory party if I somehow manage to beat the GPS by two minutes – yet here I was, actively seeking a way I could drive along some more tarmac. Such madness! Being from the UK, driving for more than two hours at a time is considered a fate worse than death itself, so I was having to up my concentration game for this one – queue me drinking my body weight in Vanilla Coke.
Route 66
I get why people do it. Carefully curated playlist blaring, the scenery diversifying as you pass from state to state, the history in full flow and options to dine in iconic restaurants and diners a plenty. I was heading for Seligman, which didn't really have much going for it, other than a place named the Snow Cap Diner which was built mostly from scrap lumber obtained from a local yard. As I tore along Route 66 (as much as I could with Frank's engine size)to the sounds of generic rock, I was caught, once again, in an almighty storm.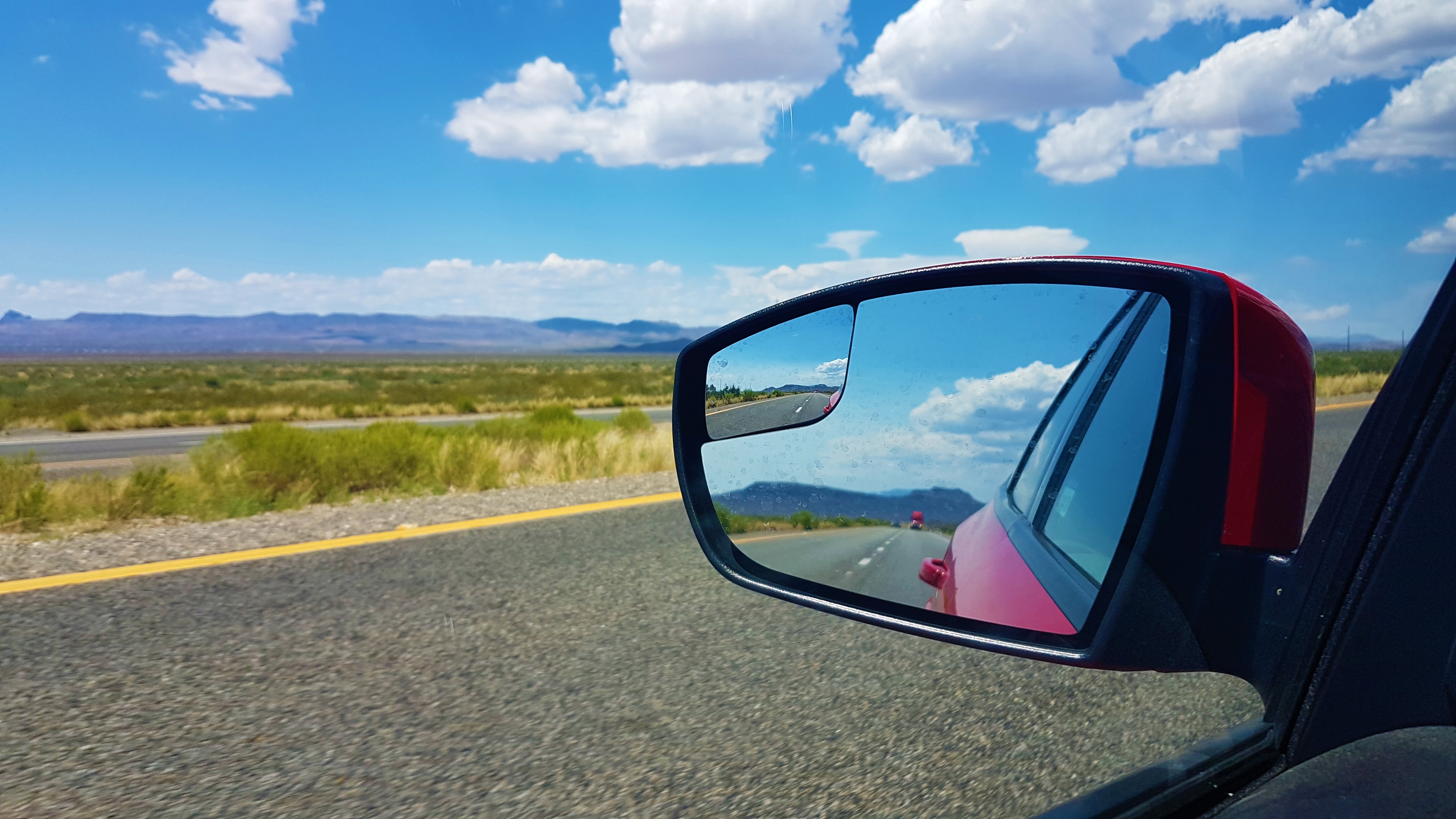 This made for an eerily quite drive through Arizona, passing just a handful of cars on my way. The scenery was still epic, with towering rock faces tinted with shades of reds and oranges set to a backdrop of seemingly endless green countryside – not the dry, uninhabitable area I'd just driven through. Green it may have been, but it was still desolate.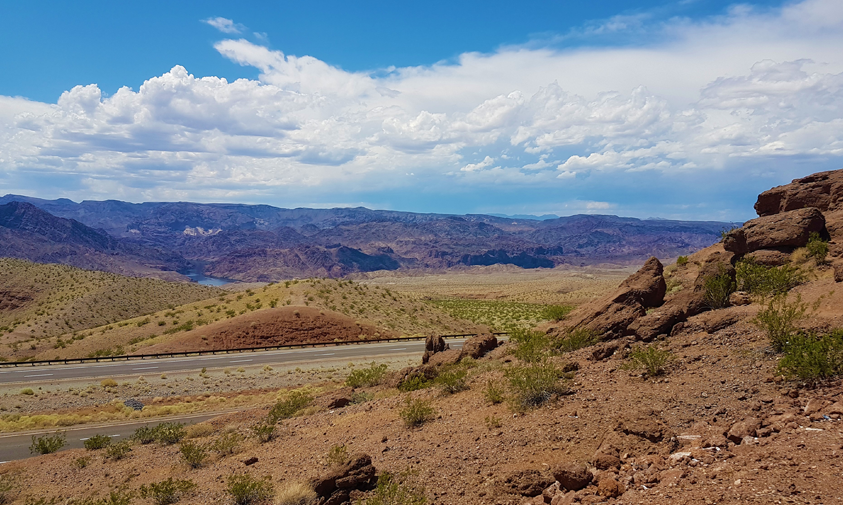 Once the novelty of rugged mountain scenery and the wonderfully winding road that traversed it wore off, I have to admit I got a bit bored. I used this opportunity to Skype family and friends I'd neglected throughout the two previous weeks of being overseas without a single word, giving them a little taste of the scenery. Productive!
Rocking up into Seligman, it was a bit of a ghost town (although not one of the many actual ghost towns that lie upon Route 66).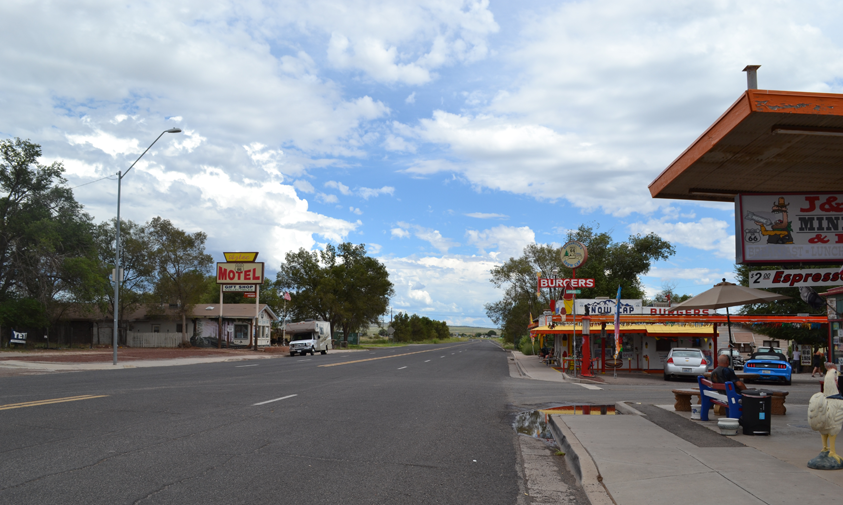 The Snowcap Diner was as good a place as any to stretch my legs and enjoy some grub. It's a quirky place to say the least. 'Dead chicken' was on offer, as were 'cheeseburgers with cheese' – how could could I refuse.  I can see why people like the place though. The food was obviously served as a side dish to the comedy. Upon entering I twisted the door knob to no avail. This annoyed me. It turned out the door knob on the left hand side of the door was the correct one. Funny…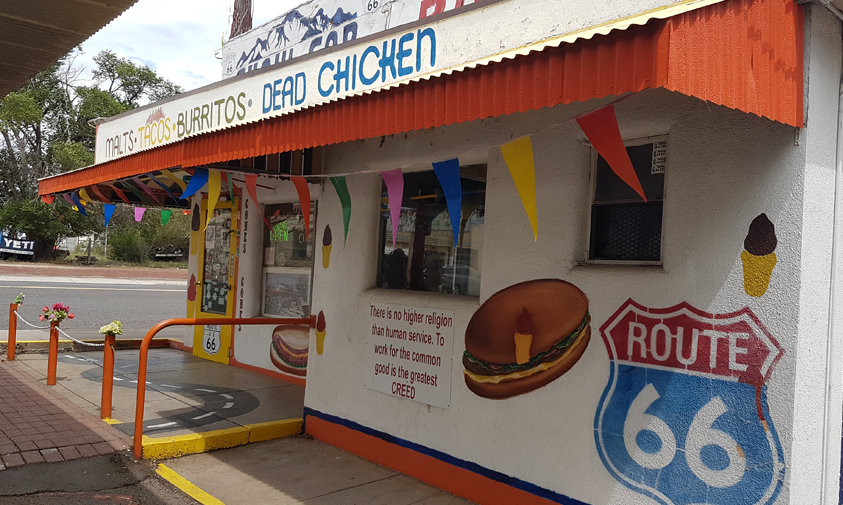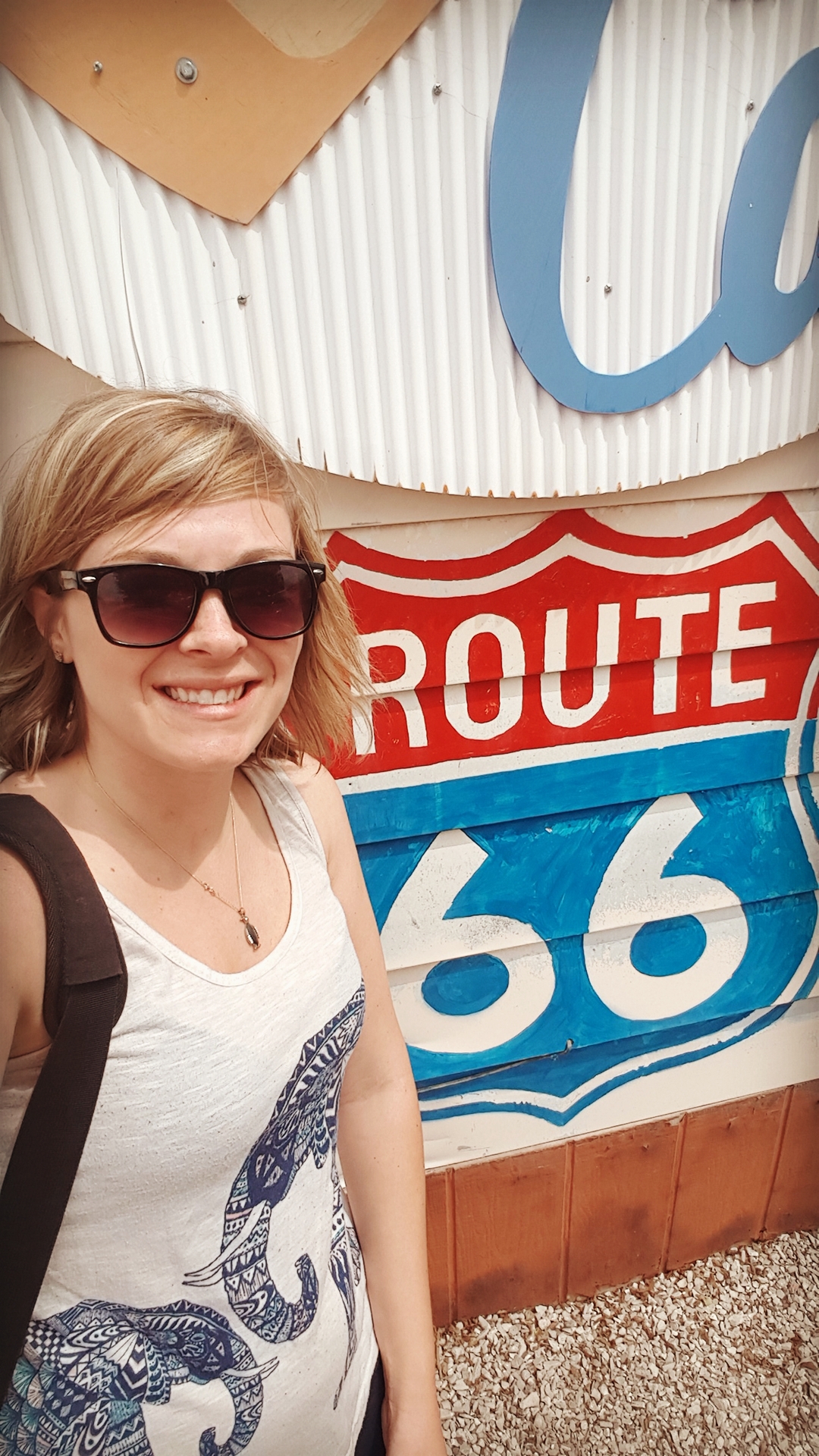 Then as I turned the corner, the owner proceeded to squirt me with mustard… well, at least what I thought was mustard. It was just a yellow ribbon. Yeah, you get the gist of things…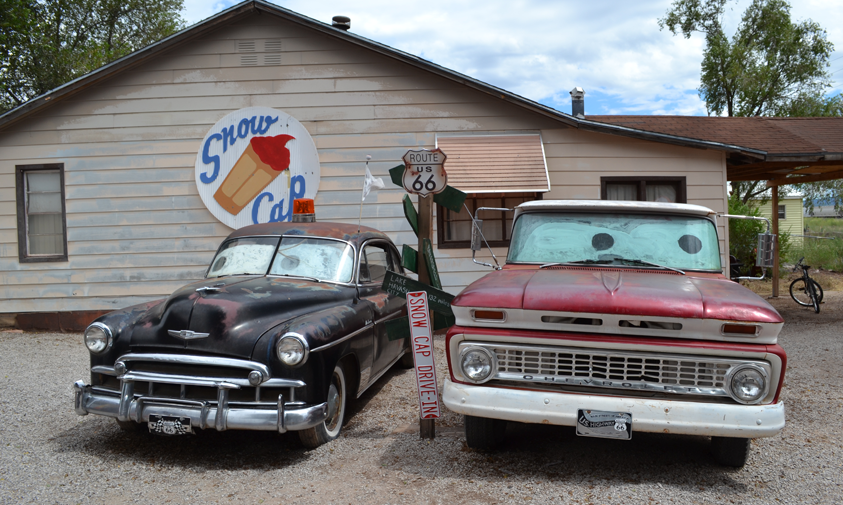 Tacos demolished, I got back on the road and was ready to hit Flagstaff by sunset. I'd read that Flagstaff had a good backpacker vibe and was bustling despite its size, so I opted to stay here rather than in the park where I almost certainly would have had to sell a kidney to afford to do so. It was around an hour's drive from the canyon, so was an ideal base.
Surrounded by alpine greenery and luscious green slopes, arriving in Flagstaff made for a refreshing change from the bright lights of Vegas. I felt like I'd rocked up into a ski town, just horrendously out of season. My hostel was decent. I booked into the inventively named Grand Canyon International Hostel where I was due to spend a few nights. It's set at the heart of the town and the staff there were really warm and welcoming.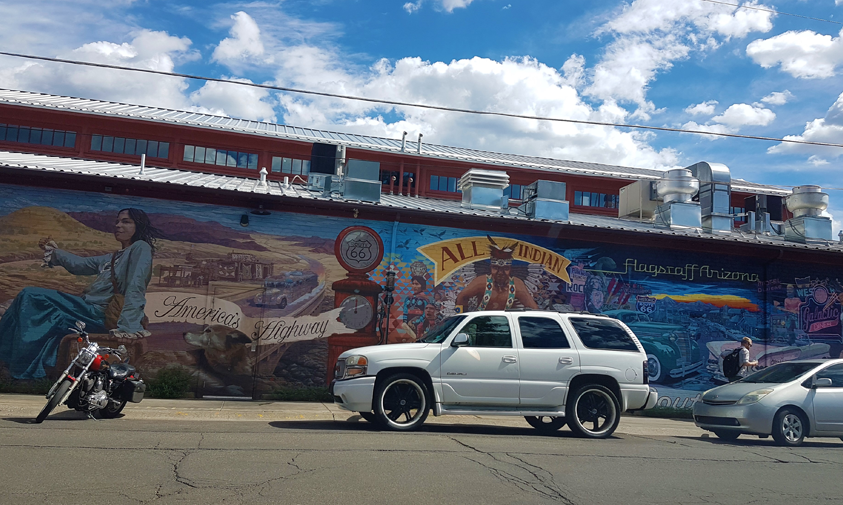 Usually I can't get excited about the staff I meet on my travels as I tend to not have many interactions with them, but based on the fact that they were happy to help me figure out exactly how to navigate the canyon – despite having probably done the exact same thing thousands and thousands of times in the past knowing that's the only reason people probably ever come to their town – they get 10/10. If you're heading to Flagstaff, note that the temperature there is a significantly cooler than surrounding areas, so bring an extra layer or two. I instantly regretted my decision to wander the streets in hot pants on a quest for Thai food. I would also recommend driving out to any of the supermarkets on the outskirts of the city for canyon supplies, as I made the mistake of walking to Whole Foods and spending about three day's worth of budget on a bottle of still water. In fact, stocking up for the heat of the canyon is the most important thing  you can do to prep!
The Essentials:
Whilst this doesn't cover everything you're going to need, this stuff will make for a better experience.
At least two litres of water – you can fill up at various points around the park headquarters, but if you were to get stuck in the canyon, this would be a reasonable starting point without weighing you down too much
Snacks like nuts, chocolate and crisps – the park is expensive and these provide allll the energy. I had however at this point developed a borderline addiction/dependency on Jalapeno Cheetos since being in America, so may have filled my bags with these for good measure
A book – whacking out a book as you wait for sunset is great way to pass the time
High top hiking boots – low won't cut it
Spare socks
Warm jumper – when the sun goes down it will get chilly
A hat – preferably a ridiculous one like mine that you would never wear otherwise so you can look truly American whilst preventing heat stroke
Flashlight  – there's no light at Desert Point and I struggled to find my car!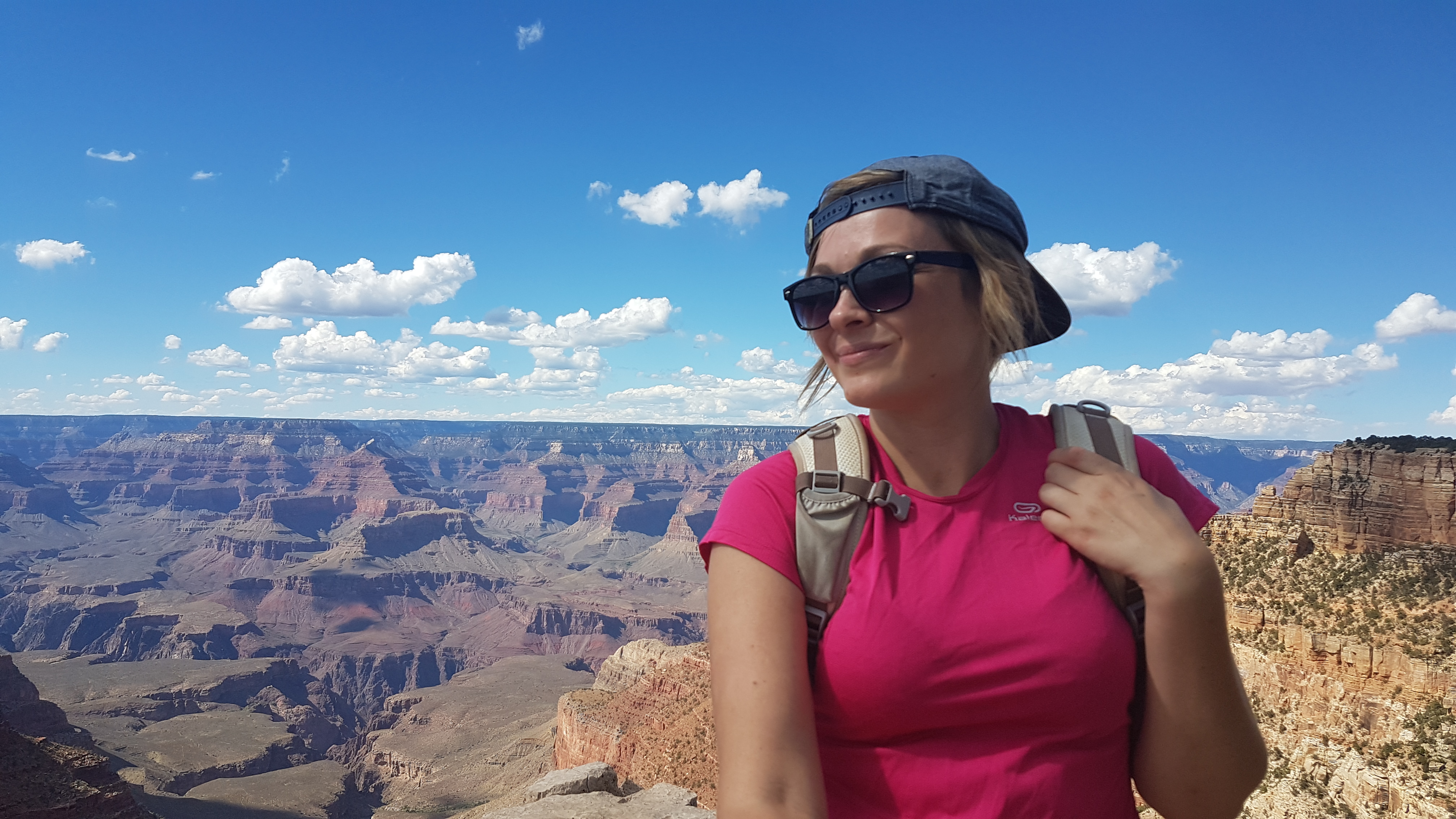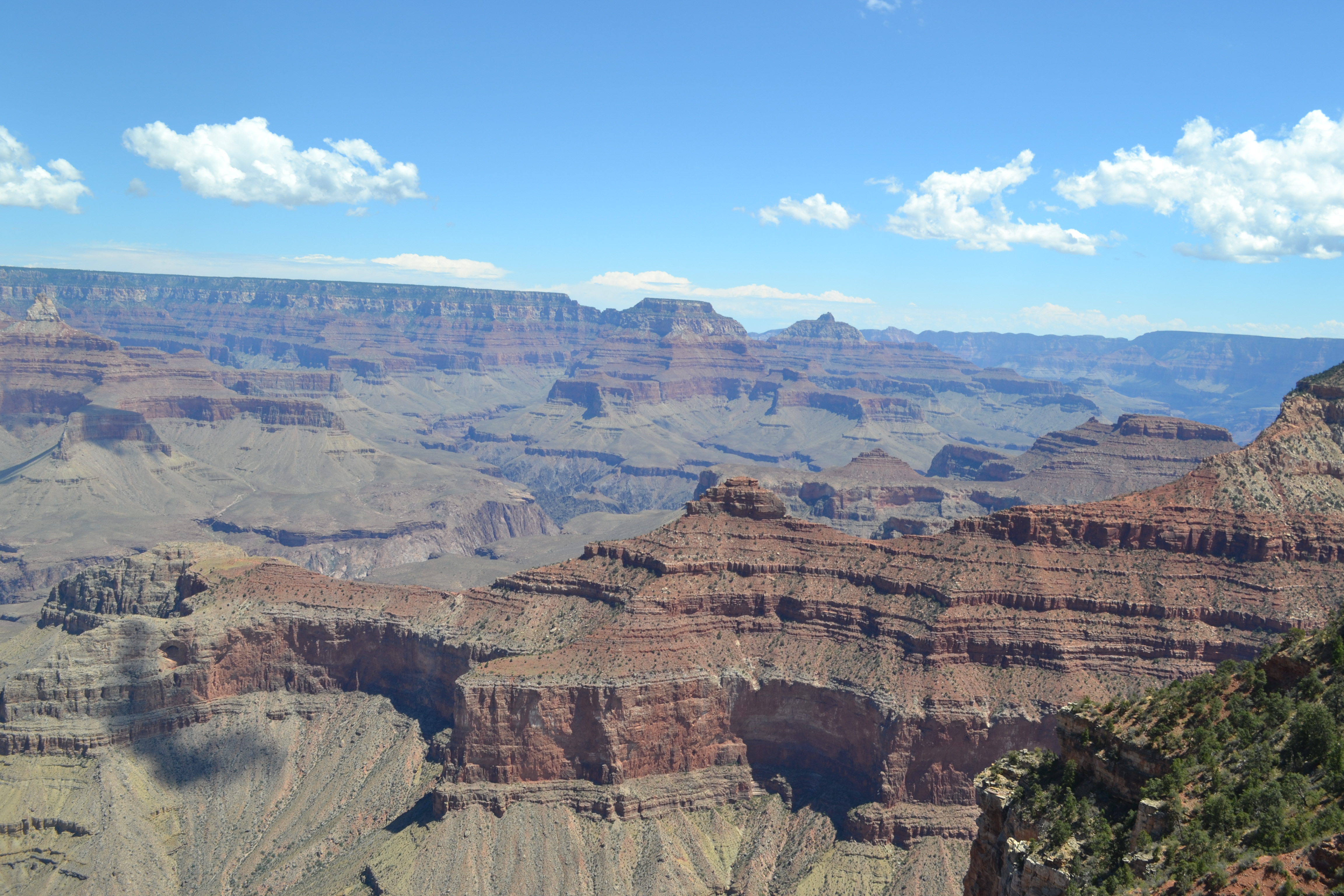 The 411
The canyon itself is separated into three rims, which of course makes perfect sense with its four sides and all. Ideally if you were looking to have the most solitary experience of all time, you'd head to the North Rim which is quite difficult to access, but for the majority, it's a choice between the Southern and western rims. The Southern Rim is just 121 miles from the glow of Vegas and is home to the most touristy of touristy things – the 4,000ft-high sky walk. It's here that you"ll encounter those who have fled the chaos of Vegas for the day to experience this almighty natural wonder for all but a few hours. The weather on the Eastern Rim mirrors that of Vegas, and the views are of course second to none. So if you're looking to make the most of both worlds, this is the ideal place to pick up a rafting tour to cruise down a good chunk of the Colorado River. If I ever find myself back at the Grand Canyon, this is what I'll do. There are many ways to see it in all its glory; helicopter, hiking beneath the rim and from the lip to name but a few, but coasting along the very bottom of this humongous hole has to offer the best perspective of all.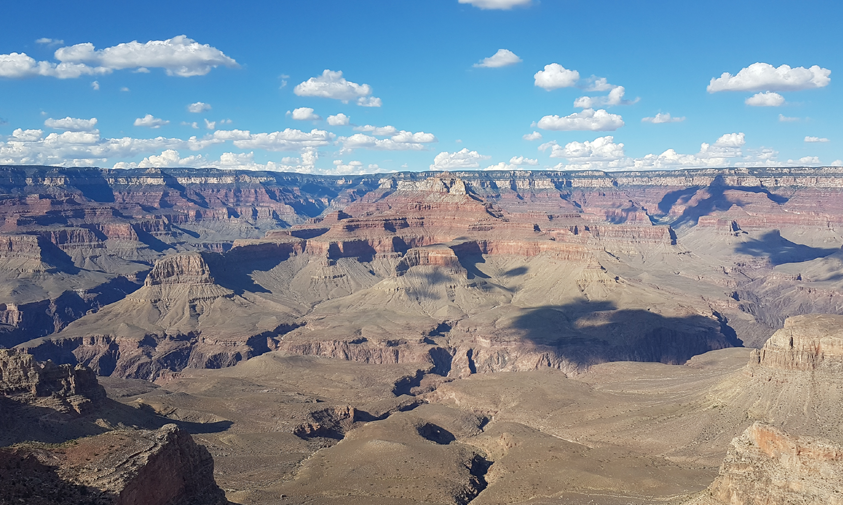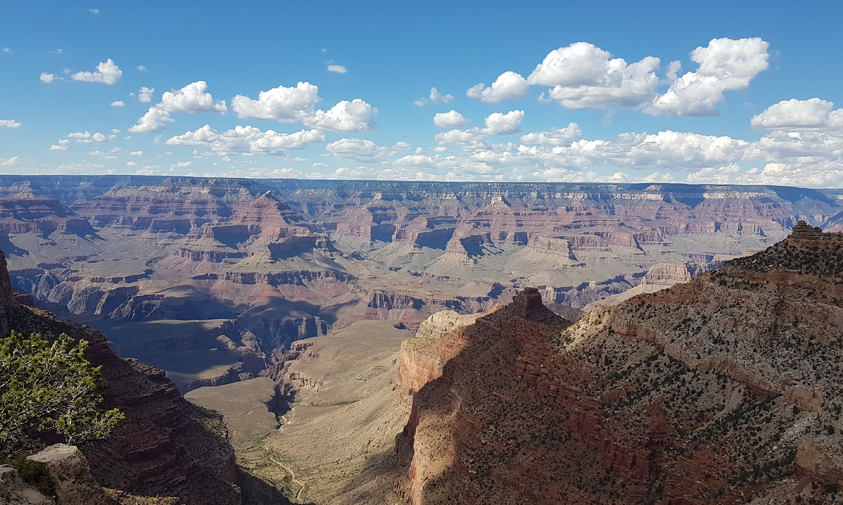 I chose to drive to the Southern Rim. Often dubbed as the most touristy and vomit-inducingly busy thanks to the Park Headquarters being located at its heart, I was pleasantly surprised with what I experienced. There was a bit of a heatwave on the go during my time there in September, with temperatures topping 40 degrees on the rim, so perhaps people were deterred, but generally speaking – if you know how to escape the crowds it doesn't become a problem. I'd also heard that the most iconic views could be had from this side, so at around 9am I rocked up to the park, Cheetos and all. It's $25 for entry, but that's not just for the one day so that was fine by me. Perhaps it was down to poor planning and research on my part, but scorching heat, steep hiking and no clue where I was going were the least of my problems during the trip – parking was where the real stress could be found! Perhaps this all came down to the fact that driving and reading a map at the same time is bloody hard…
Which View Point's Which?
If you're looking to avoid the swathes of tourists, the best advice I can give is to go east. The further east you travel, the less people you're going to encounter. That's simply because most people won't have their own car and will have arrived packed on buses like sardines in a can.
If you're not wanting to stray too far from the park headquarters then you can catch some of the best possible views from within reach of The Village and Visitor's Centre. In fact, if you're short on time, it's recommended that you hike the 2.1 miles along the rim between the two. I didn't use them, but there are also a bunch of shuttle buses that will ferry you around the park, which run every 10-15 minutes, travelling west to east and covering over ten miles. You can hop on and off as you please, but in the scorching heat waiting around for the bus is never fun, which is why I'd recommend heading out at your own leisure. You get used to the heat eventually, but at first I was a sweaty mess crawling along the floor.
Mather Point
This is where the bucket loads of tourists are dumped, but with good reason. From here you can see well over half of the entire canyon. Presented before you will be some of the areas most recognisable rock pinnacles, such as Temple of Zoroaster and Vishnu Temple. Check out these views! Then run.
Yaki Point
The fantastic thing about Desert View Drive, otherwise known as the i-64, is that it's idiot-proof. It's simply impossible to get lost as everything is nicely signposted for you, and there is ample parking at the most relevant stopping points (masses of camper vans are usually a good sign that something might be worth stopping for). Just a short drive on from Mather Point and the suffocation of The Village lies Yaki Point. Although located just a few miles east, it's all about perspective, and what a difference a slight change in perspective does make. Head east on foot and this is where the real Canyon experience will begin as you find yourself ambling stretches of the rim that are devoid of any sound, except for the crunch of dirt beneath your feet and the song of birds. At points it felt like you could hear a pin drop as you gazed down deep into the canyon. The beauty of the canyon lies in its intricacies, and each view point affords new and enchanting vistas that, just when you thought things could get no better, knock the last ones out the park. There's also ample opportunity for the dare devils among you to get up close to the rim, as the walls that lie atop the edge of Mather Point are no more, allowing you to explore your limits as an adventure.  This was as close I could stomach at Yaki Point as it was slightly breezy…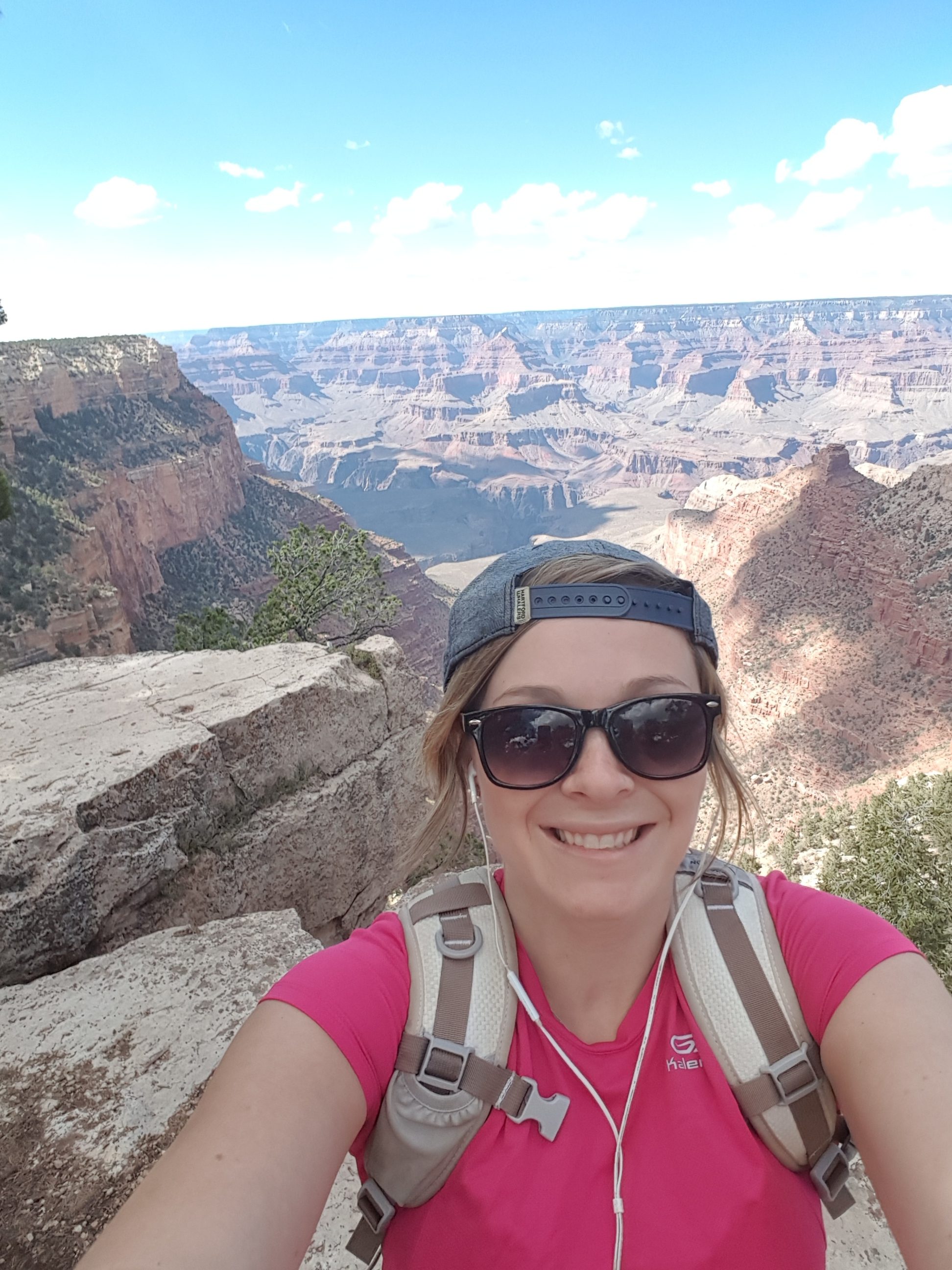 Excluding the grand finale, Yaki Point gets my vote as the best viewpoint along the South Rim. This is also where you'll need to park if you're taking the Kaibab Trail – the trail head for which is a fifteen minute stroll away.
Grandview
Located halfway between the Grand Canyon Village and your final destination is Grandview Point, which just so happens to be the southernmost point on the canyon's south rim, as well as the furthest point away from the river.
The Colorado River can be seen snaking below, with thousands of ravines and buttes poised between you and the huge bend that glistens beneath. The purple tinted granite cliffs are particularly steep here, so the viewpoint is walled off, but that doesn't stop a few nutters breaking the rules…
Moran Point
Five miles of winding river can be seen to be flowing through the canyon's clutches at Moran Point, offering glimpses of the colourful tributaries that sit within the Red Canyon. Bursts of red and orange Hakatai shale break through the surface of the roaring white water rapids, only adding to the theatre of sunset where the famous "Sinking Ship" illusion takes place.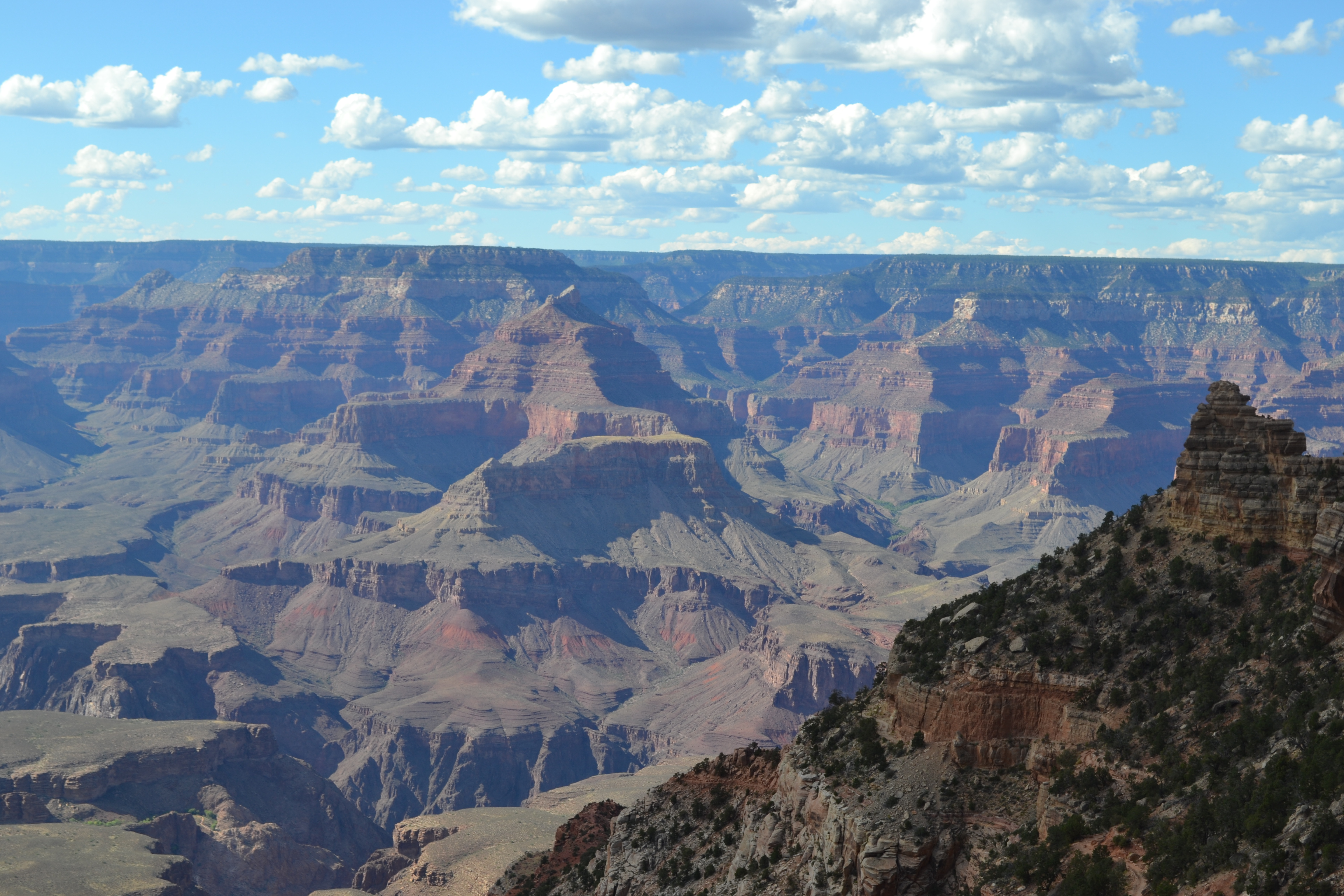 South Kaibab Trail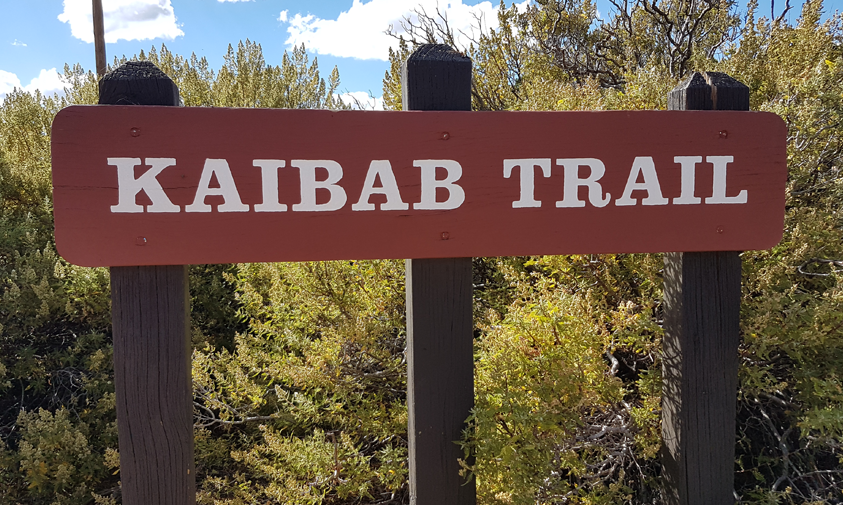 The trail begins just a fifteen minute walk west of Yaki Point, but remember that as wonderful as the Grand Canyon may be, it's a place of extremes, and this trail in particular is dubbed as a 'dangerous' ascent. Beneath the canyon temperatures can rocket by around 20 degrees. Couple this with the fact that the trail has no water nor much shade at all, and it's easy to see why you might soon find yourself in difficulty. I passed many a sun-stroked hiker who hadn't prepared properly with whom I shared water – not a pretty sight!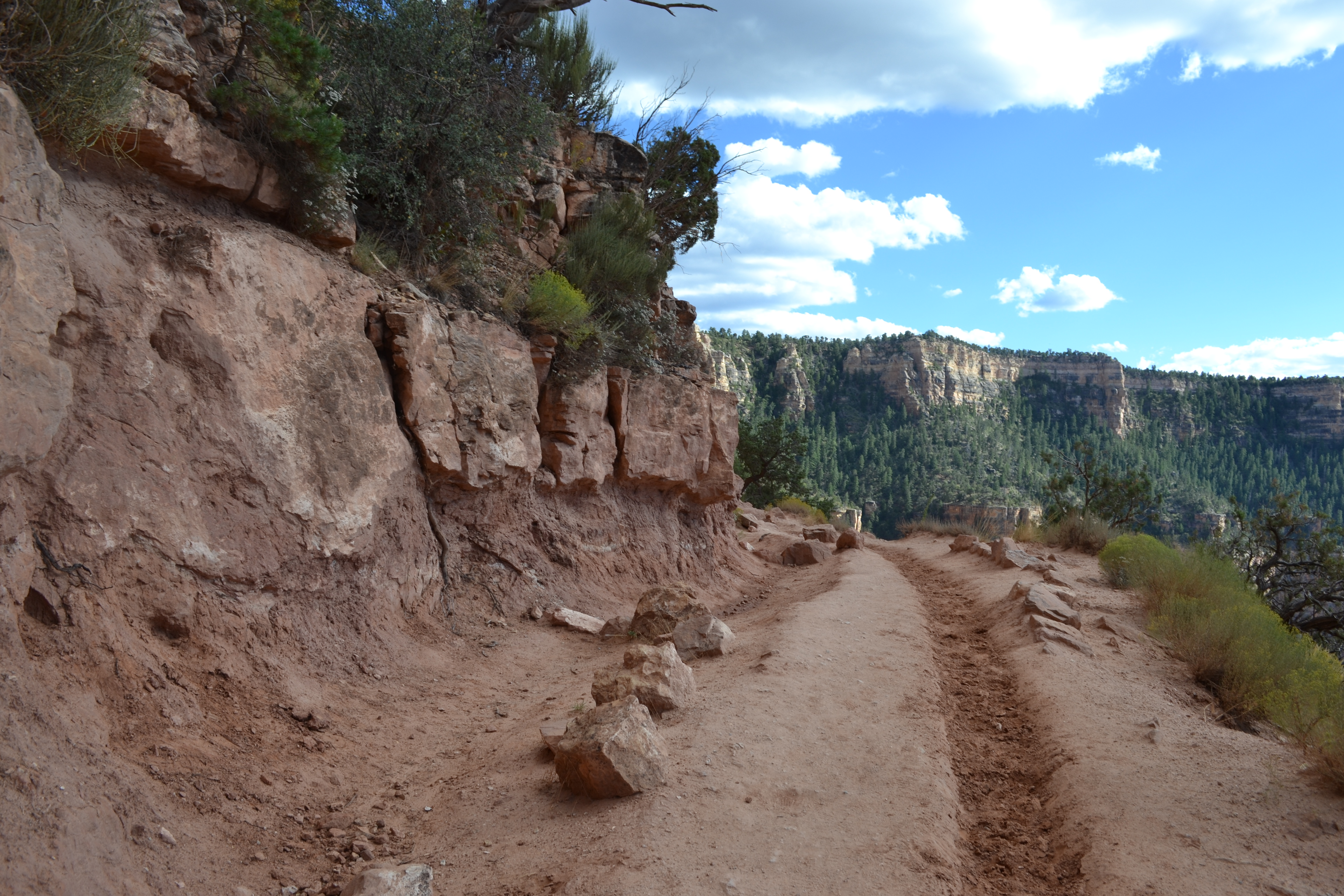 The trail itself is a 14 mile round trip down to the base of the canyon, where you'll find Bright Angel Campground, and back up again. Both strenuous and time-consuming, what it lacks in kindness it more than makes up for in mind-boggling views and close encounters with nature.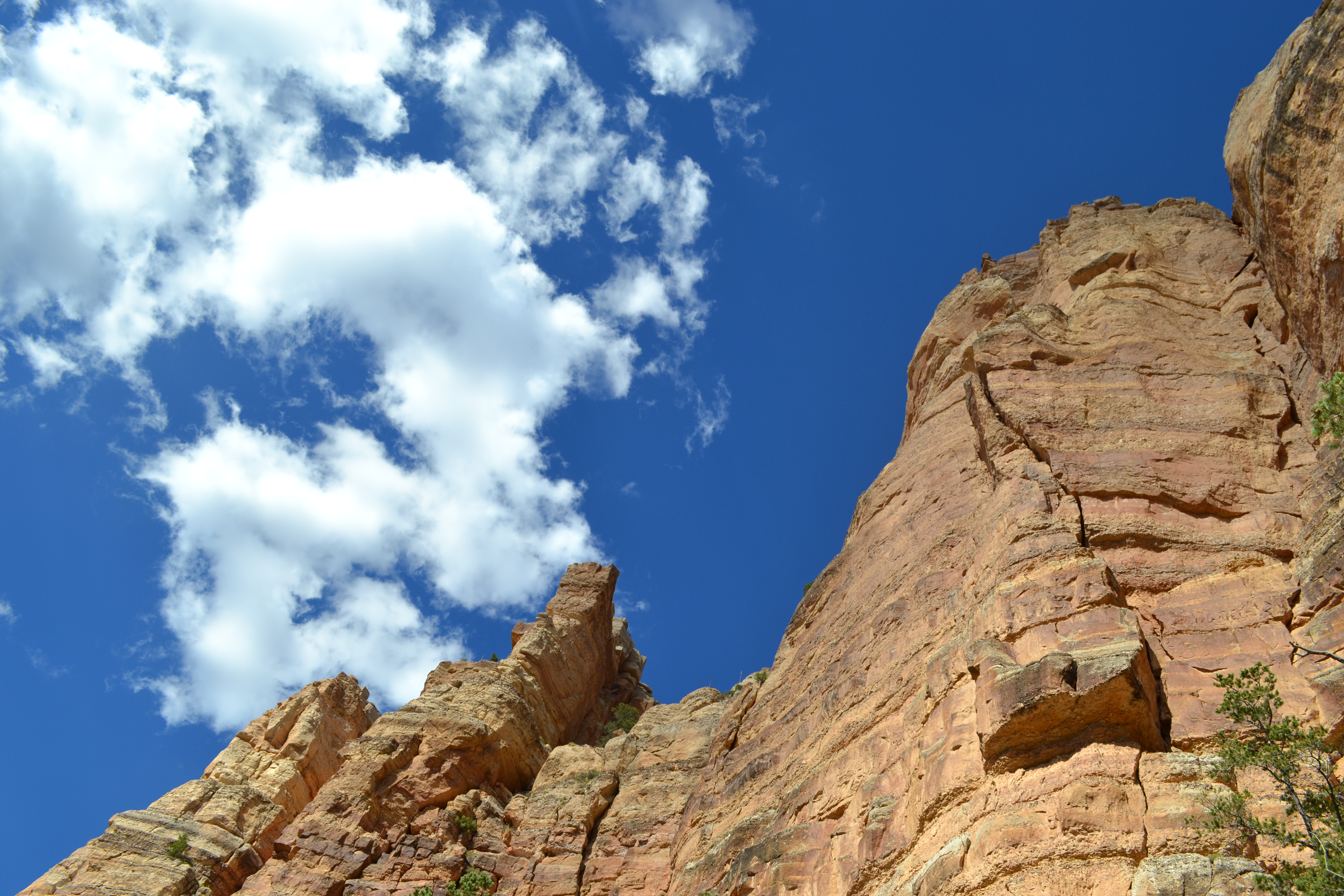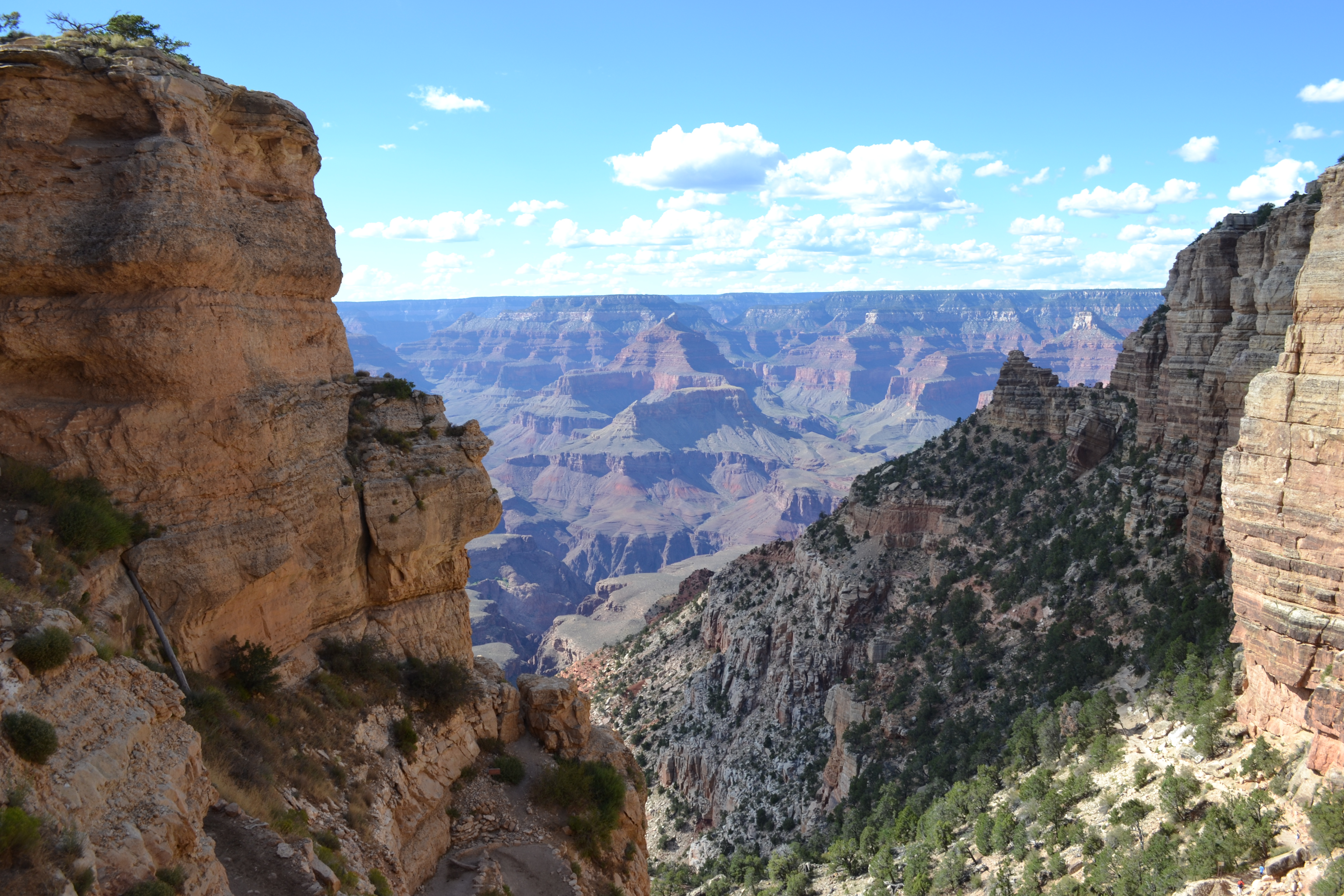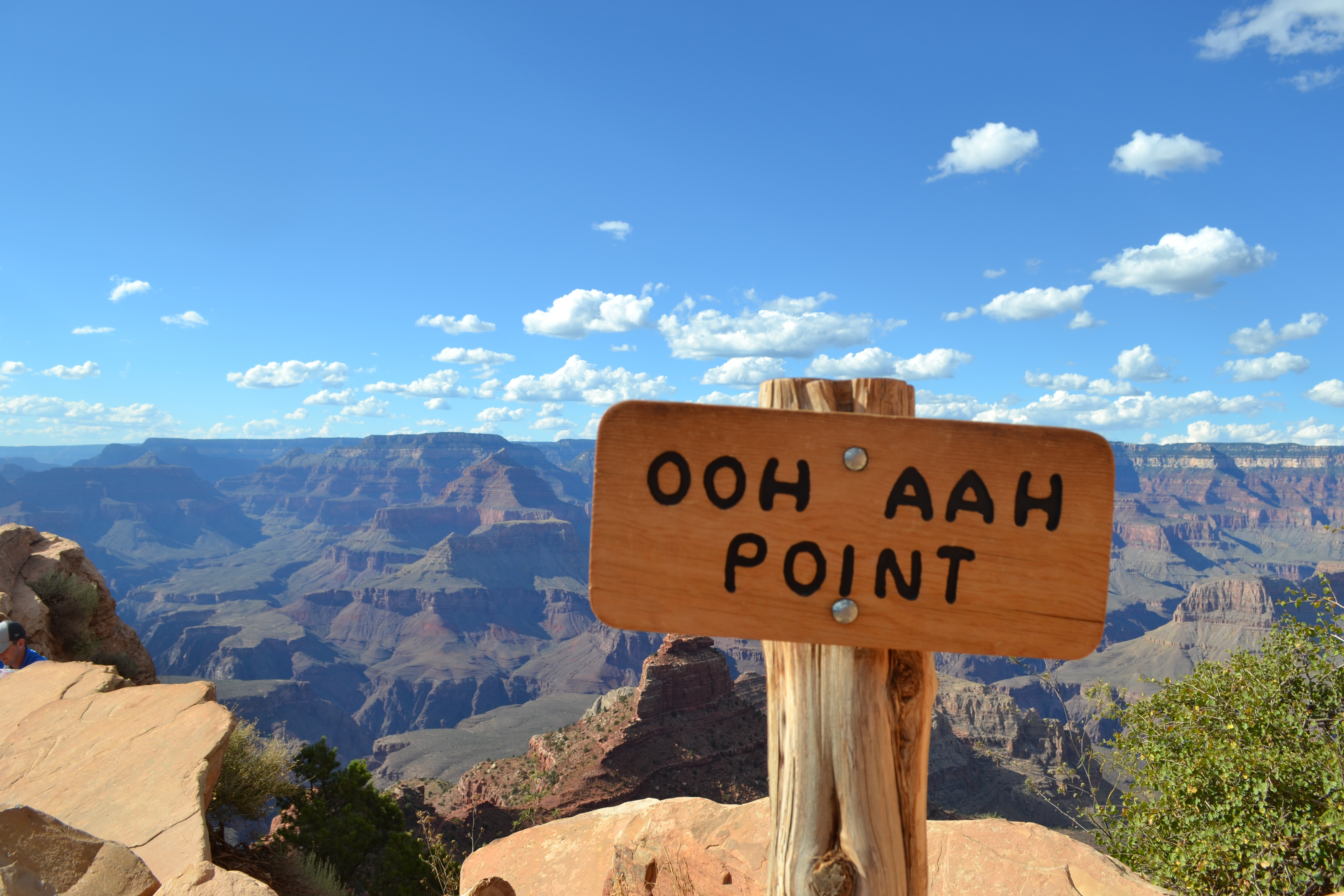 The trail itself is vastly exposed (hence the lack of shade), leading hikers from all over the world to visit in search of the drama that's synonymous with this ridge-line decent. Watch out for the mules! This ones for the avid hiker and not the for novice.
Desert View
Around 22 miles east of the Visitor Centre lies your final destination; Desert View and its iconic watchtower. You need to be slightly organised in all of this if you're going to catch sunset, so make sure you time your distances and your stops, leaving a good buffer of around 30 minutes in terms of when you arrive at the viewpoint. I arrived at around 6:30pm knowing that the sun would begin to set at around 7:10pm. Arriving early will not only ensure you catch the show, but it'll also give you front row seats and time to take the 85 steps to the top of the watchtower for epic 360° views of the canyon. Such is the location of Desert View that rather than overlooking the edge of the rim, you'll be looking right back down the very heart of the canyon as far as the eye can see.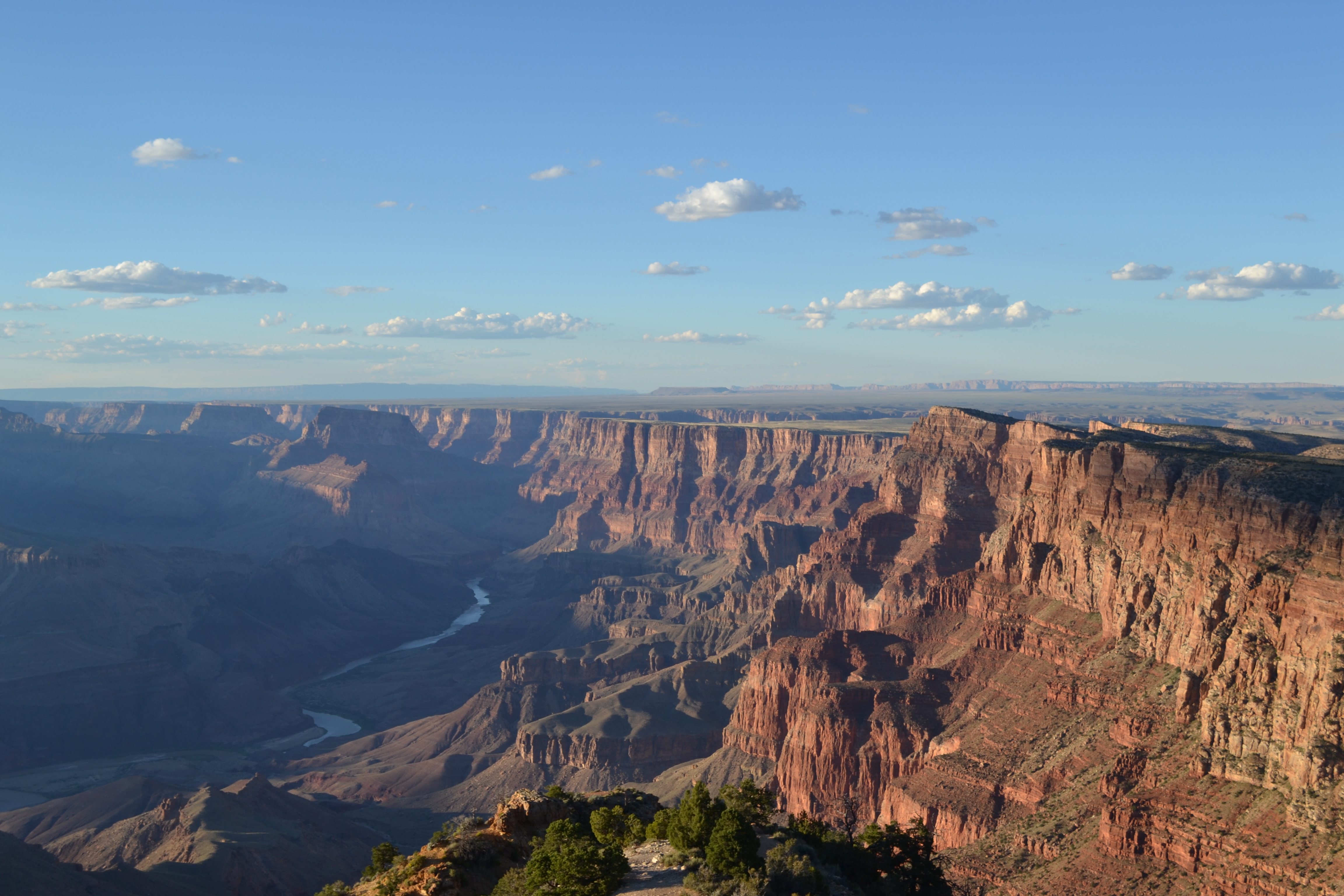 It's tricky to find the words to describe the sunset from this point. You're just sat, waiting. Waiting for this utterly monstrous and sprawling natural phenomonena that lies lifelessly before you to come alive. It's also possibly one of the best spots to see the Colorado River along the rim. You'll find a few benches scattered along the edge, but most people just take to a rock and wait for the show.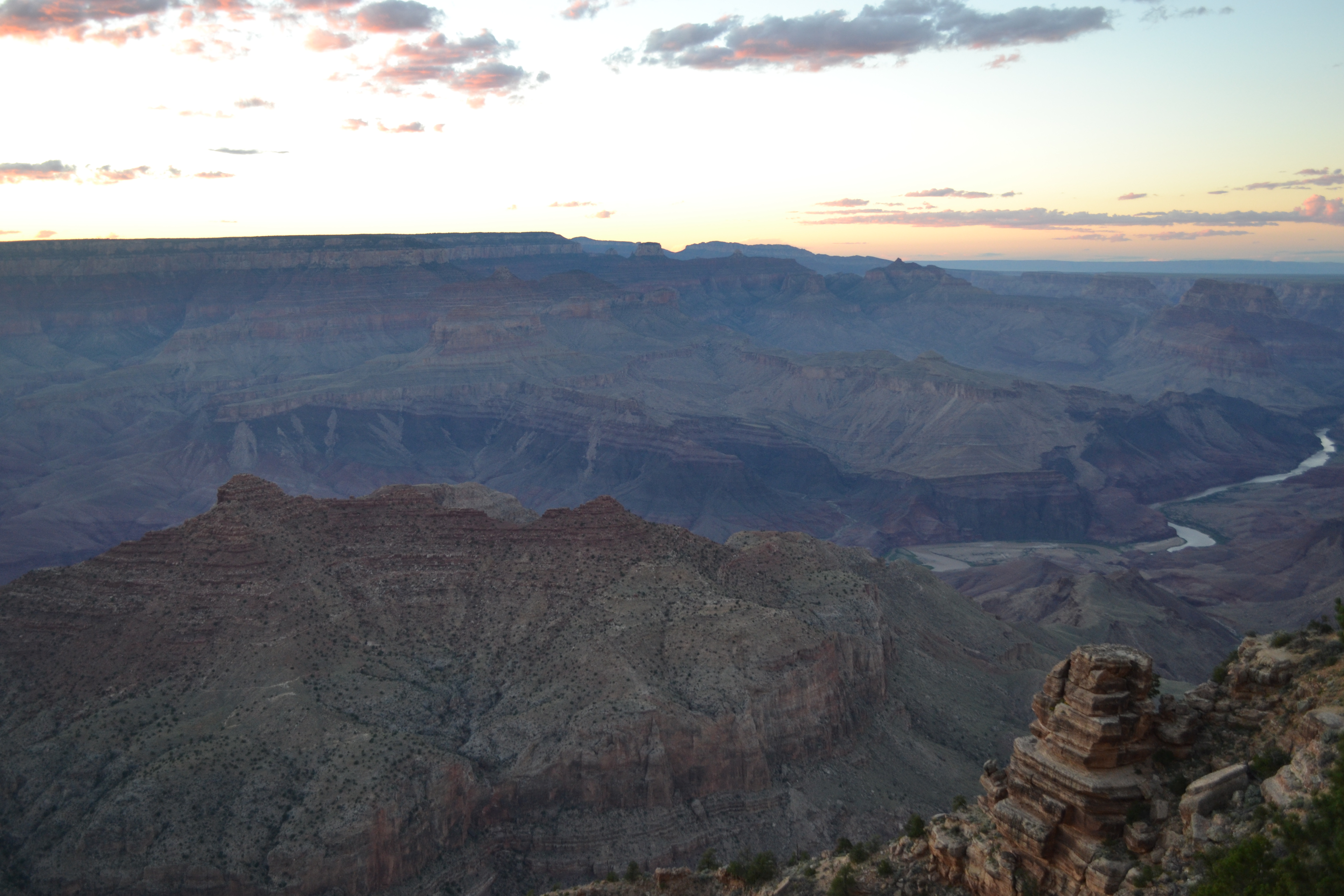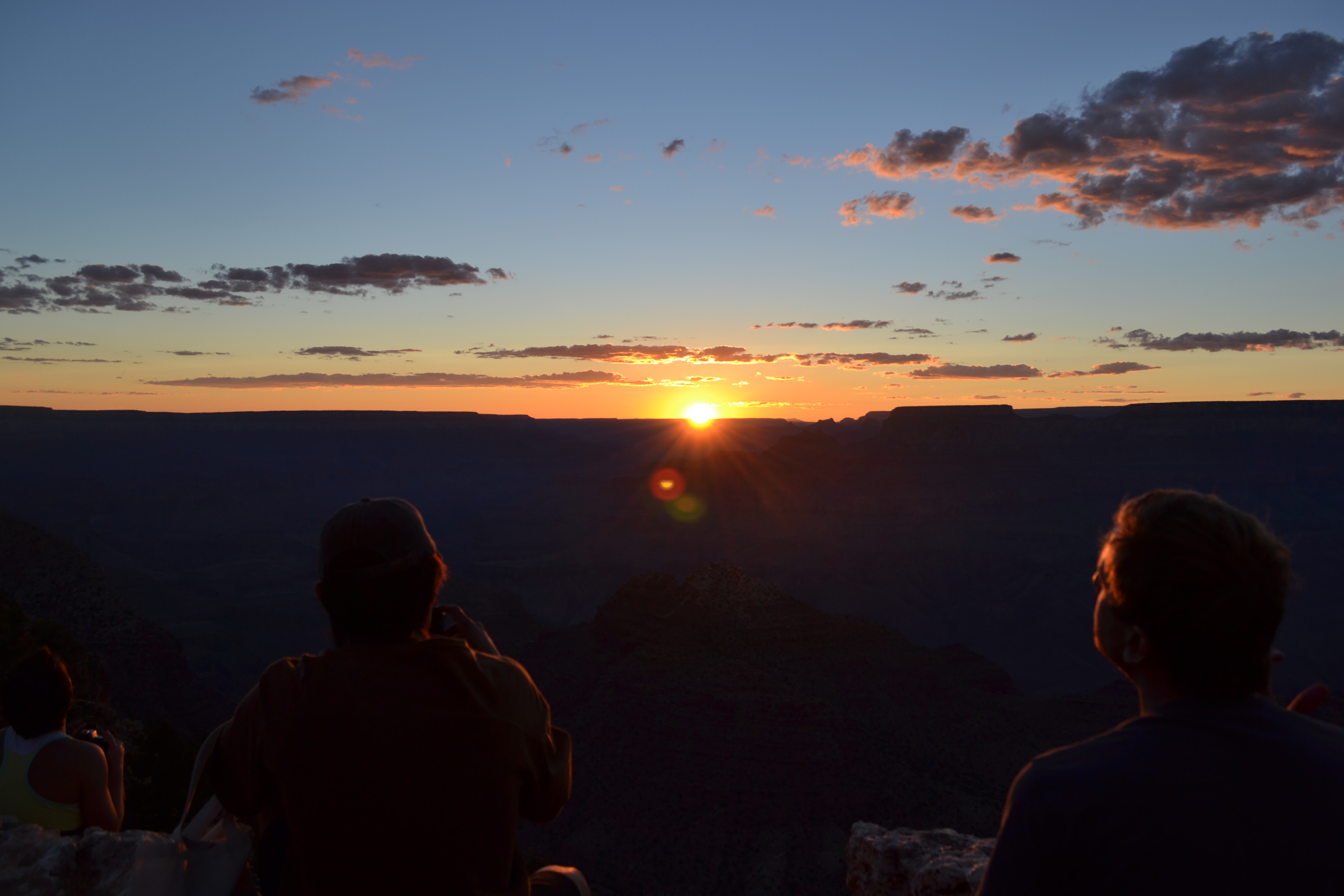 As the sun begins to melt beyond the horizon, with each passing second a handful of new enclaves or rock formations are revealed, creating distinct and captivating shapes that have the eyes darting high and low. But it's the colours that make the experience one in a million.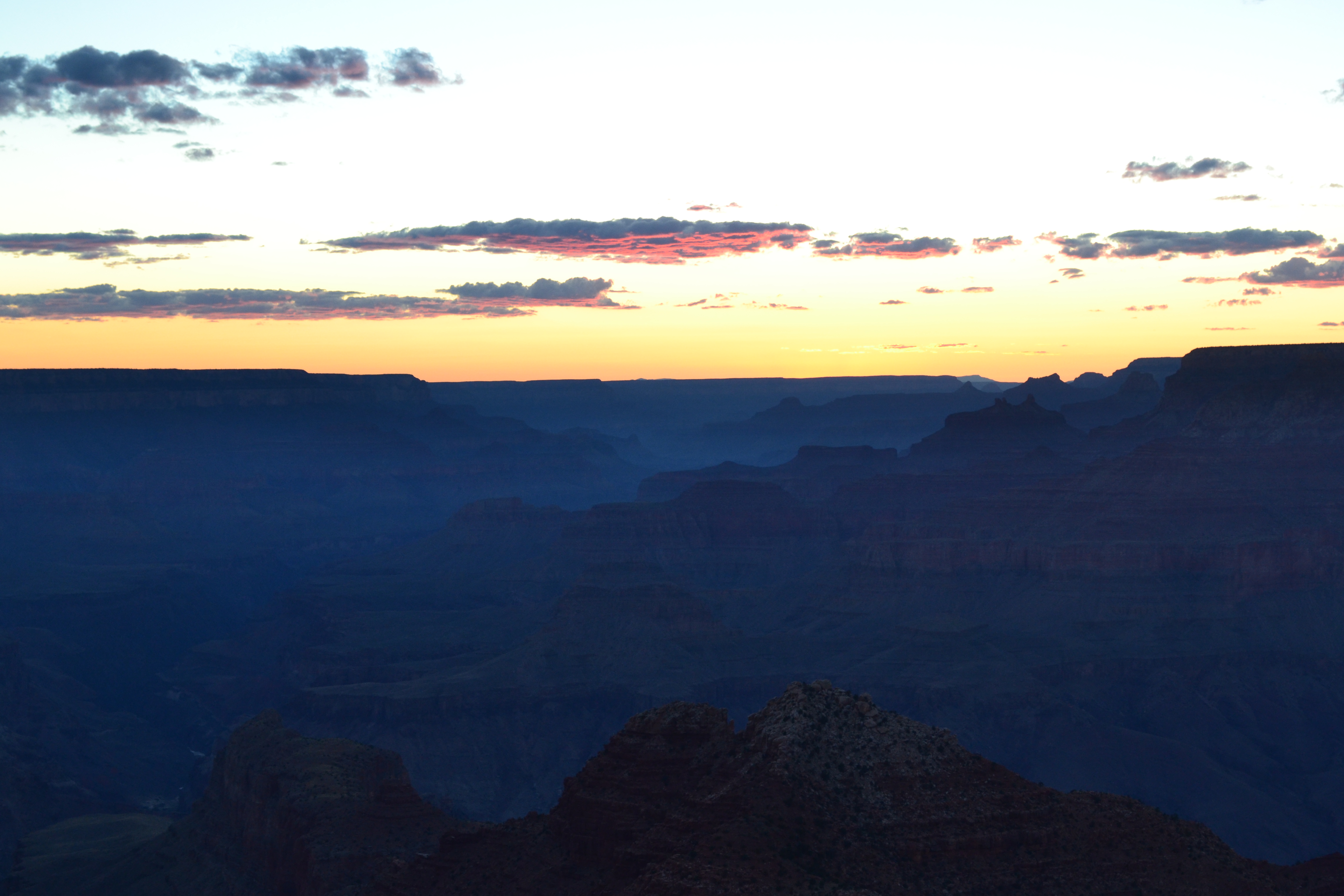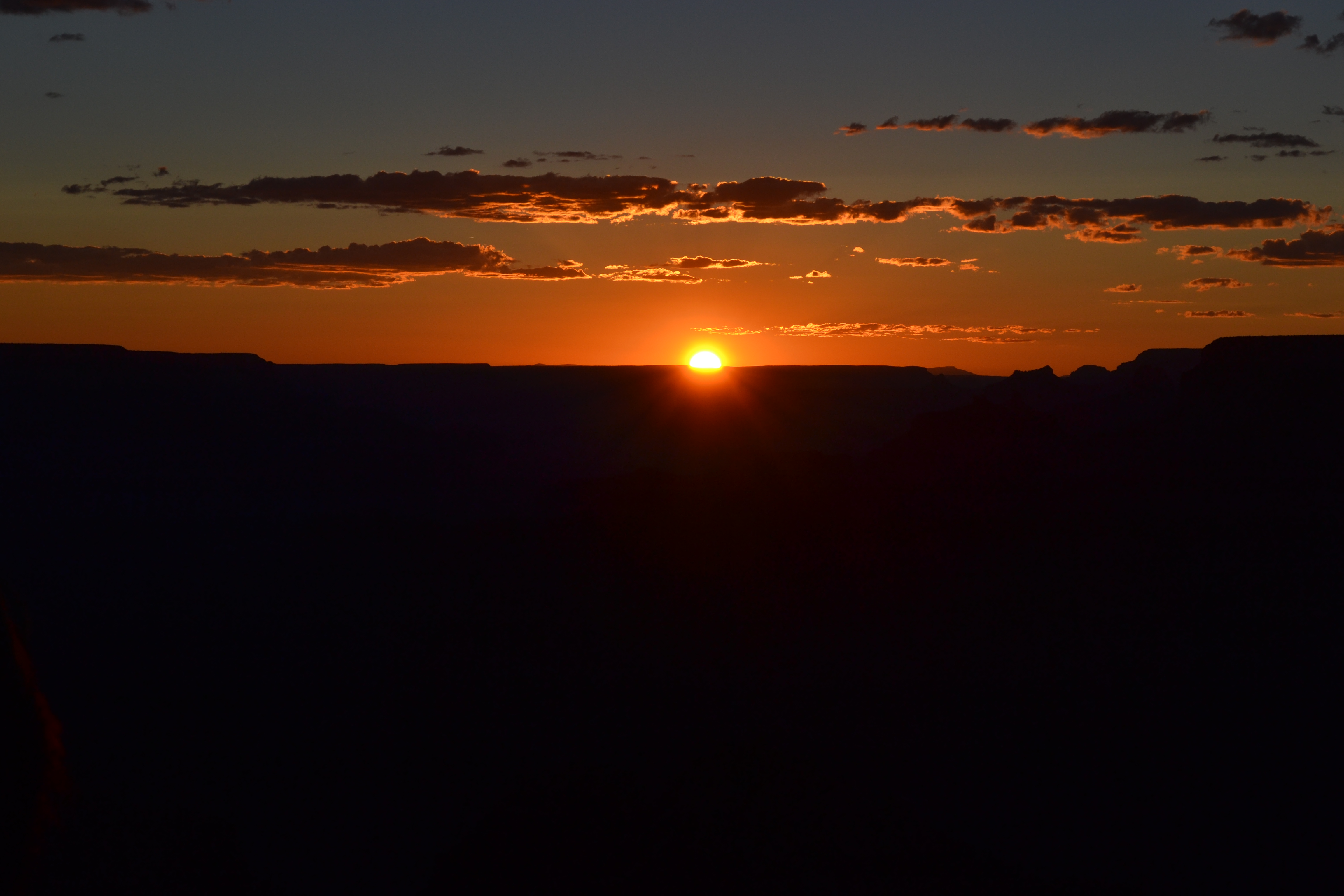 The sun casts shadows formed of deep purples, lilacs and blacks, contrasting with the wondrous golden kiss of the sun on those layers of rock still in receipt of daylight. Darkness takes hold of the canyon pretty quickly, so absorb the moment, enjoy the spectacle, and know that you'll not see anything like this ever again. Everyone always says "photos don't do it justice", and now I totally understand.
Getting Home
My first tip would be to actually take note of where you leave your car. I had serious problems finding my hire car in the dark, as the car park – as you can imagine – is pretty big. I had what I will describe as a heart-warming number of messages from Instagram followers that evening who had become really quite invested in my updates throughout the day, which culminated in them witnessing me panic and wander around aimlessly via the light of my phone in search of Frank live via Instagram. My car was located in the abyss, or so it seemed. Once I found it, I knew it would take a good 90 minutes to return to Flagstaff at night, and I'd been warned about how I'd pass literally nothing for miles and miles at a time. By the time I'd torn myself away from the rim's edge at Desert Point and hit the road it was dark, foggy and there was not another soul around – a slightly different experience to the one I'd had one my way up to the park where I was taken back by the unrelenting beauty of drive. The entire time I was driving through darkness all I could think of was what would happen if a deer decided to just meander into the road! I would crash my car. Frank would be destroyed. Nobody would find me. I would be eaten by bears.
It turned out to be okay, but if you're travelling solo, make sure somebody knows where you are/where you are going. I found that once I entered the park my phone signal disappeared completely and I hadn't told anyone my plans. Hiking beneath the rim alone is dangerous enough as it is, so if like me you slip up, take advantage of the wi-fi at one of the park's hotels or cafes to let somebody know where you are.
Home with A Minor Detour
Despite not being able to walk the next day, I thought there'd be no better way to wave goodbye to my first desert experience than with a good old hike. I got up disgustingly early the next day and made my way back to Vegas, where en route shimmering Lake Mead could be found. As the largest reservoir in the United States, it's quite the sight to behold. Initially I'd just wanted to walk the Historic Railroad Trail, for which you needn't enter the park to do and you could still catch sights like this: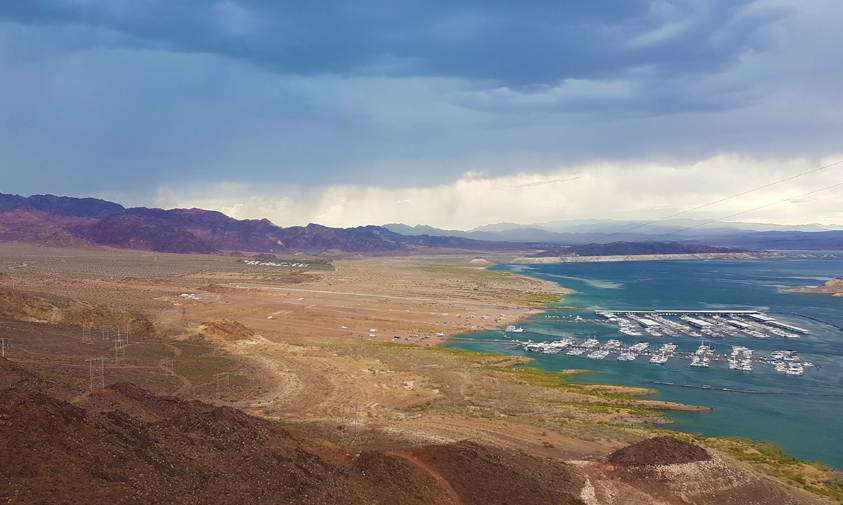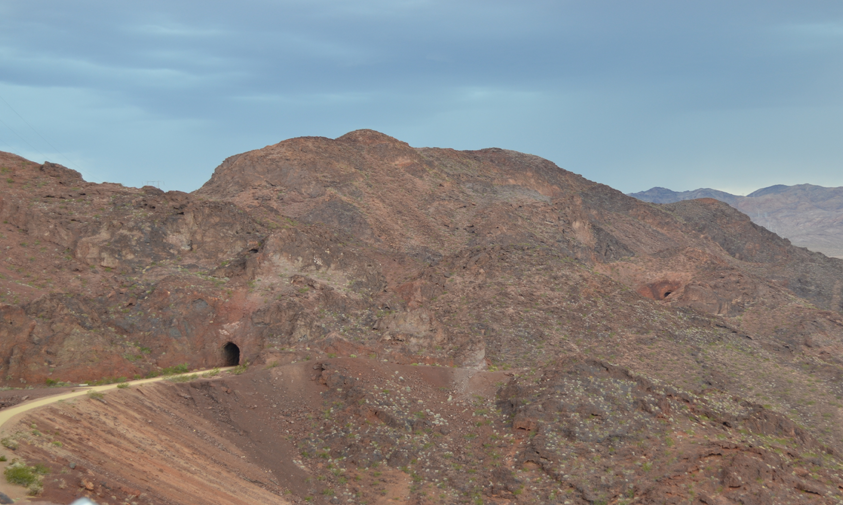 However, me being me and being born with incredibly inept navigational skills, I soon found myself accidentally driving into the park, where I was presented with the prospect of paying $25 to enter. Being British, I was too polite to say "I'm terribly sorry, but I've driven in by accident and every inch of me wants to reverse away from you and your strange Yogi Bear outfit", instead, I paid my money and rolled on in. I figured that seeing as I'd paid, I may as well make the most of the situation, so headed down to the lake for a closer look.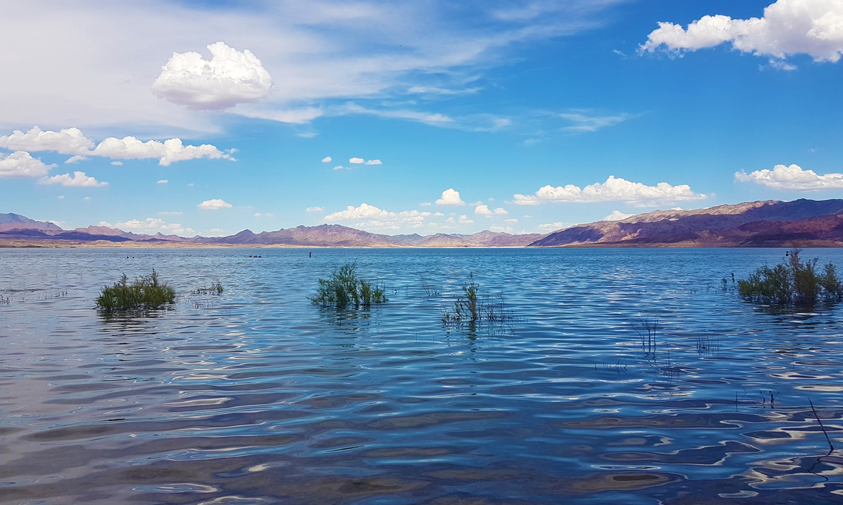 Lots of people were taking full-on swims in the lake, but not me. I'm not a swimmer. I'm a paddler at best. I have some weird fear of water if I can't see what's beneath me, which has caused many a problem in life (mainly falling out of the boat when white water rafting in Austria, falling out of the kayak when sea kayaking in New Zealand, falling off a boat in Thailand – you get the gist).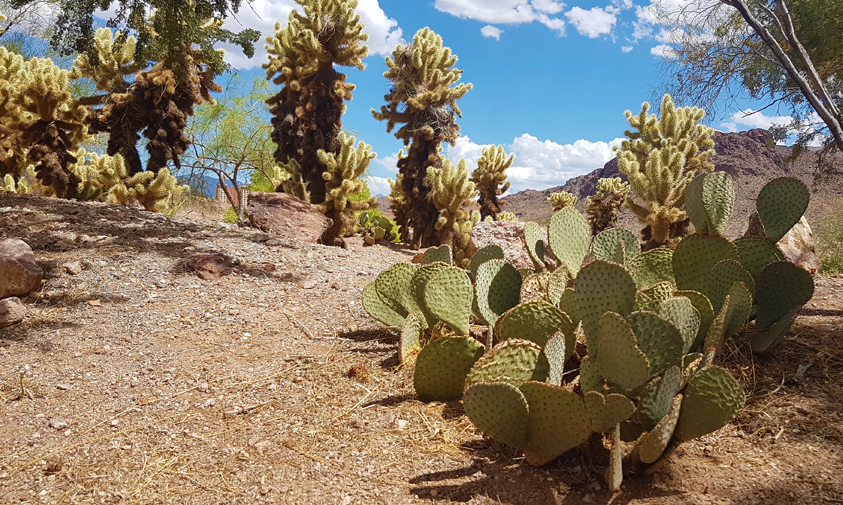 I think I managed about ten minutes of 'lake bathing' before the angriest looking sky I've ever seen in my life began to spout raindrops of epic proportions, coupled with aggressive forks of lightning and winds akin to those only seen in 80s glam rock videos. I retreated – $25 well spent.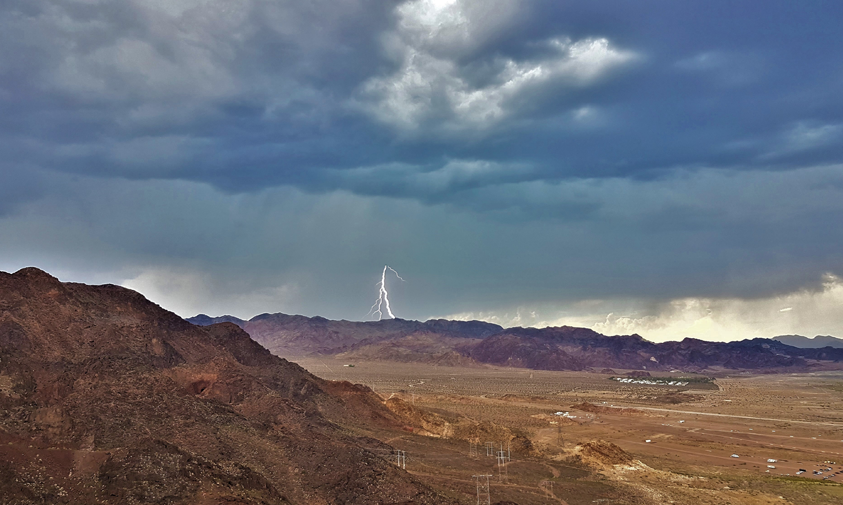 Final Stop
Having crossed back into Nevada, my final destination was one that I assumed may seem slightly lack luster having just visited what is undoubtedly one of the largest and most striking displays of red rock in the world – enter into the ring "Red Rock Canyon".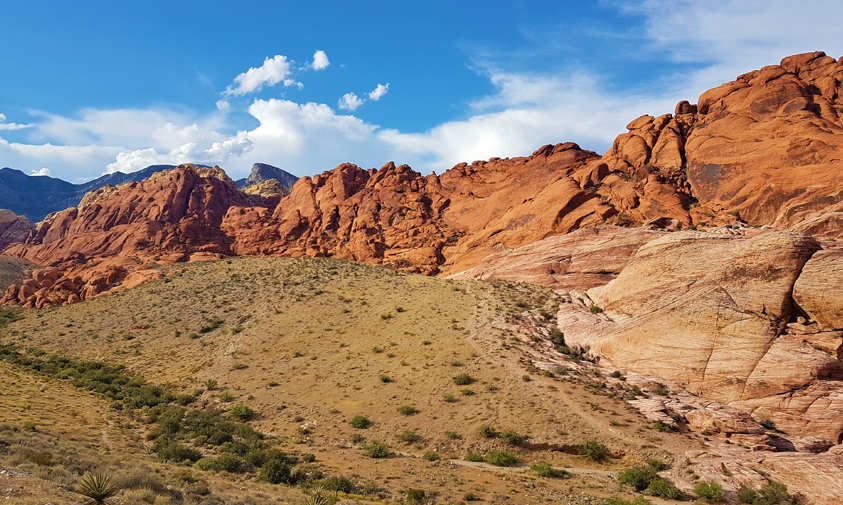 Apples and oranges, as they say, because this neat little 13-mile scenic drive made me smile. It was a relaxing end to the trip, where an unbelievable amount of beauty and geological diversity is crammed into a small area.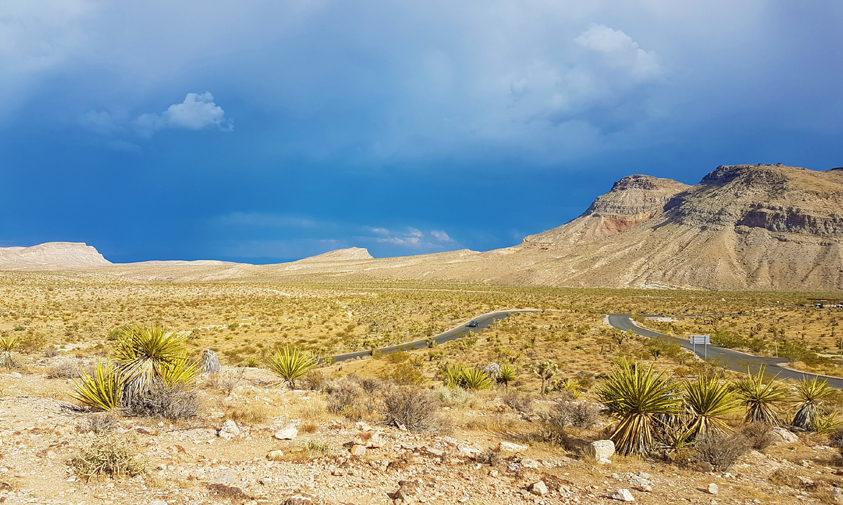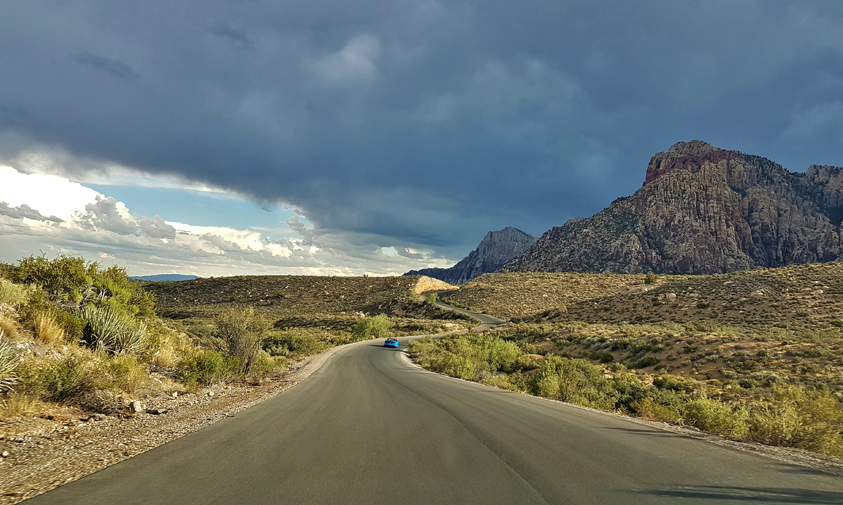 There are various stops along the trail where people opt for day hikes around the park, but as I was so short on time I ended up being a true tourist and just stopping to take photos. That said, whether you're are a budding geologist or a snap-happy tourist, get ready to have your mind blown.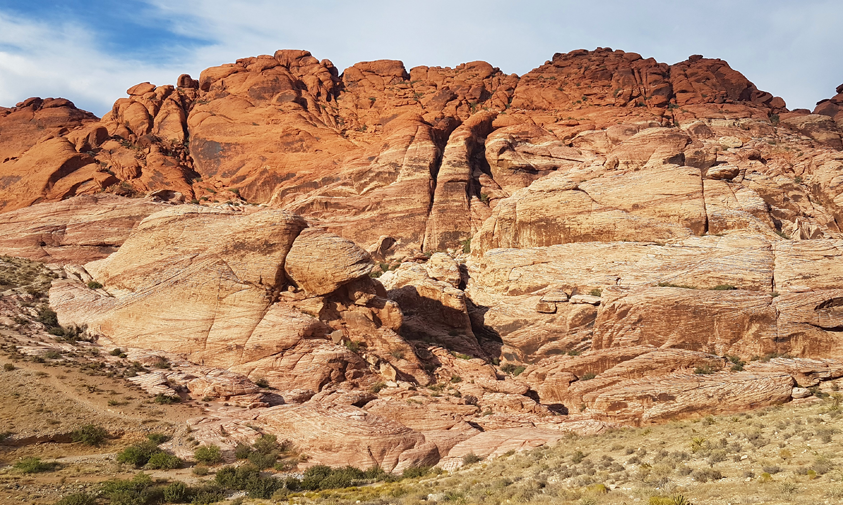 The sandstone and limestone formations scattered throughout the park are awash with deep reds and whites, and at 190-million years old boast the tracks of dinosaurs at three separate points. I whittled away most of my time staring at the beauty of the sand dunes – frozen in time – which were nothing short of mind-bending and mesmerising, but I knew it was time to head back to the safety of Vegas after seeing a sign that warned of rattlesnakes.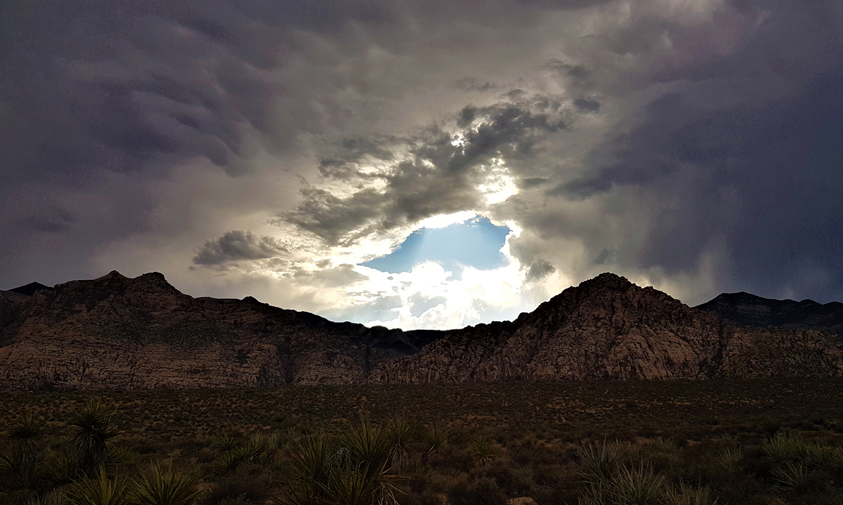 So, was it worth breaking my cover as a dark tourist for the sake of a big hole in the ground? The answer is a massive yes!  Although as travellers we don't like to admit that we are sell outs, the Grand Canyon is a bucket list item for a reason. In fact, it's actually pretty sad that many Americans will go their entire lifetime having never seen it, especially when it's right on their doorstep (kind of, I appreciate it's a bloody massive country). As far as I'm concerned, if you own a pair of hiking boots and quite like being smacked round the face with the awe-inspiring, you've no excuse! Forget about being a cliche, get out there and hike it!