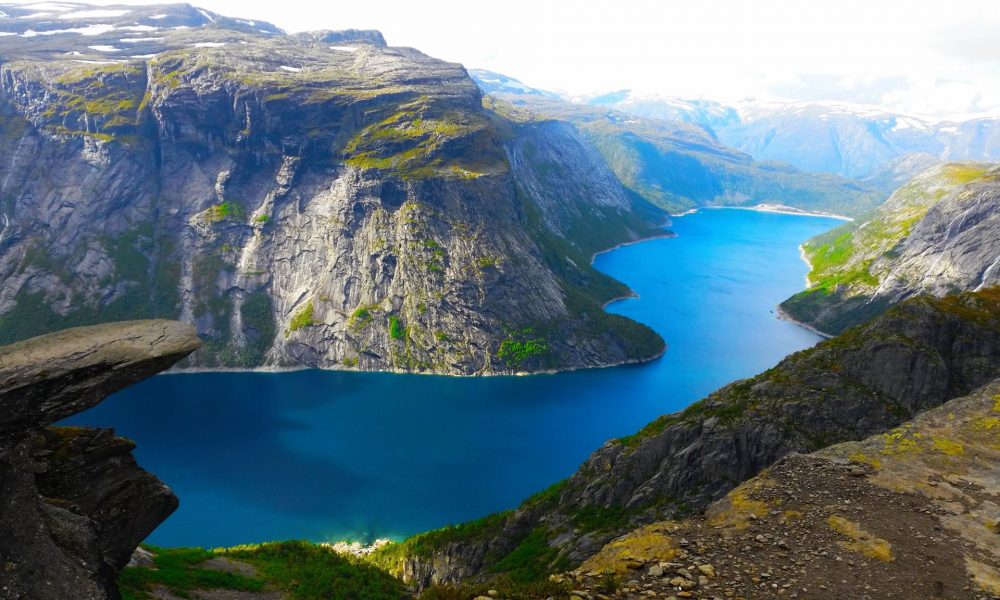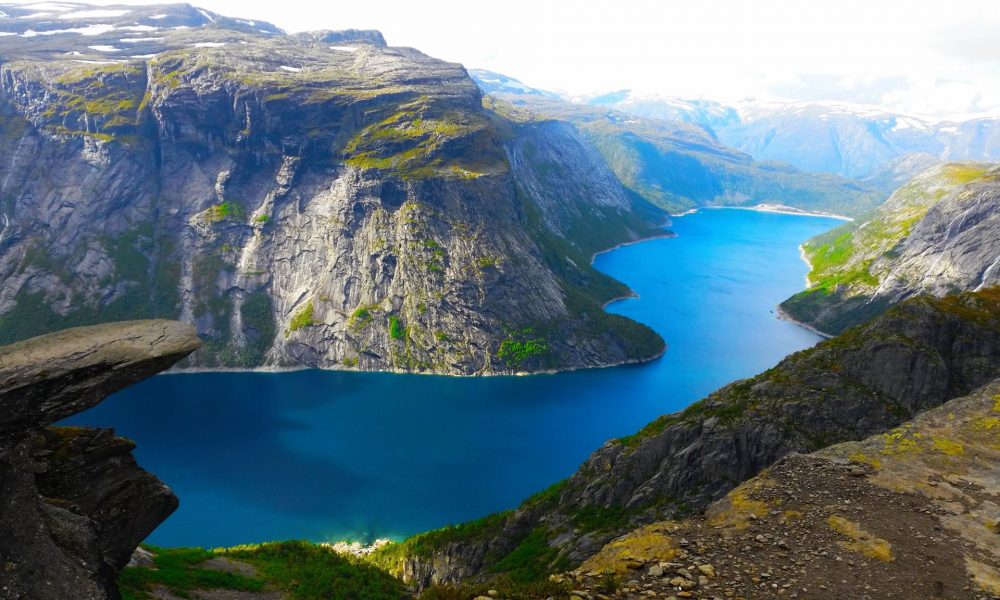 It was sat at my desk conjuring up an imaginary bucket list entitled 'Crazy Ways to Let Your Hair Down' at work that I first came across the almighty Trolltunga. The insanity and daring nature of it all seemed to be utterly eclipsed by the sheer natural beauty that lied in wait to reward those who were brave enough to walk the troll's tongue. It was one of those light bulb moments where I thought to myself, why am I sat writing about this epic feat like an all knowing prophet and not actually doing it?! Five months later, I was sat in departures eating a burger with my work-buddy, Kat, (who had never hiked something like this before – what an introduction?!) ready to fly to Bergen, Norway.
Before arriving in Bergen, we had a plan. A solid plan at that. Sleep at the airport, pick up our hire car at 9am, make our way to a hike I'd seen online that passed by five waterfalls before then leisurely continuing on to our campsite. Wrong. Instead, upon arriving in Bergen, it soon became clear that this was not the kind of airport where it was okay to sleep on the floor. Through fear of being asked to move on from our claimed floor territory several times throughout the night, we opted to stay in the Clarion across the road. £130 later, we had a room. A good night's sleep actually turned out to be an incredibly sensible and adult idea, because what would follow could not have been survived on little to no sleep on a cold airport floor. So being in a country separated by fjords, obviously the most efficient way to get to where you need to be is by car….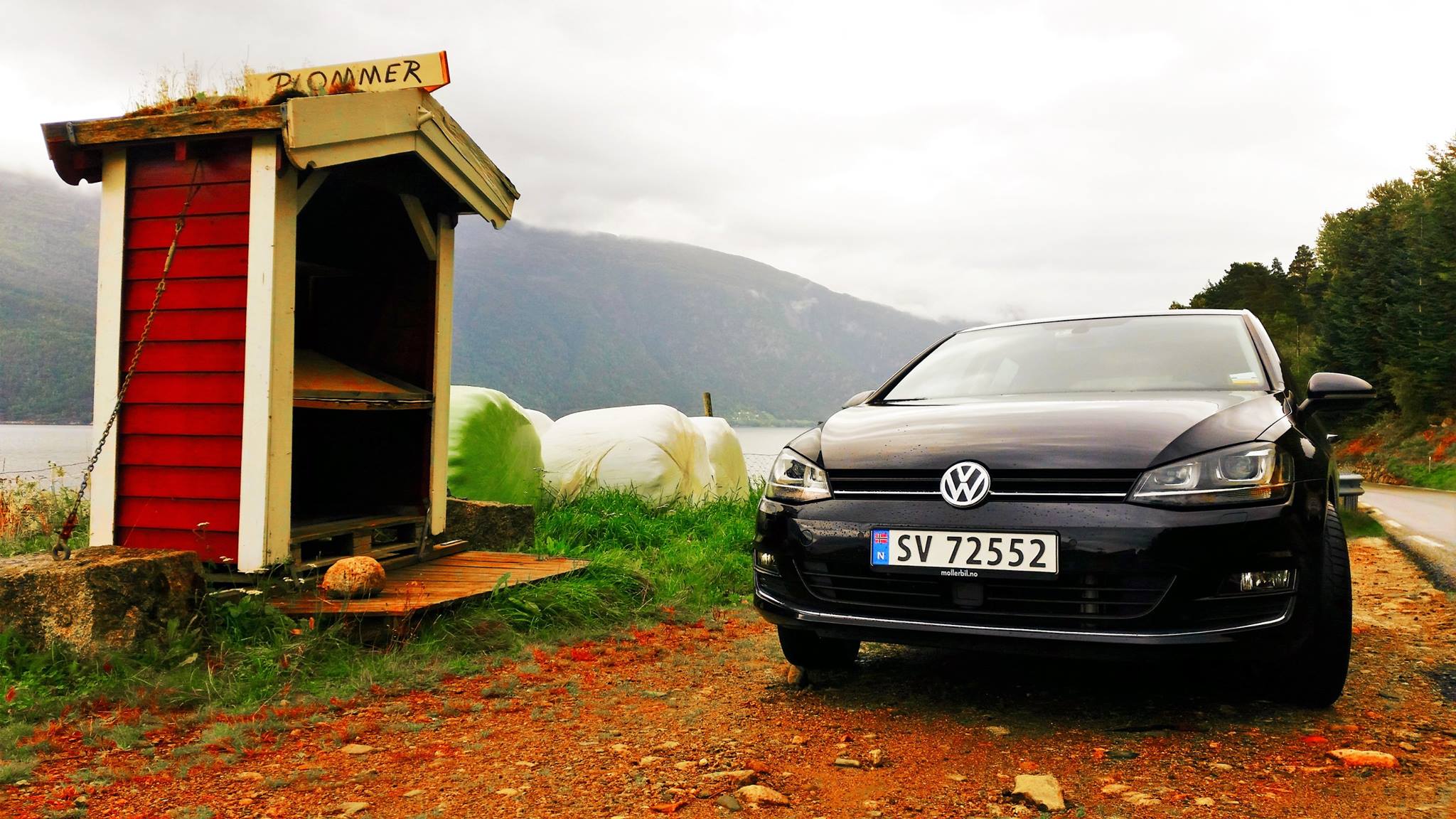 We turned up to collect our car and were thrilled at the fact we had been upgraded. However, what that really meant was our car was going to be changed to an automatic. You'd think this would make things easier, but having never driven an automatic or on the the right hand side of the road for that matter, it made for a pretty terrifying journey along the winding, mountainous roads, made up of hairpin bend after hairpin bend. The roads were only what seemed big enough for one and a half cars at any given time, meaning every time we passed a car I ground to a halt!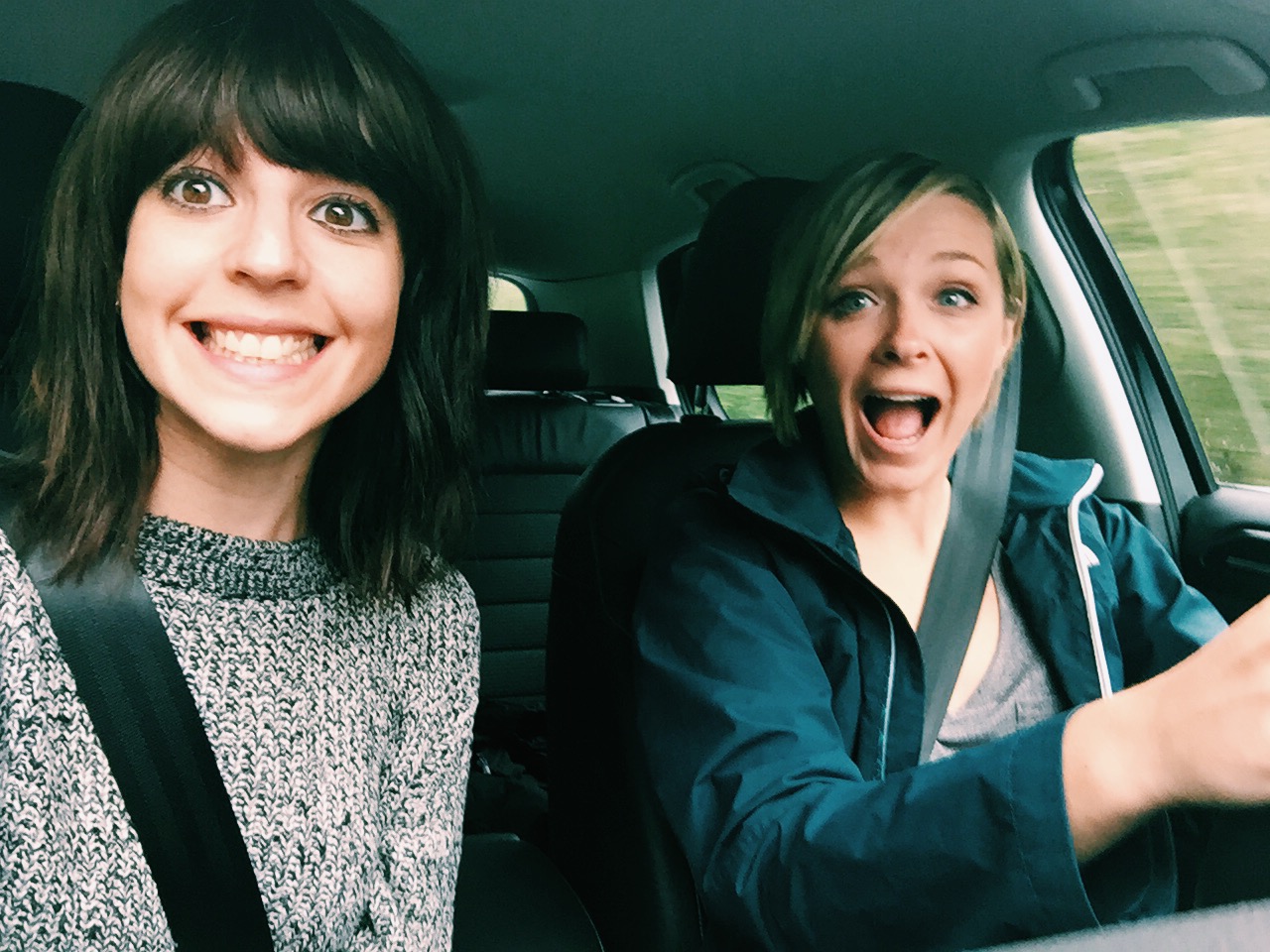 I'll never forget the moment we picked up the car and the man at the hire company simply handed us the keys and wished us well on our trip. I stood there waiting for some kind of instructions on how to start the car, how to drive the car, whether it took petrol or diesel (this proved problematic later) or how to not crash when driving on the opposite side of the road to usual. Nothing. The sat nav said we would be at our destination in around three and a half hours, providing we took three ferries. Plenty of time. Well, it is, unless of course you find that after nailing the first two ferry crossings, the third one is just too much for you. Instead we found ourselves driving onto the ferry to then take selfies for 30 minutes, blissfully unaware that we were drifting further and further away from the correct direction with every selfie we took.  Not an ideal start.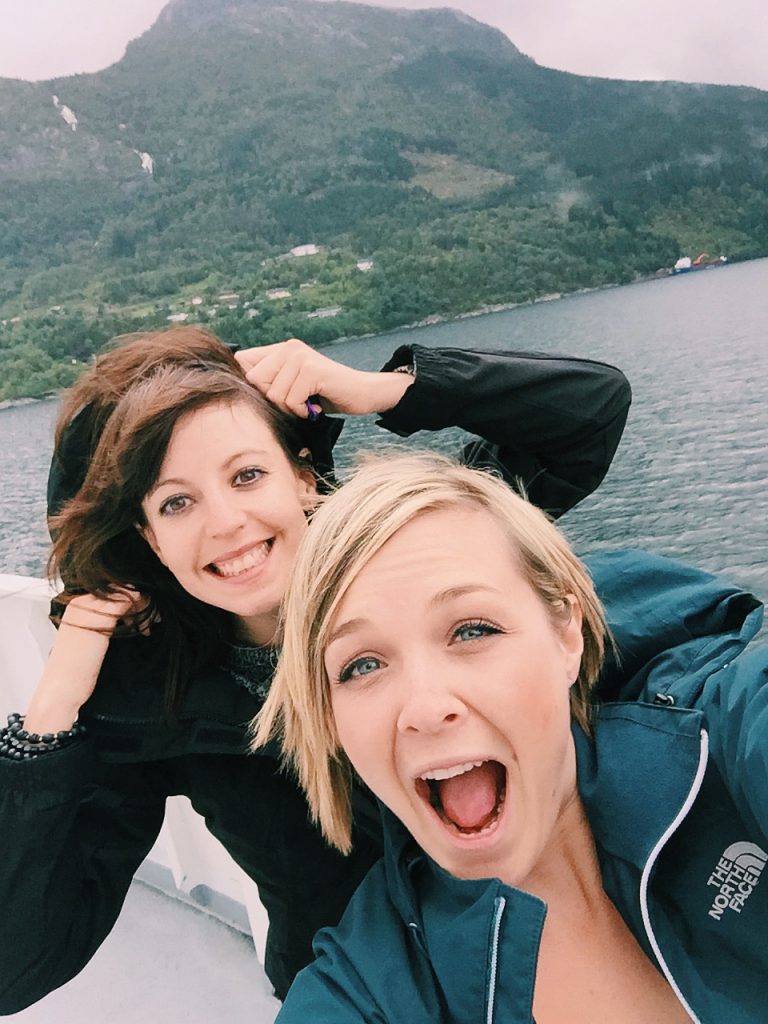 We were now very far behind schedule. Four hours behind schedule to be more precise. I asked a Norwegian man lingering by the ferry port where we were and how we could get to where we needed to be. He laughed. He said there were no more ferries and we would need to drive on. In our defence, the ferry ports have no timetables, nor do they say where the ferry is actually going, so it's a complete reliance on the sat nav. The wrong ferry situation actually did turn out to be a bonus, as the cruise through the fjords taking  in the sights as we bobbed along, blissfully aware of our fate turned out to be one of the trip's highlights.
Remember the five-waterfall walk I mentioned? Yeah, well, that turned into a one -waterfall walk because by the time we arrived in Husedalen Valley, we were too far behind schedule after our incident to manage them all. It was a good hike and served as a warm up for the challenge that would follow the next day.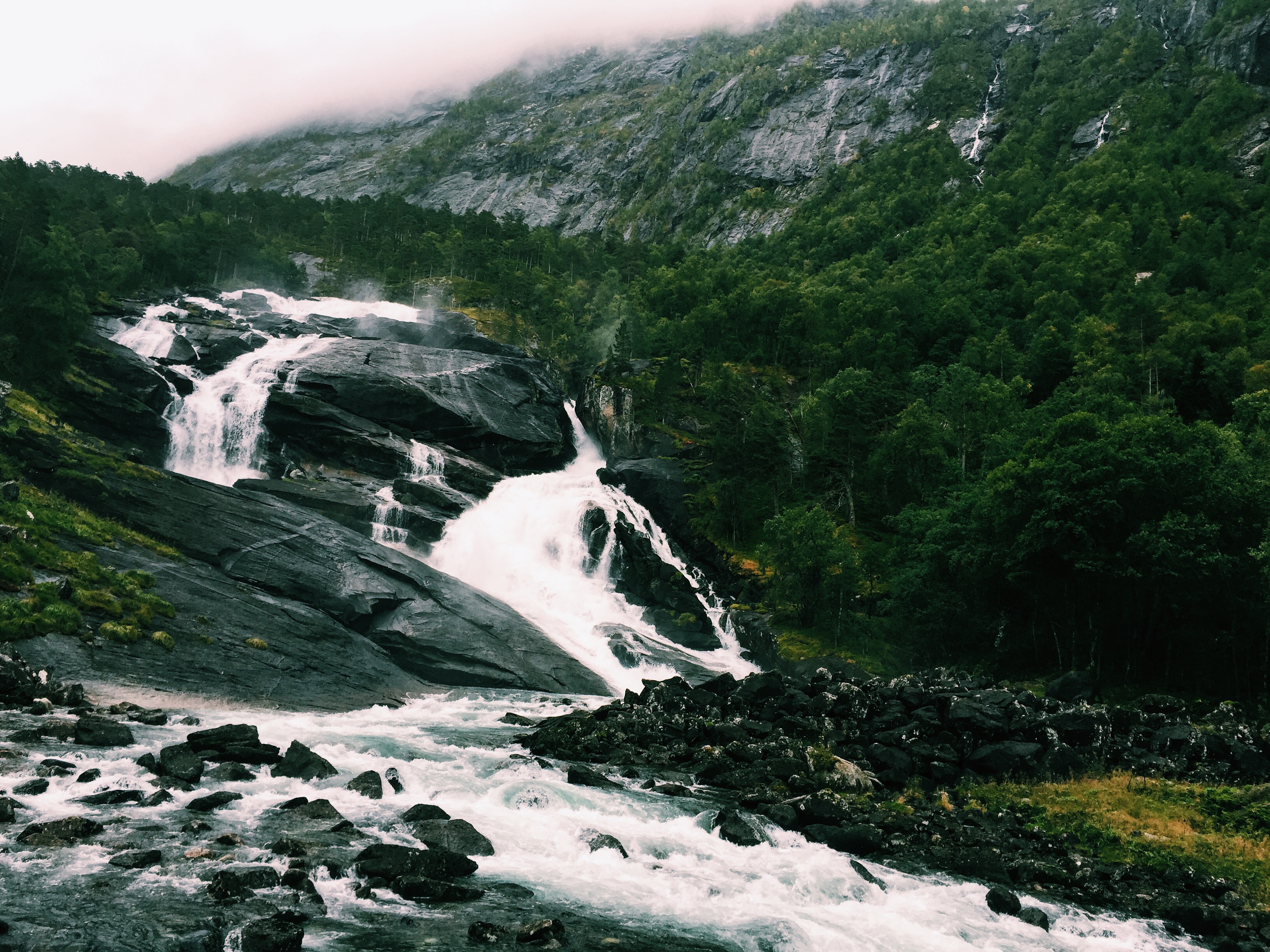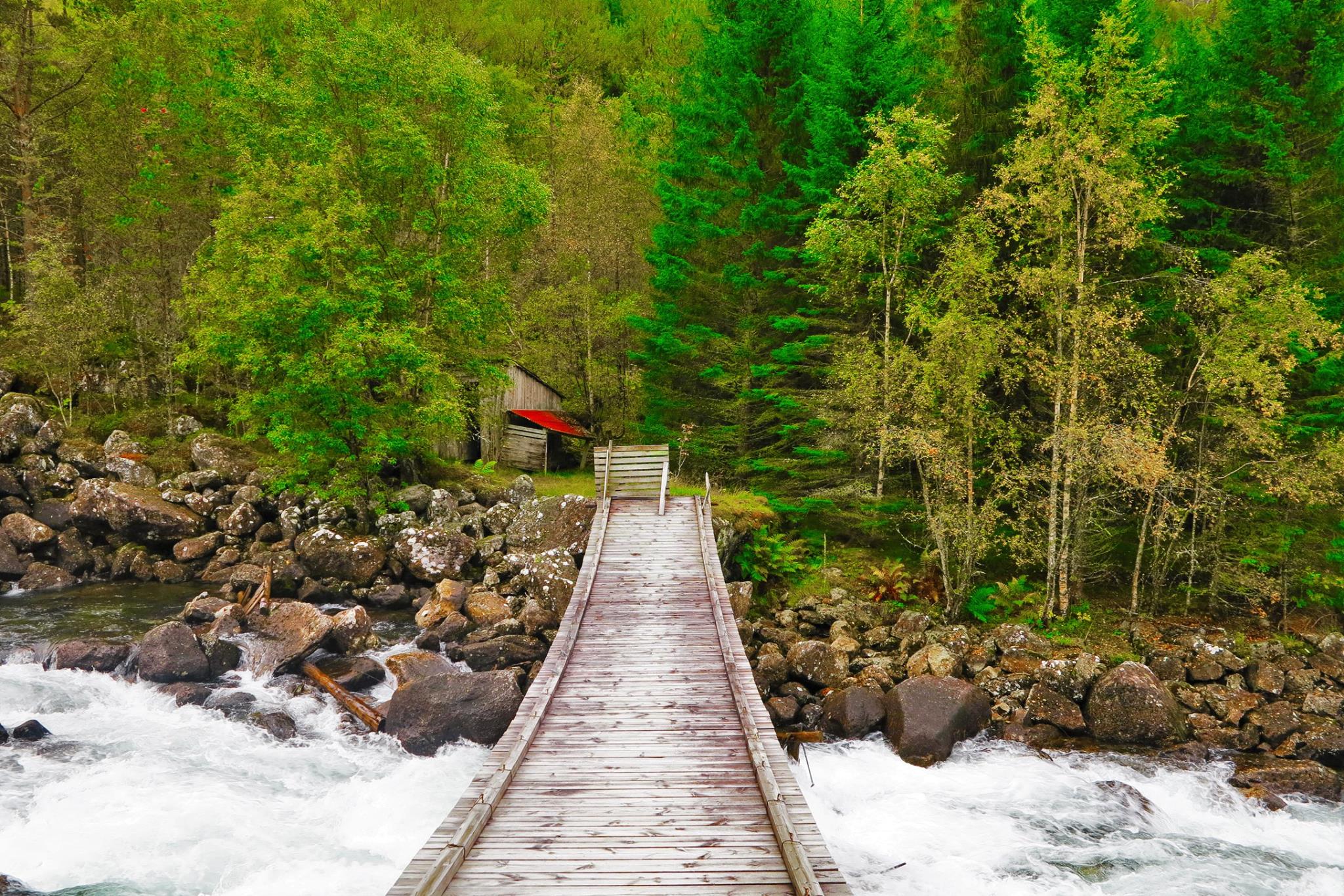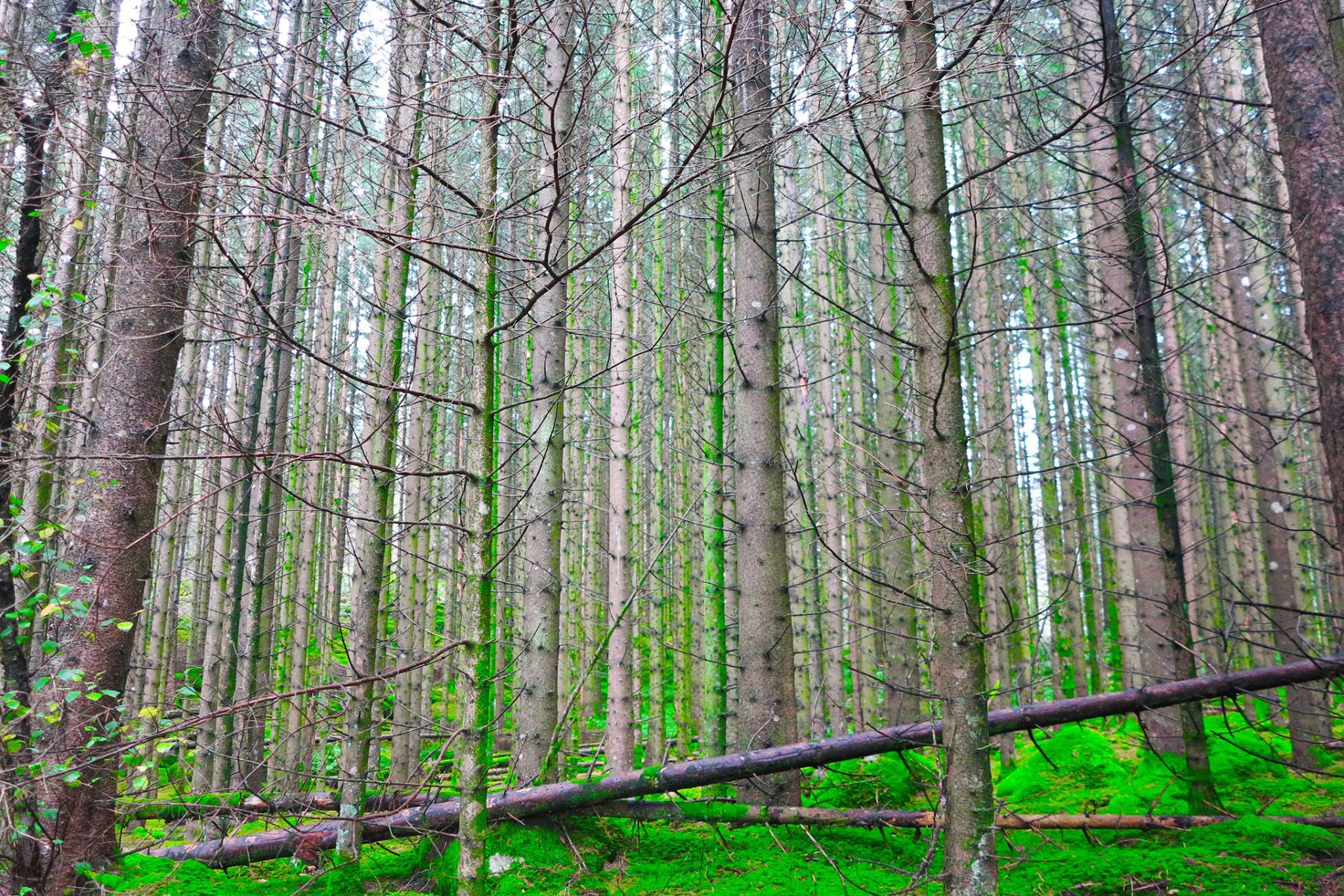 We stopped at a convenience store somewhere along the way and picked up what looked like a chilli con carne baguette and a mystery omelette. The meat on the baguette was like none I'd tried before. I was pretty sure it was deer. Deer consumed, we drove on towards Odda, our destination for the evening, checked into our very tiny cabin with bunk beds and got ourselves a nutritious Chinese takeaway- how very Norweigan.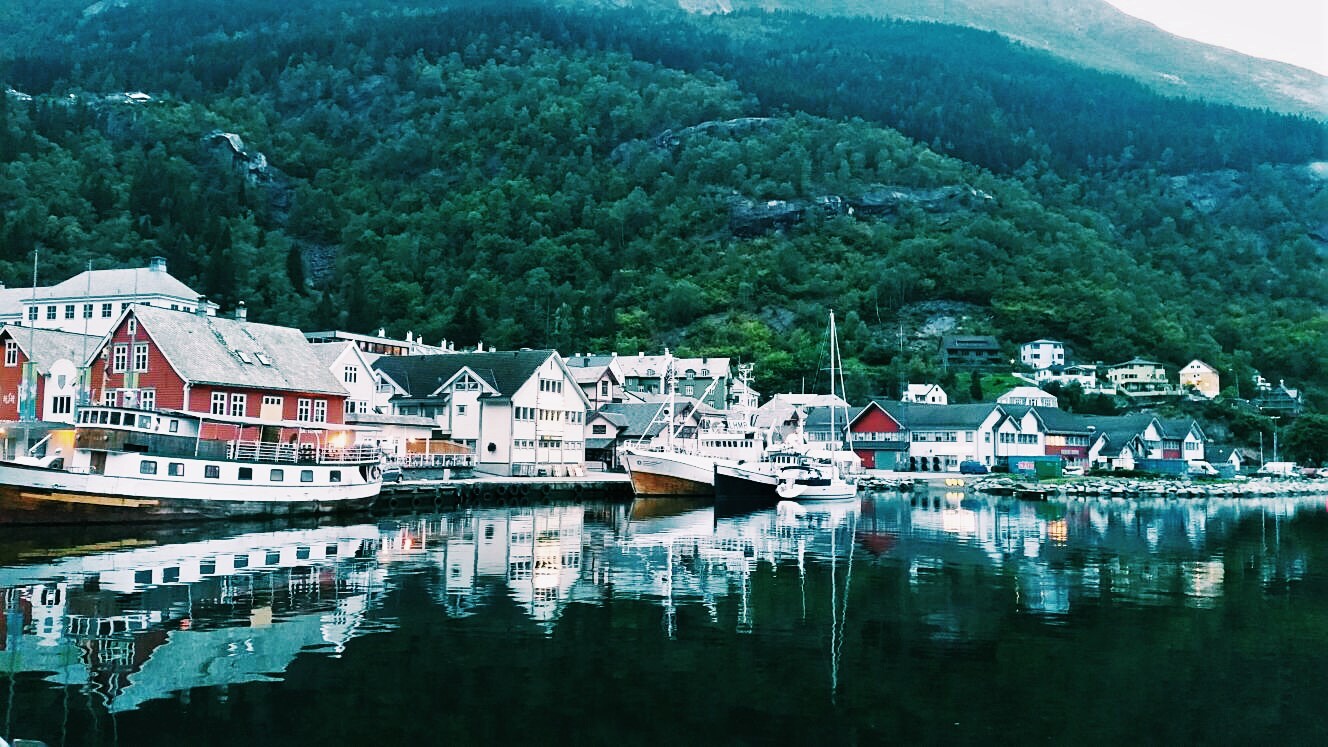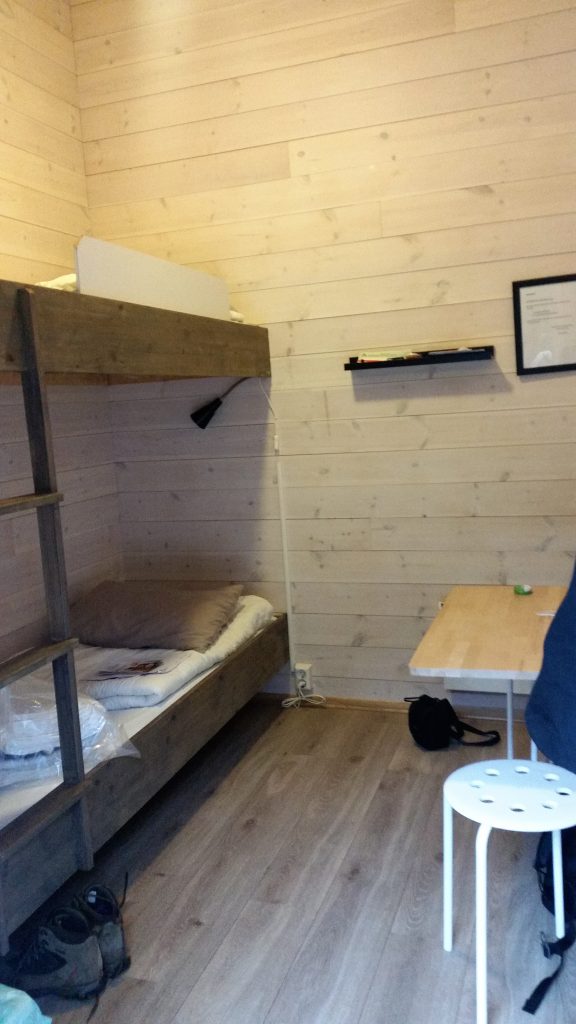 Getting up at 5am to climb 22km is about as rude as awakenings come. Tips here being, pack the night before, get snacks from the supermarket the day before and make sure you hire a car or you will be waiting around with 200 other people for the shuttle busses until around 7am. We set off in the pitch black and pouring rain feeling slightly nervous as bad weather makes this climb a very big no no. I spent a lot of the time winding Kat up telling her to send her last messages to loved ones, just in case. She sat in silence, that was until I noticed I had been driving on the wrong side of the road for the past several minutes. The road to Trolltunga was seriously narrow and windy, comprised of hairpin bends on high mountain roads, sheer drops, and to top it all off, we were driving through clouds because we were so high up.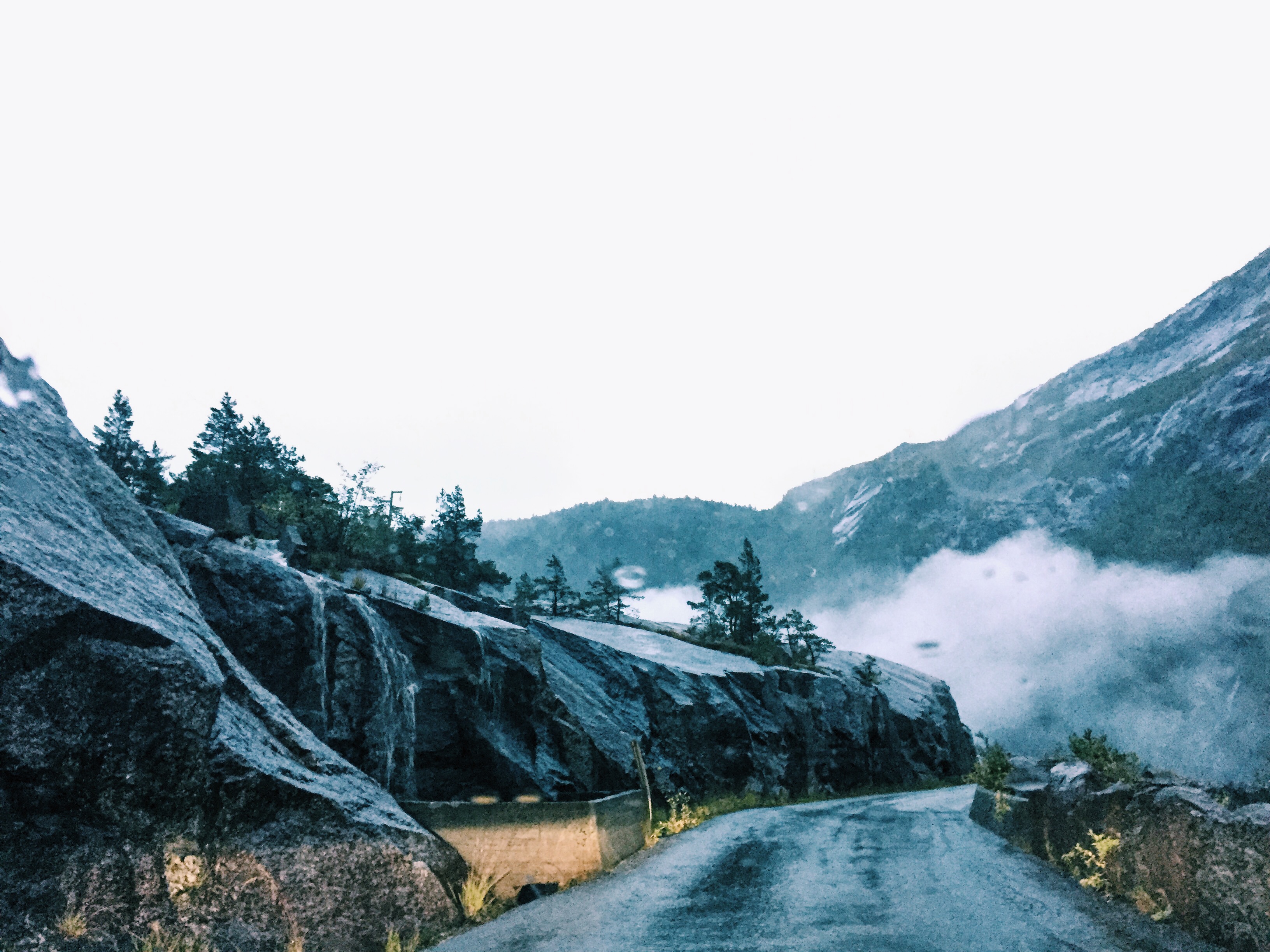 Once arriving at the car park, it was 200NOK to park the car for the day, however the machine was broken, so we wasted  a good twenty minutes trying to figure out what to do. In the end we wrote an apologetic note. There's no way you can miss the car park by the way, as there will be a bunch of other cars parked up with people packing bags, adjusting shoelaces and looking generally like they might be about to embark on a massive hike!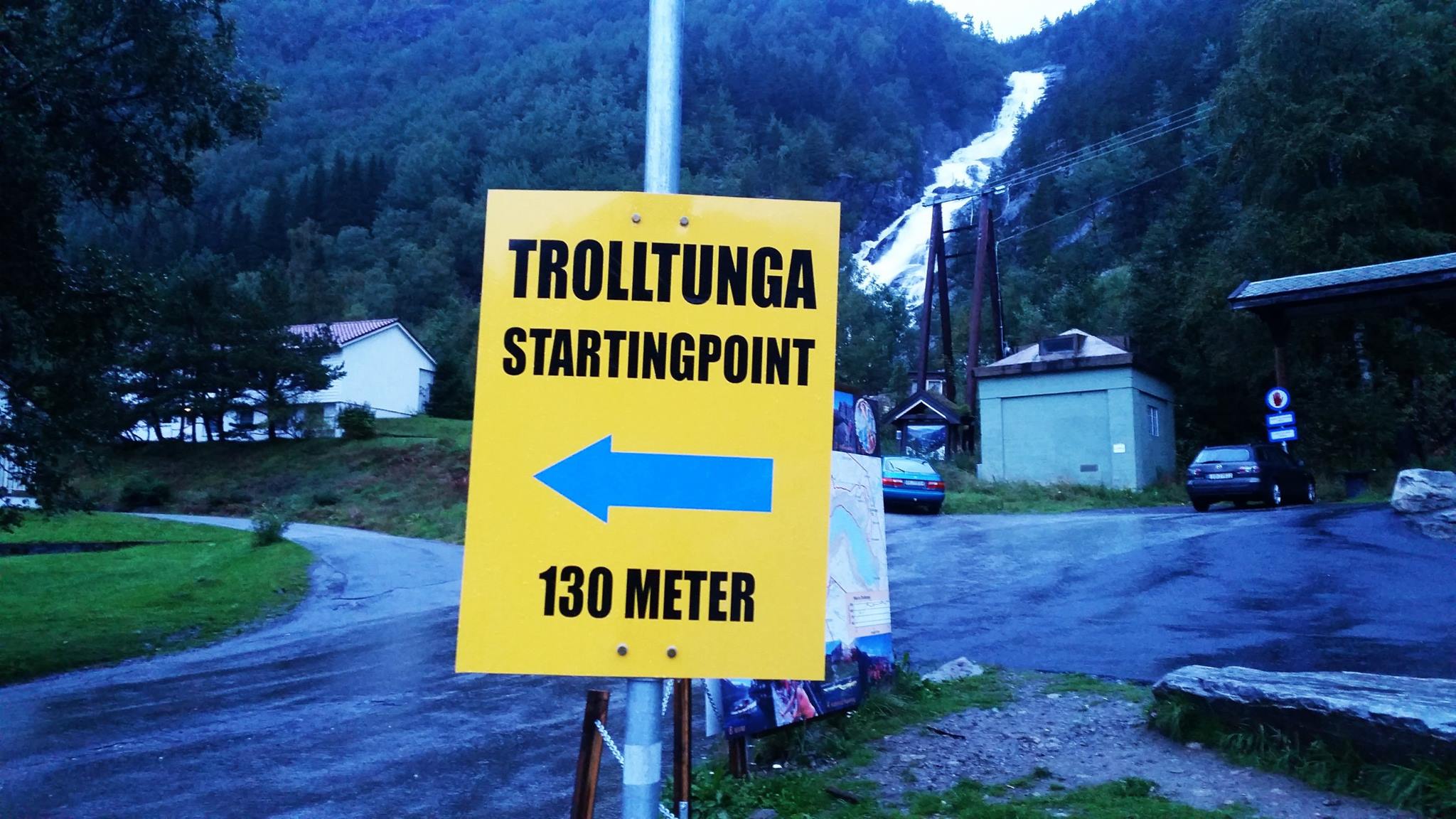 Thousands of ill-prepared idiots climb it yearly, causing the Norweigan mountain rescue teams nothing but grief. The week we went, there had been ten rescues. Now, I read a lot of blogs before climbing Trolltunga, and most, if not all of them mentioned how the first 1.5km or so was the most horrific, tragic experience of their life to date. This I will not vouch for. It was tough, but if you struggle to the point where it's "the hardest thing you've ever done", you shouldn't be climbing Trolltunga! The rain was still coming down at the very start, so everything was rather slippery and muddy.  It was tough to catch your breath as the steps were incredibly steep, so it's best to do it in stages as the body is still in shock from the whole 'getting up early' thing, but once you've done the first 1.5km, it's plane sailing comparatively. It's the way down you should fear.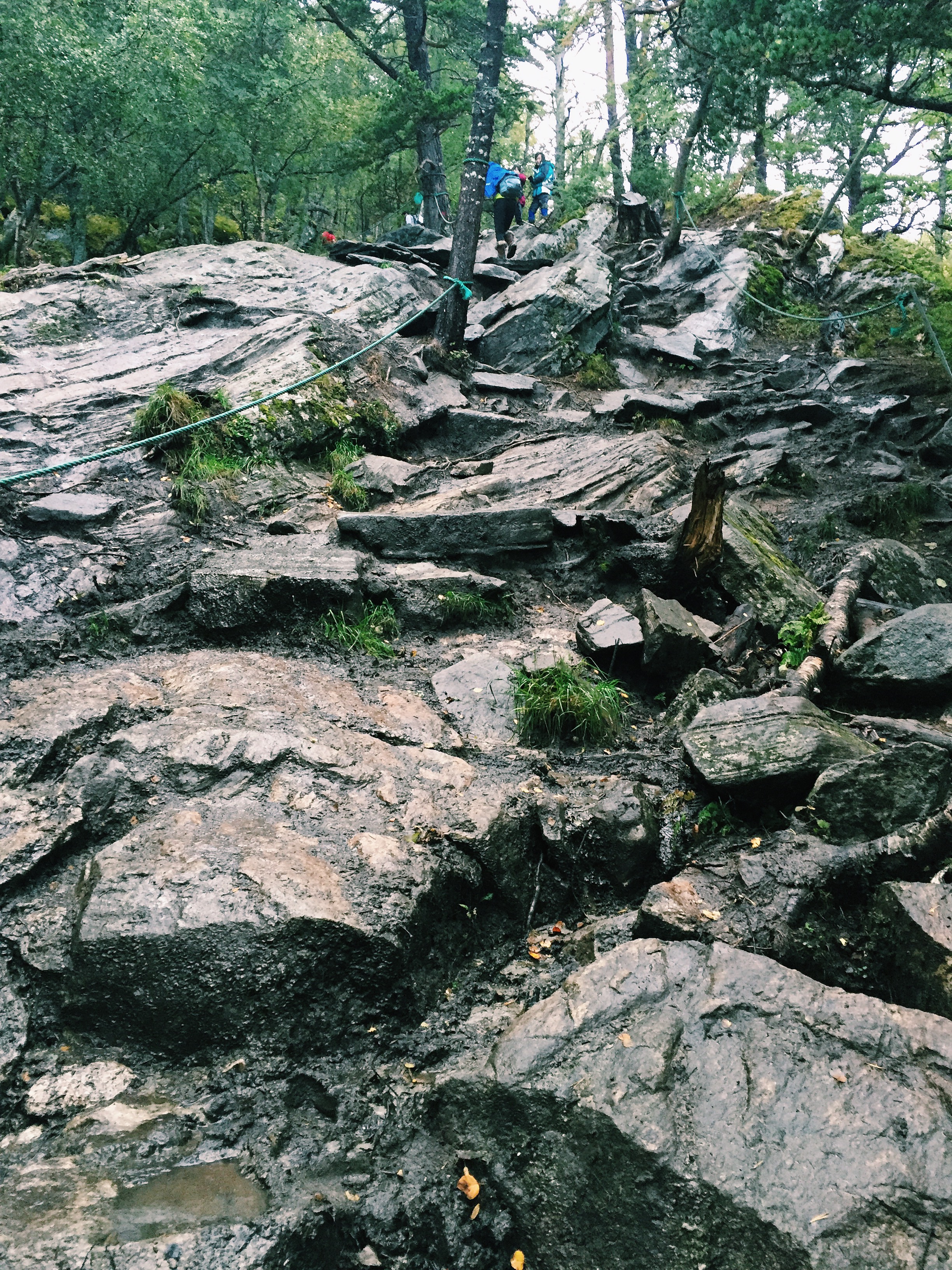 After the first section, everything levels off significantly and you can breathe a sigh of relief. This is the point where despite the wind kicking in as we began to navigate vast, open planes,  I got my sense of humour back. After proclaiming I was going to chunder several times, all it took was some level ground and an apple.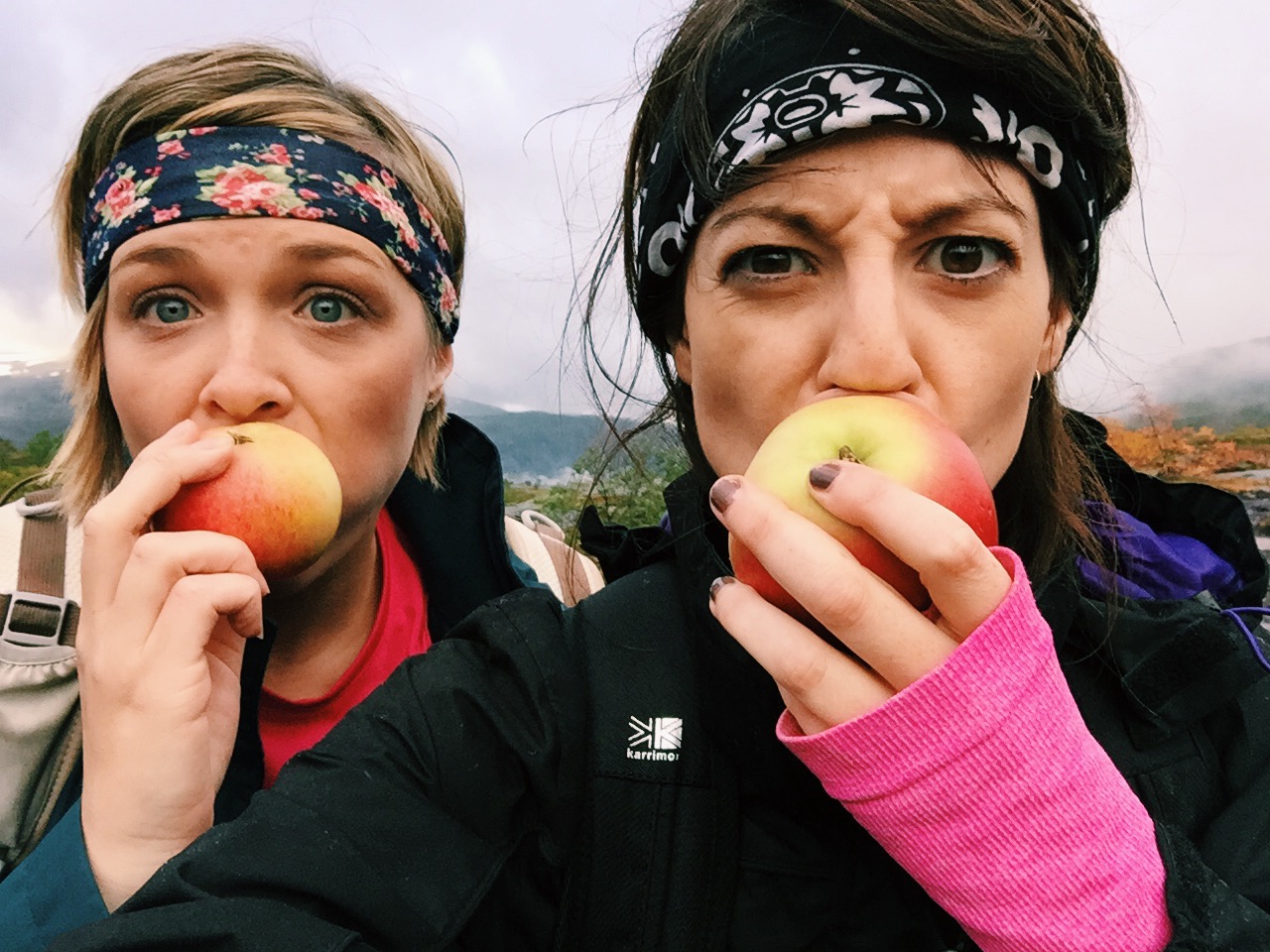 From this point on, our journey along this spectacular rolling terrain was relatively easy. The majority of the hike snakes along the perimeter of the lake. It's as blue in real life as it had appeared in the glossy brochures and on the TV advert promoting Norway that my nan persistently tells me about to this day.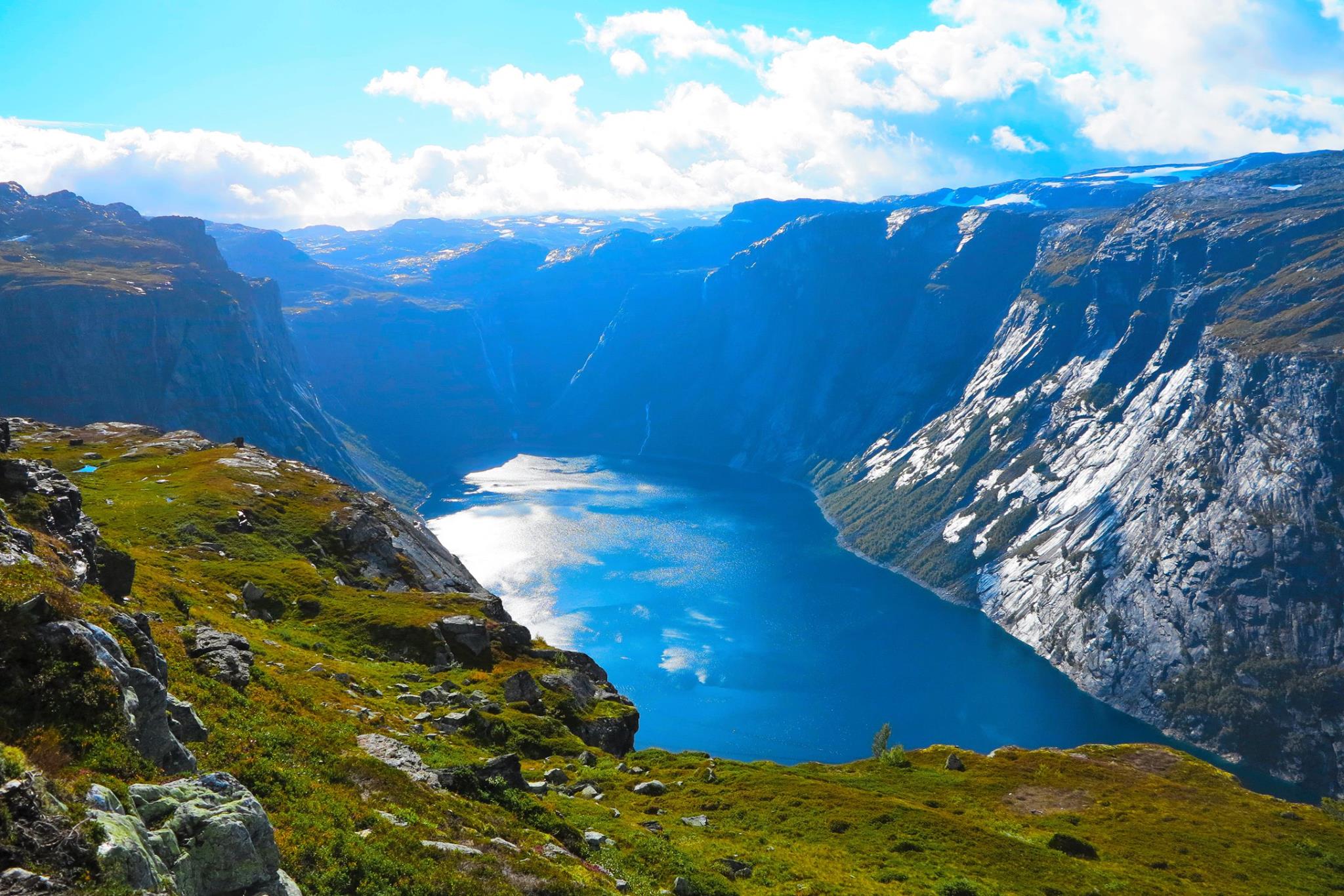 Make sure you take the time to absorb the surreal views, take a pit stop next to the lake after the valley and just enjoy the reflection, (especially if the sun is out) because things will get chilly if they aren't already.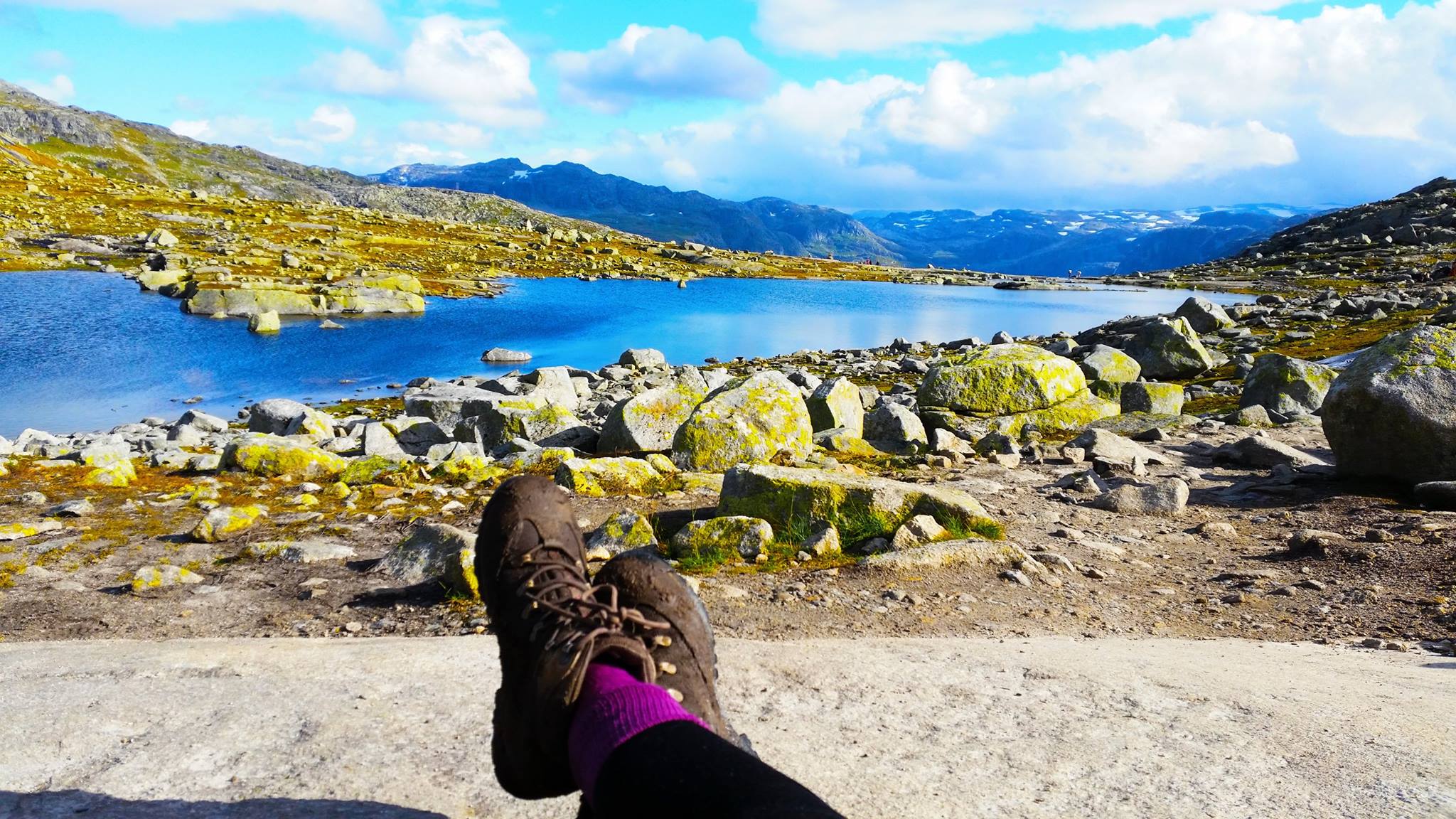 The coolest part of this hike for me was walking through glacial streams, hopping from rock to rock and filling up my bottle from a natural source as and when I needed it. You really are in amongst the elements out here and although it is amazing, to think that just a few years ago this route was hiked by just 500 people a year boggles the mind, and part of me is a little bit sad that I didn't come sooner. There were the usual types en route; the smelly guy, the snap happy tourist that gets in the way, the girly girl, the gaggle of gap yah students and those who are ridiculously under prepared sporting jeans and a tank tops. Luckily for us, we managed to escape the masses by starting early and keeping a good pace.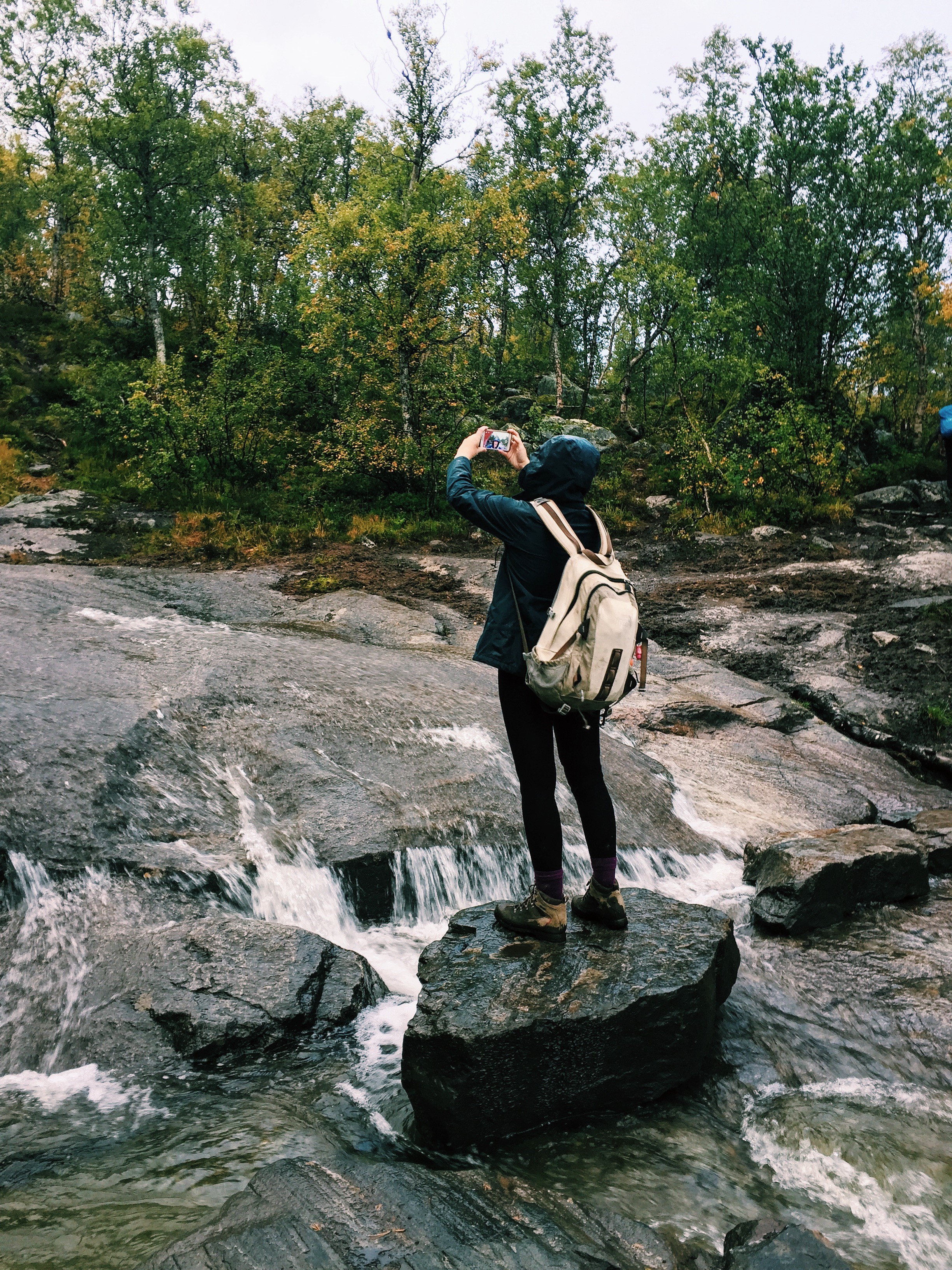 It's only during the last kilometre that we could see actually Trolltunga, and your first glimpse comes just in the nick of time, as it's by this point that you're dragging your feet and feeling the cold with the weather being pretty interchangeable.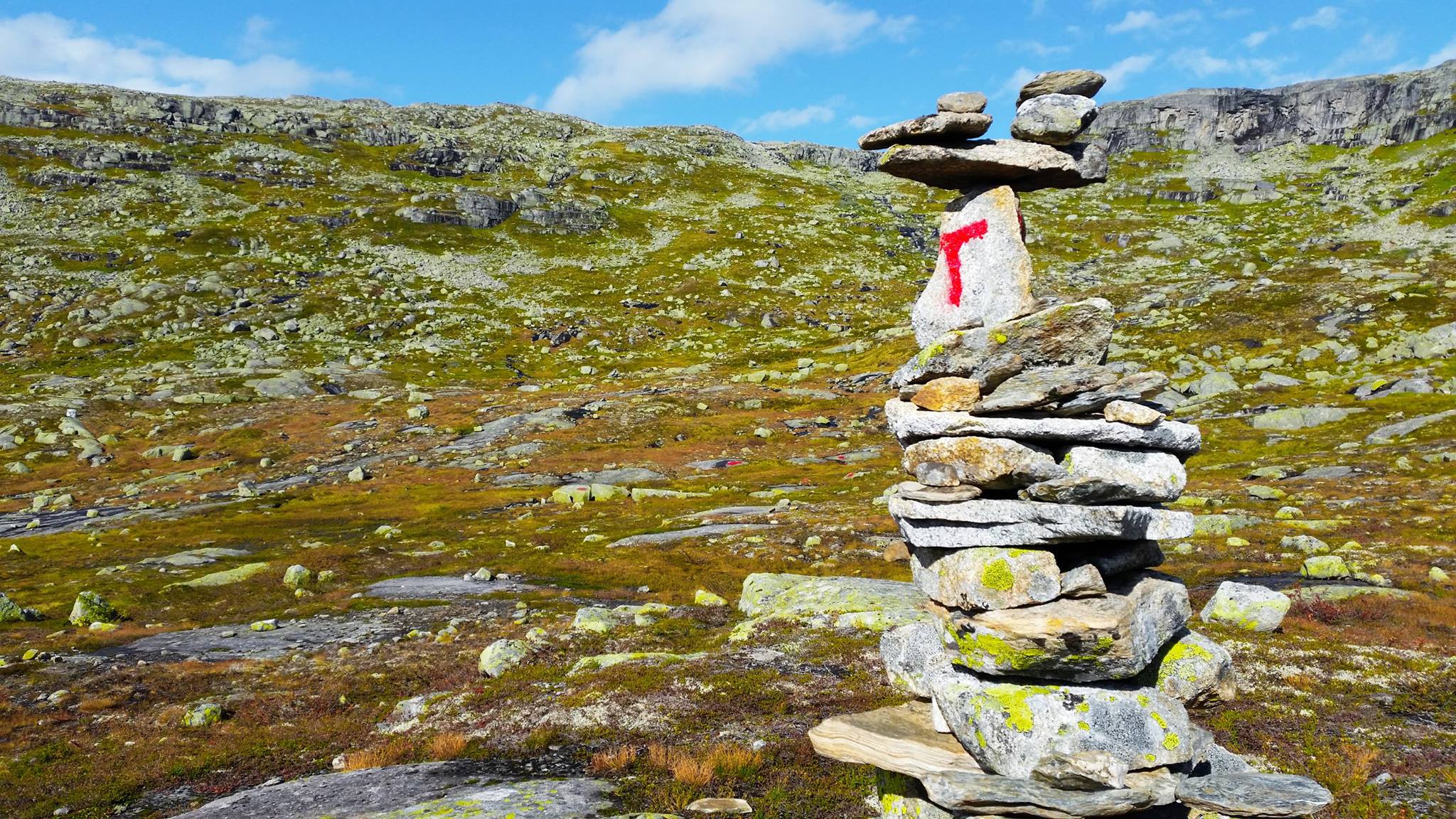 I was wearing a thermal top, t-shirt, fleece and waterproof jacket that day, which was sufficient for the majority, but I recommend packing an 'emergency jacket' like we did, as it turned out to be pretty useful. The last kilometre is in fact the easiest, as you're spurred on by your first glimpse of the rock with celebrity-like status that juts outwards to overhang the stunning sheen of the lake. From a distance it looks tiny and insignificant like an ant, but you can easily pick out the odd person dangling their legs off the edge.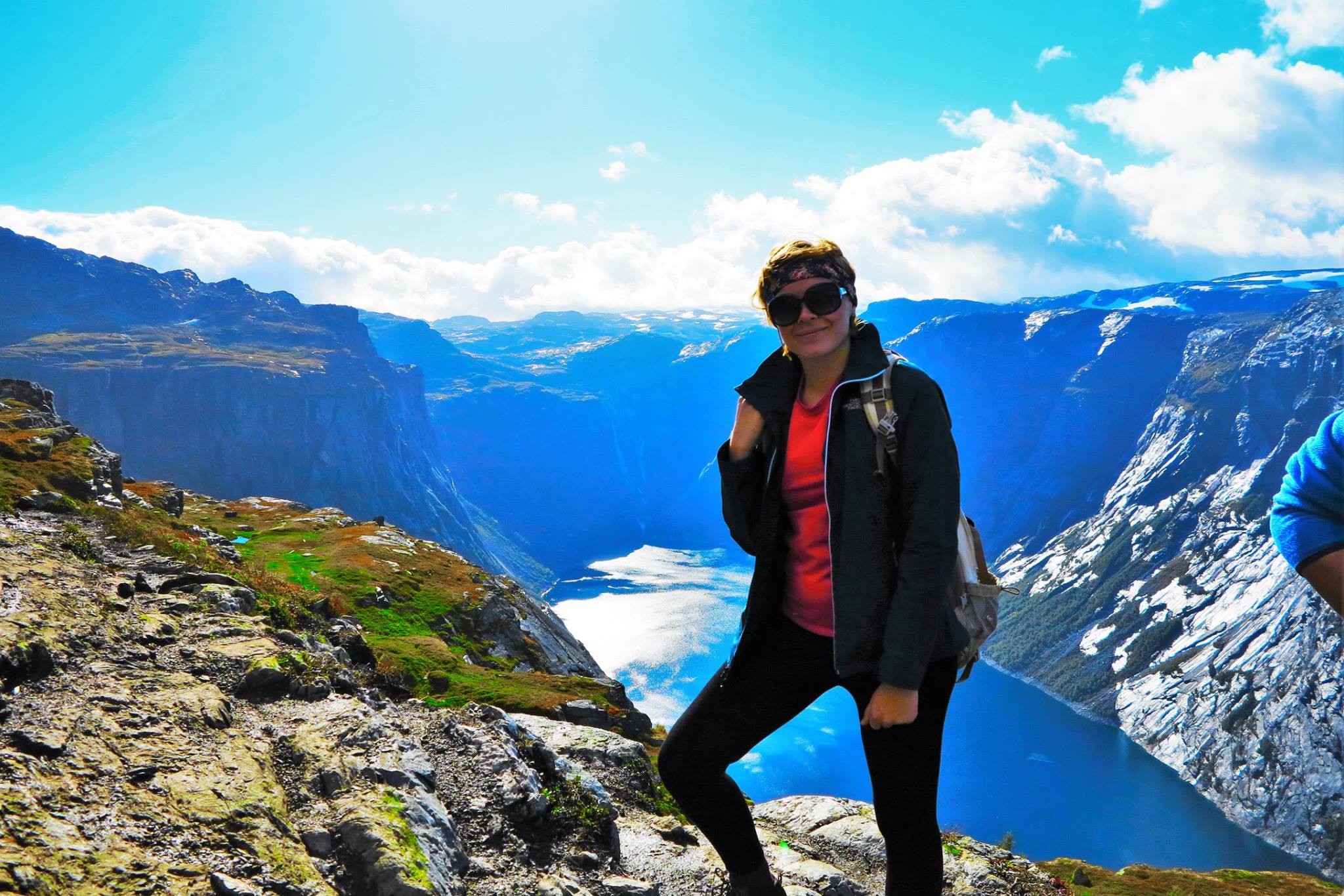 I'd always said there was no way I would be one of those morons who risks life and limb in order to get one photo that will be shared on Instagram, before being buried in a sea of hashtags and never seen again. As we ventured over the final hill, Trolltunga came into view and we skipped beyond the crowd to the edge of the ridge to get a better view of the lake and the rock itself, only to be absolutely mortified. People were running, skipping, dancing, jumping, doing handstands, pulling their pants down, cartwheeling and flying drones on the edge of the rock with a sheer 600m drop beneath. Absolute carnage! Every time somebody ran to the edge with little to no care or fear, my heart went into my mouth and I couldn't watch. It made me feel sick. Witnessing people clambering all over Trolltunga was hilarious and horrible in equal measure. At this point I was still convinced I would barely be walking out onto the thing.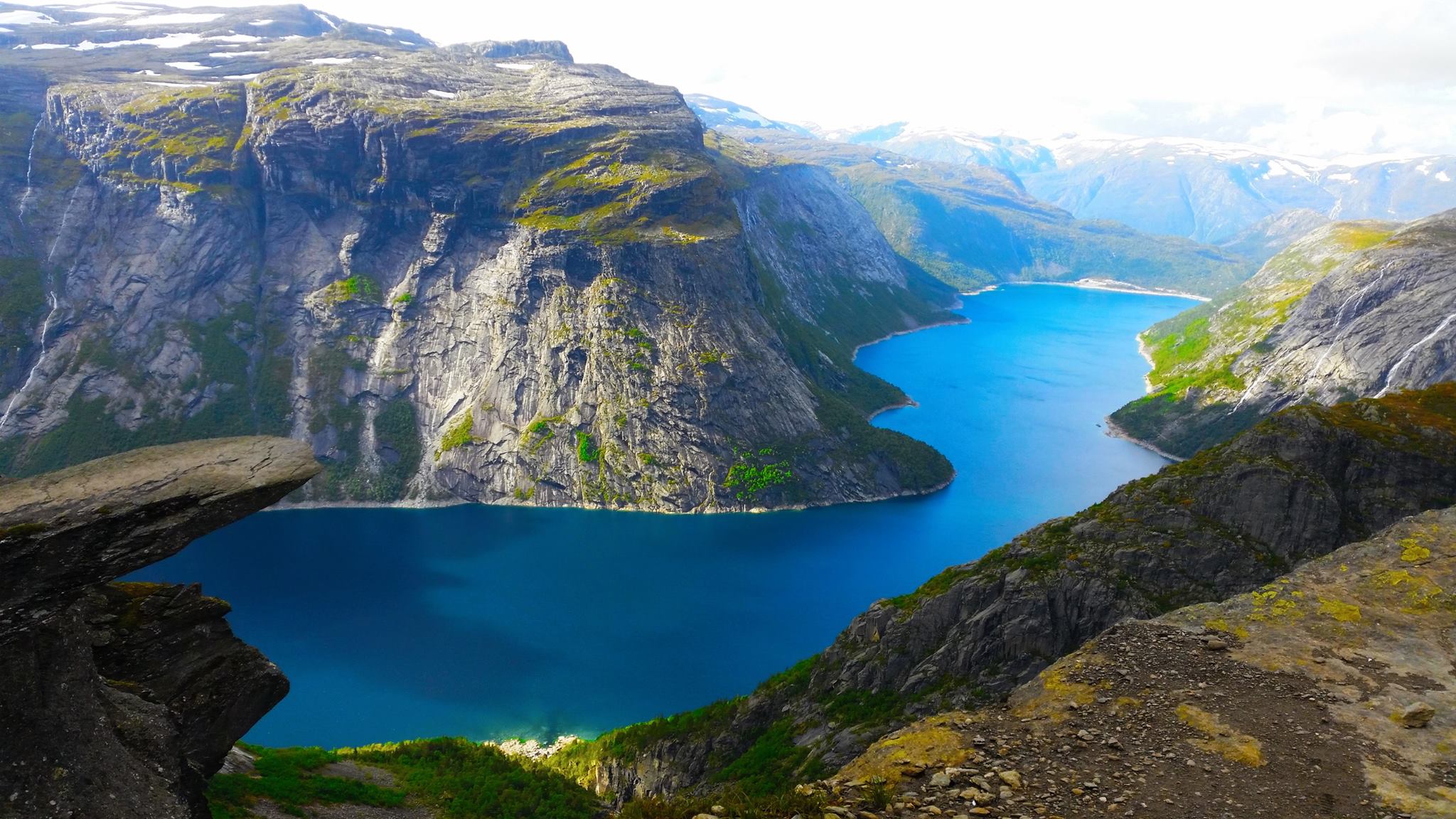 Sadly, Trolltunga is pretty popular these days. You will need to queue to have your rockstar moment, wind blowing through the hair, stood on top of the world. I have to say that the queue is in fact the most dangerous part, and I believe it is where the one lone fatality did occur. You'll need to climb down iron steps, across a few rocks and trickling water to make your way to the tongue, but imagine doing this in a queue of people who are excitable and incredibly eager to get to and from the rock. You can see how accidents happen.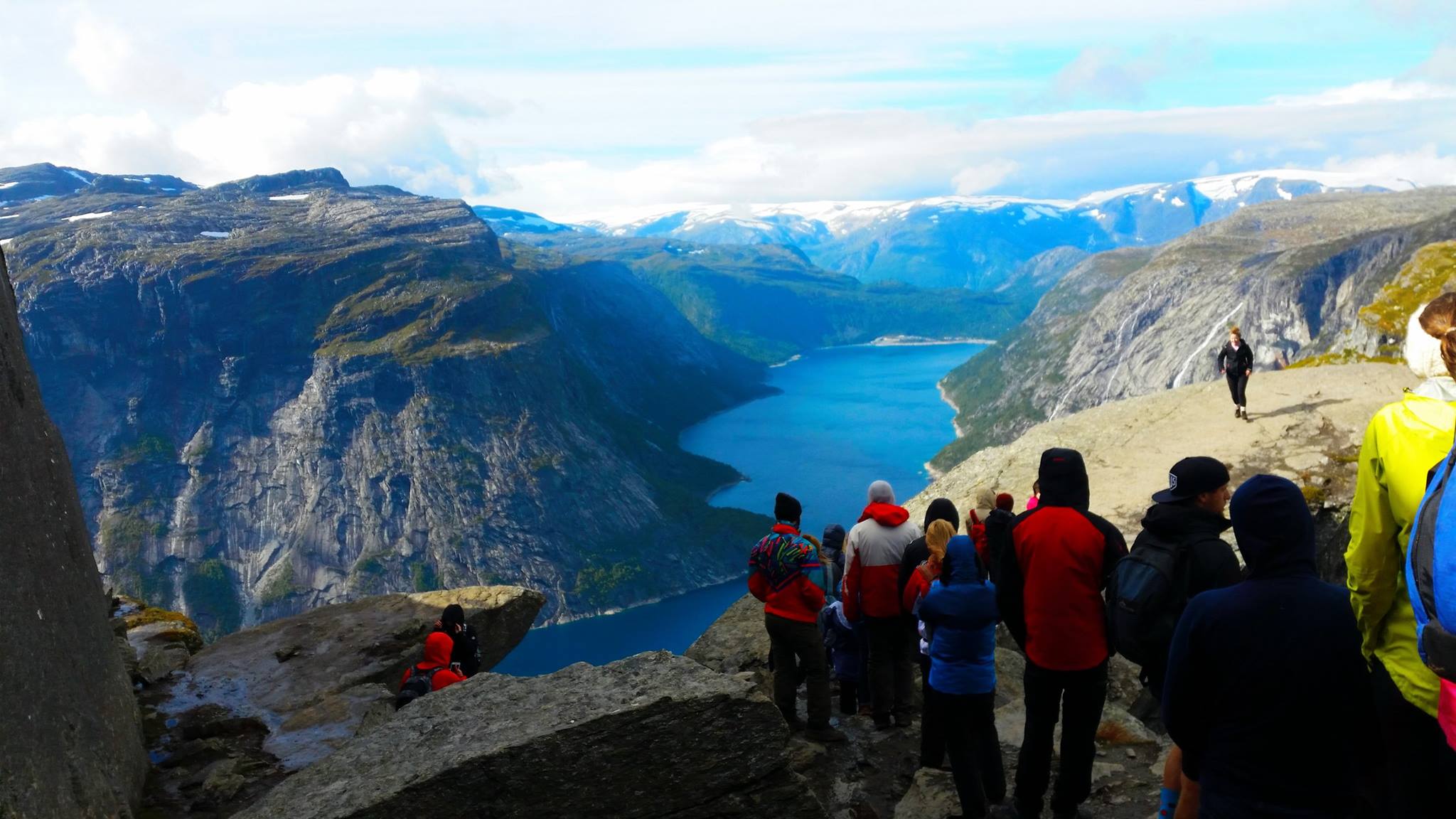 I queued for around 30 minutes before it was my turn to step out onto the ledge. The weather hadn't been great on the way up, but as I got closer to the front of the queue, the clouds parted and out came the sunshine and blue skies. Magic! Up close, the rock is actually a lot wider than it looks in pictures. With the lyrics to Martine Mccutcheon swirling round my head, I had my moment, strolled out and struck a pose. And another. Oh why not one more? I'm doing the David Brent… and if I can do the Brent (which was met with rapturous applause), I can probably just…. shuffle..my…legs..to…the…edge…..
And before I knew it, I was doing the one thing I said I'd never do, and dangling 600 metres above water – and I LOVED it!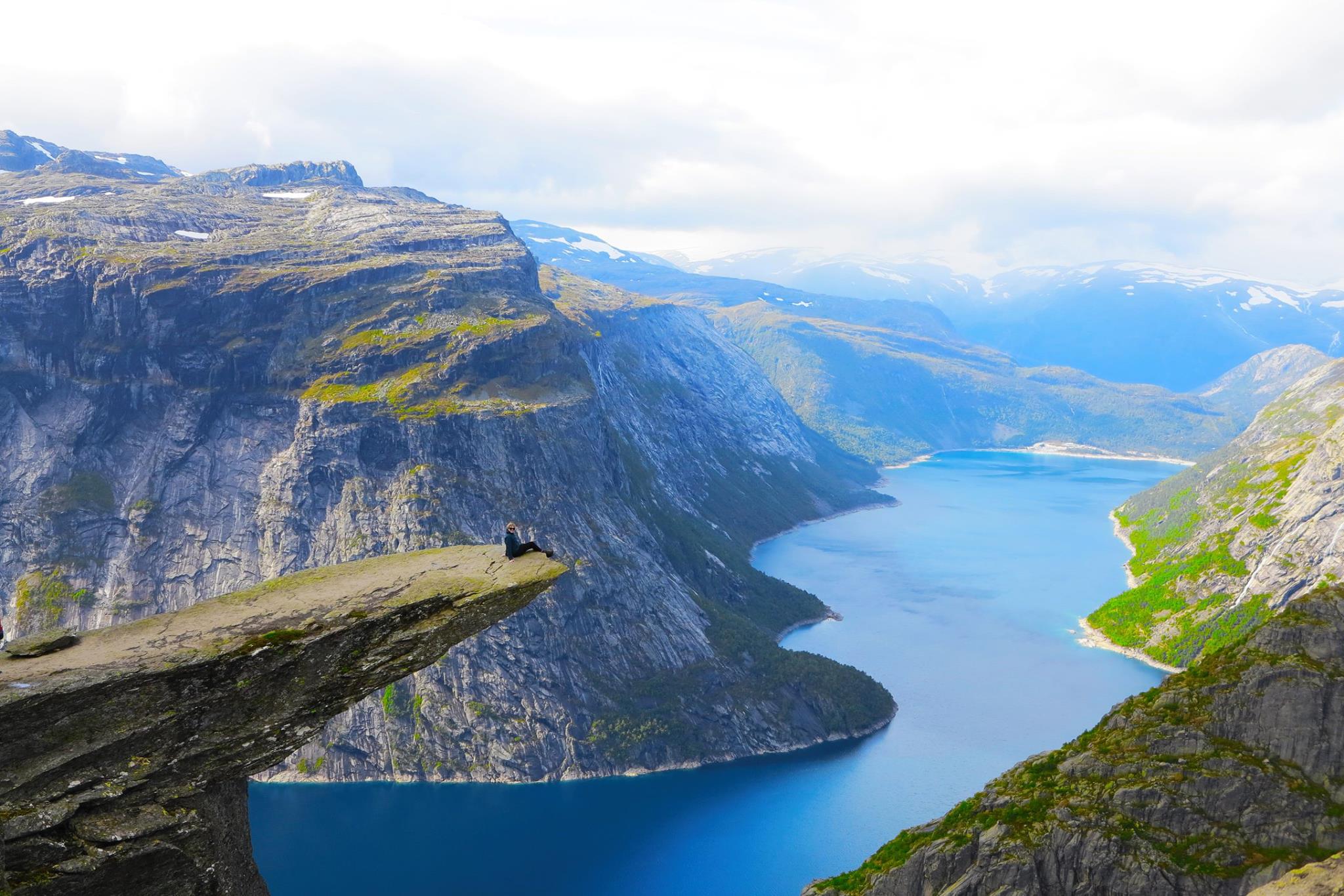 Kat said she struggled to take the picture because her hands were shaking to the point where she wanted to vomit, but that aside, I was so glad I did it, ticking off a bucketlist item in the process. It was now Kat's time to shine, and major props to her, because a) she is terrified of heights and b) when I returned to her after I did it, she said "I'm not doing it, you don't want to wait for me", to which in a very Mr  Burns-esque manner, I rubbed my hands together and said I'd like nothing more. She did it and she nailed it.
I'd basically frozen waiting for Kat to return. I'd also gotten bored to the point where I started to take selfies where my tongue lined up with the troll's tongue. It took around 30 attempts and received a few "do you want me to take a photo of you" moments, but 40 minutes later, I nailed that too.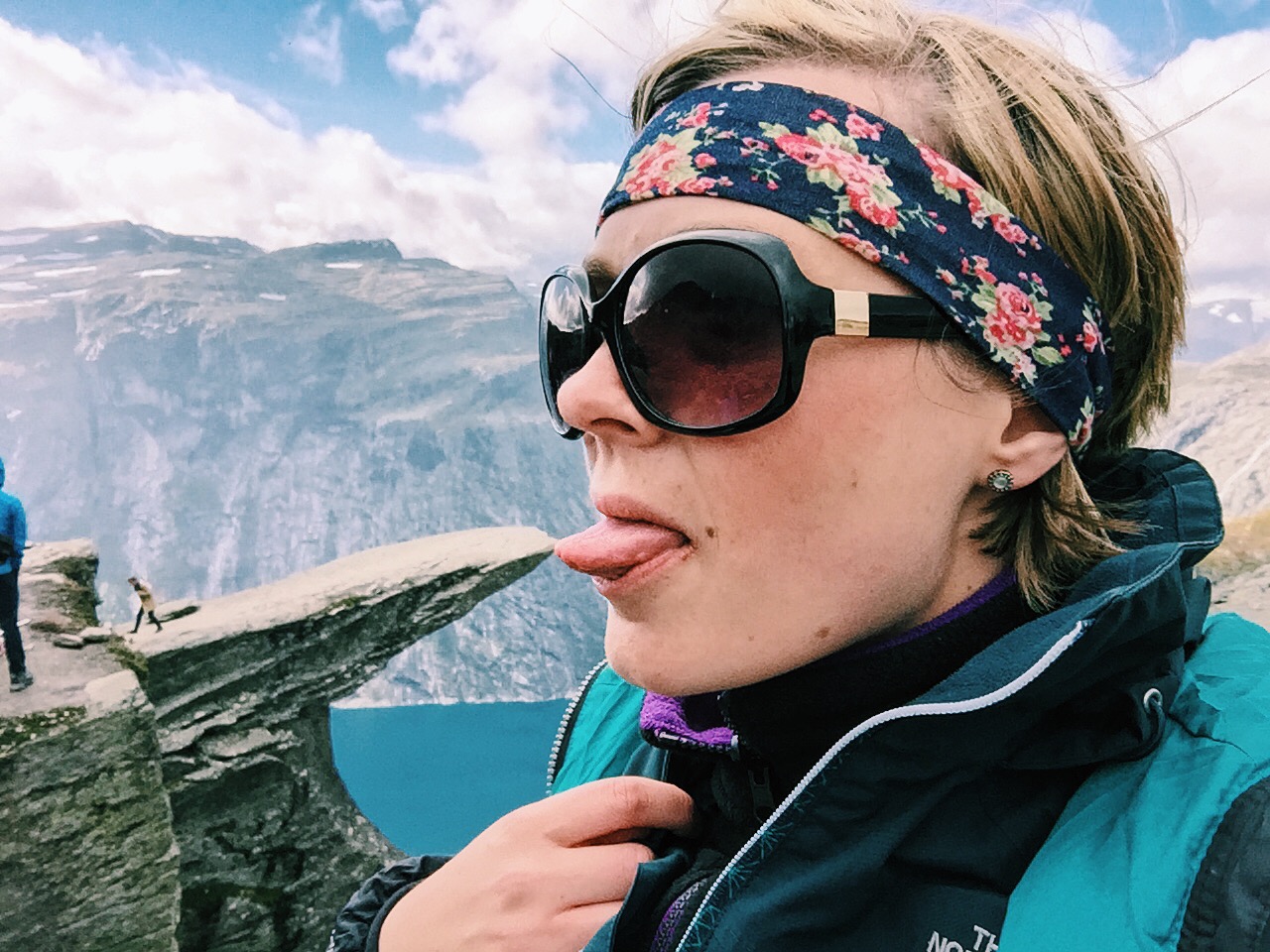 This, by the way, is the point where I busted out the emergency coat to avoid my limbs freezing and falling off. We took in the sight one last time and made our way back down from the incredibly elevated, exposed position we were in. Of course it started raining – impeccable timing.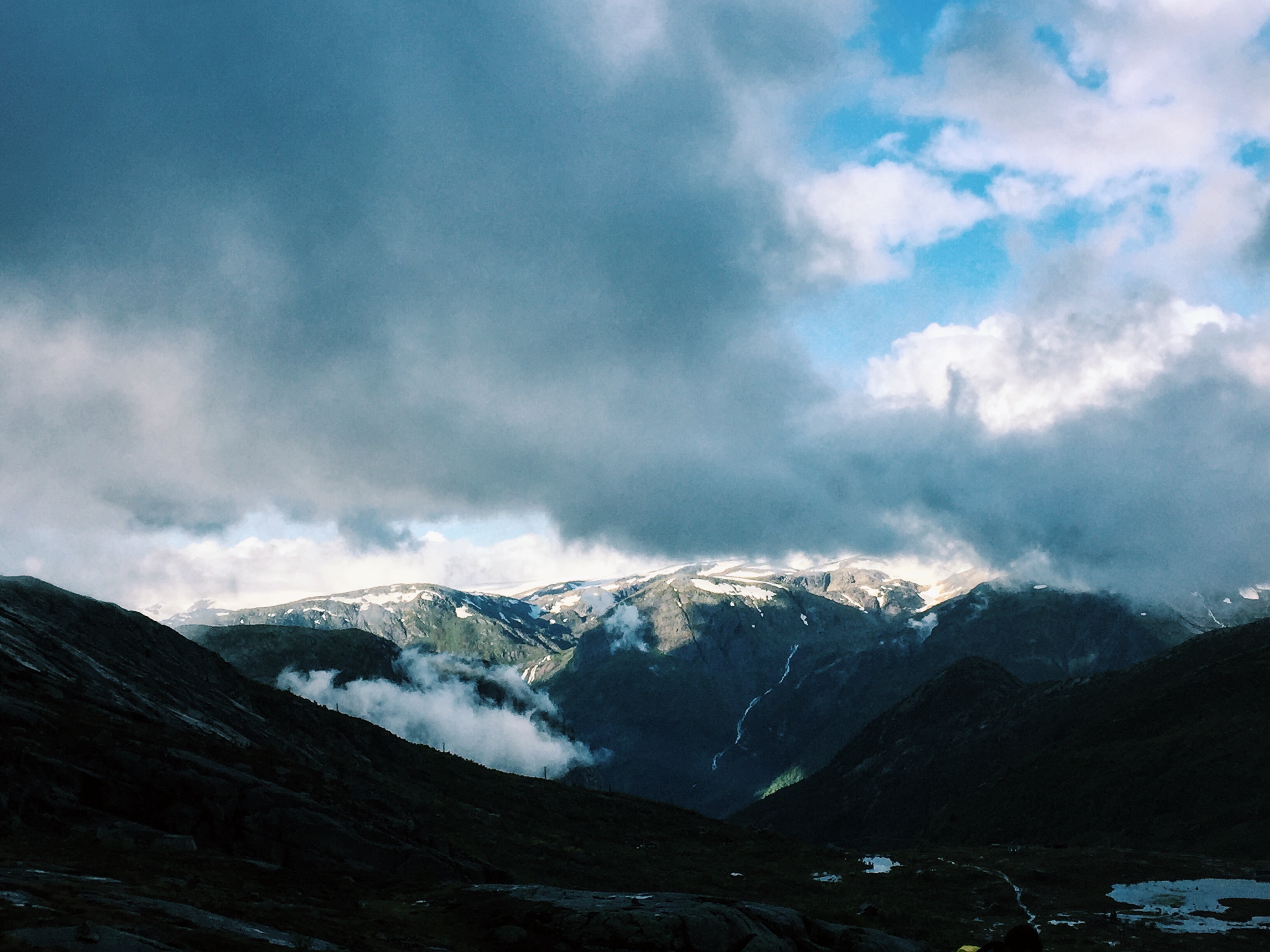 The majority of the climb down isn't so bad, although, it did feel slightly like the people who placed the kilometre markers might have got some of their measurements wrong, as a few kilometres felt like a lot more. Remember the steep steps at the beginning?  The only real struggle is when you come to tackle these. It's muddy, waterlogged, slippery and dangerous. You will fall over and you will look like a moron, but you just have to pick yourself up, dust yourself off and keep on putting one foot in front of the other. Most people complete the round trip in around 10-12 hours.  I think we were around the 11 hours mark, which we were pretty happy with as we took a few lengthy stops. Reaching ground level is a big relief, as you now you're not too far away from clean, dry socks and a hot cup of tea. After the obligatory video diary entry where Kat proclaimed to feel like "a bag of shite" and an 'after' selfie, we drove back to Odda, where we dined on pizzas and basically passed out mid-slice after catching the sunset.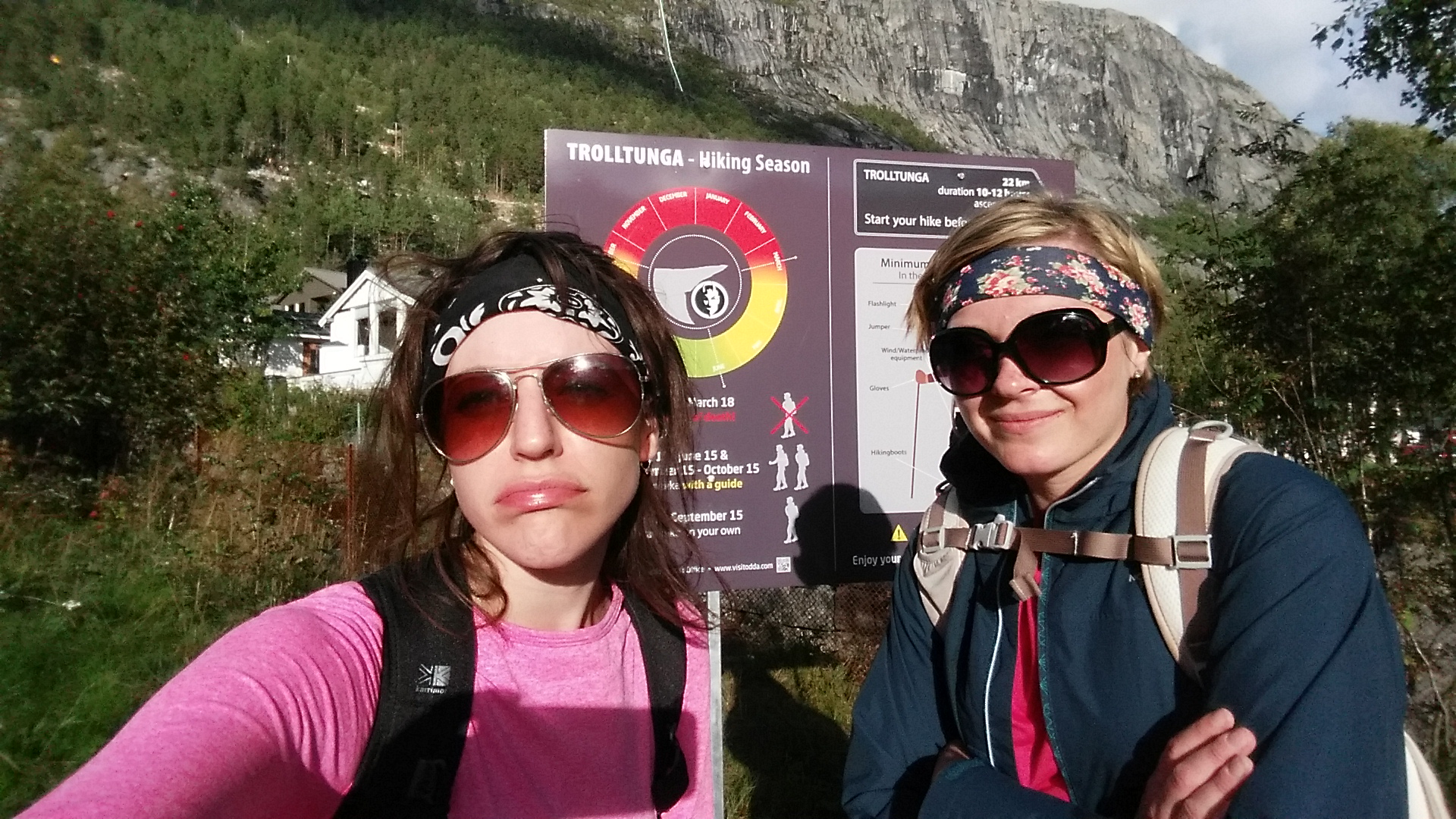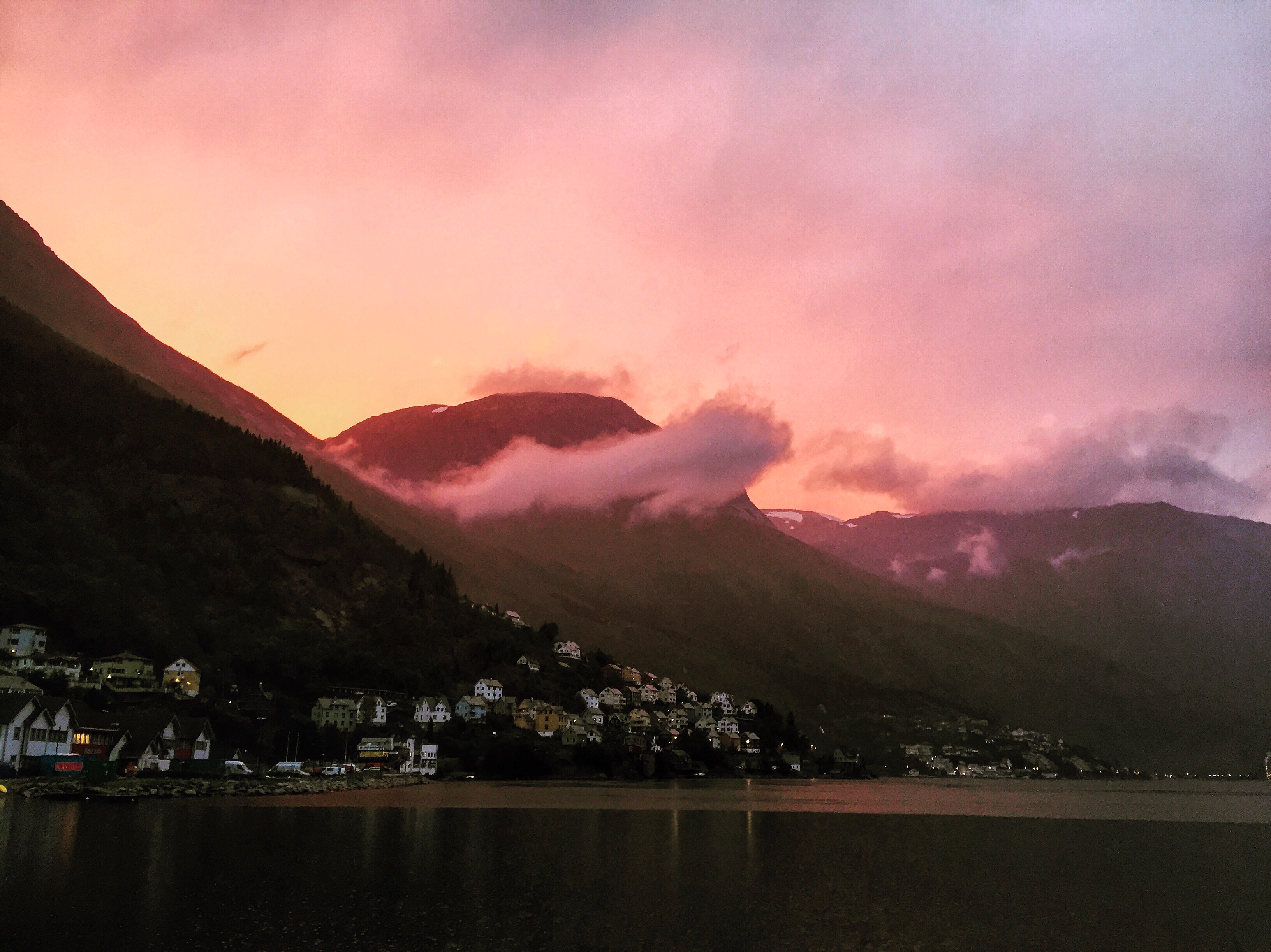 We woke up the next day feeling optimistically energised, and we decided that hiking to a glacier located just five minutes from our campsite would be a good way to spend our last few hours in Norway. On paper, this sounded a great idea, but in practice, it was quite the opposite. We drove to the foot of the glacier and admittedly, it did seem quite high up. Now, I don't know how we thought we were going to get up there without having to go uphill at any point, but for some reason we assumed that it would be relatively flat and not a strain at all on our very recently tested muscles. Wrong. Queue us navigating four inch wide planks of wood precariously balanced across fast flowing glacial rapids, pulling ourselves up near vertical rock faces on ropes and falling over at every opportunity.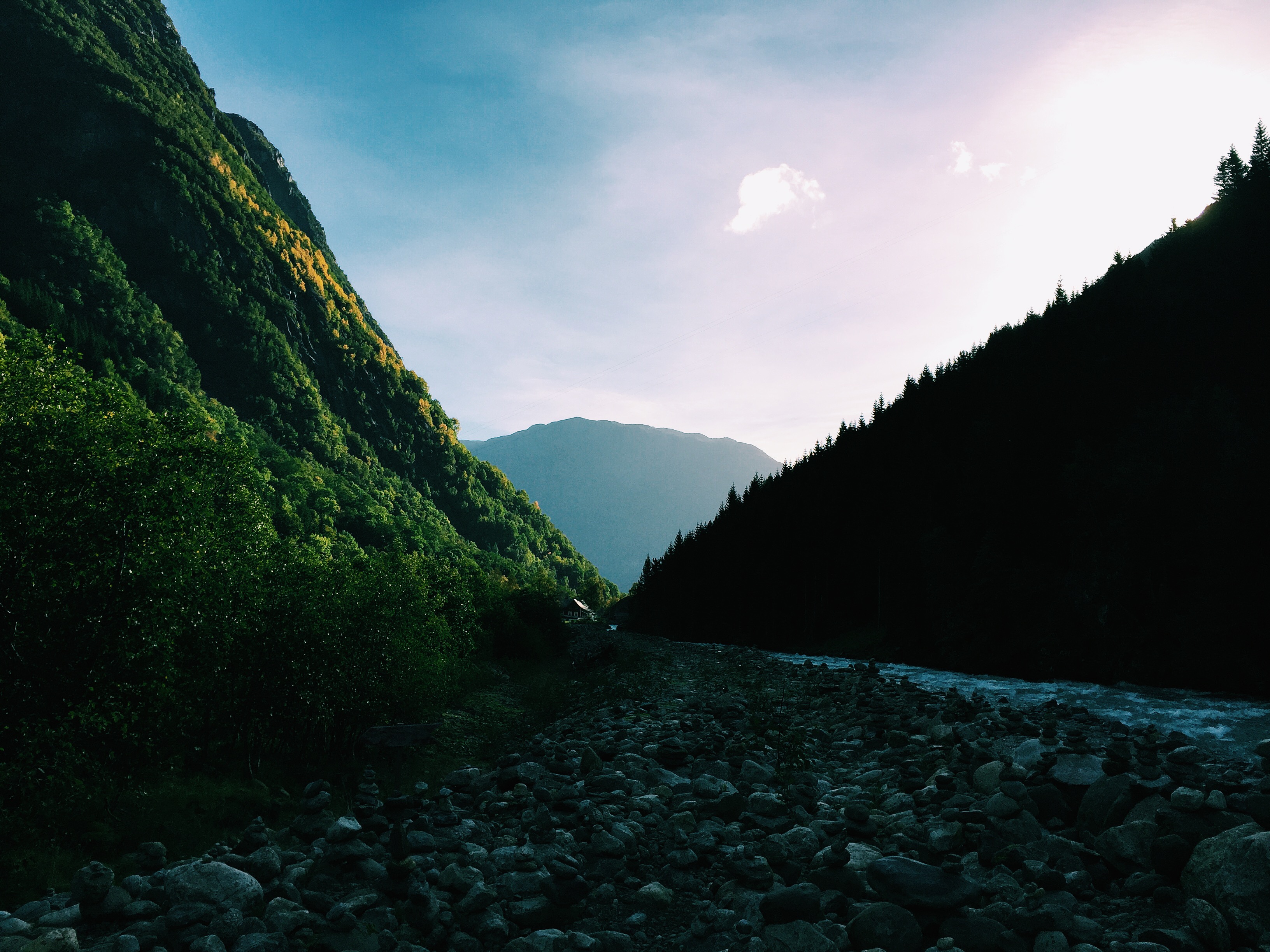 When did finally reach the top, it was pretty special. The glacier itself wasn't accessible due to the rate at which it is melting. Instead, we oggled it from the side. The view of the valley was truly sublime and the absolute silence except for the sound of the glacial water falling upon the rocks at a relentless speed was stunning.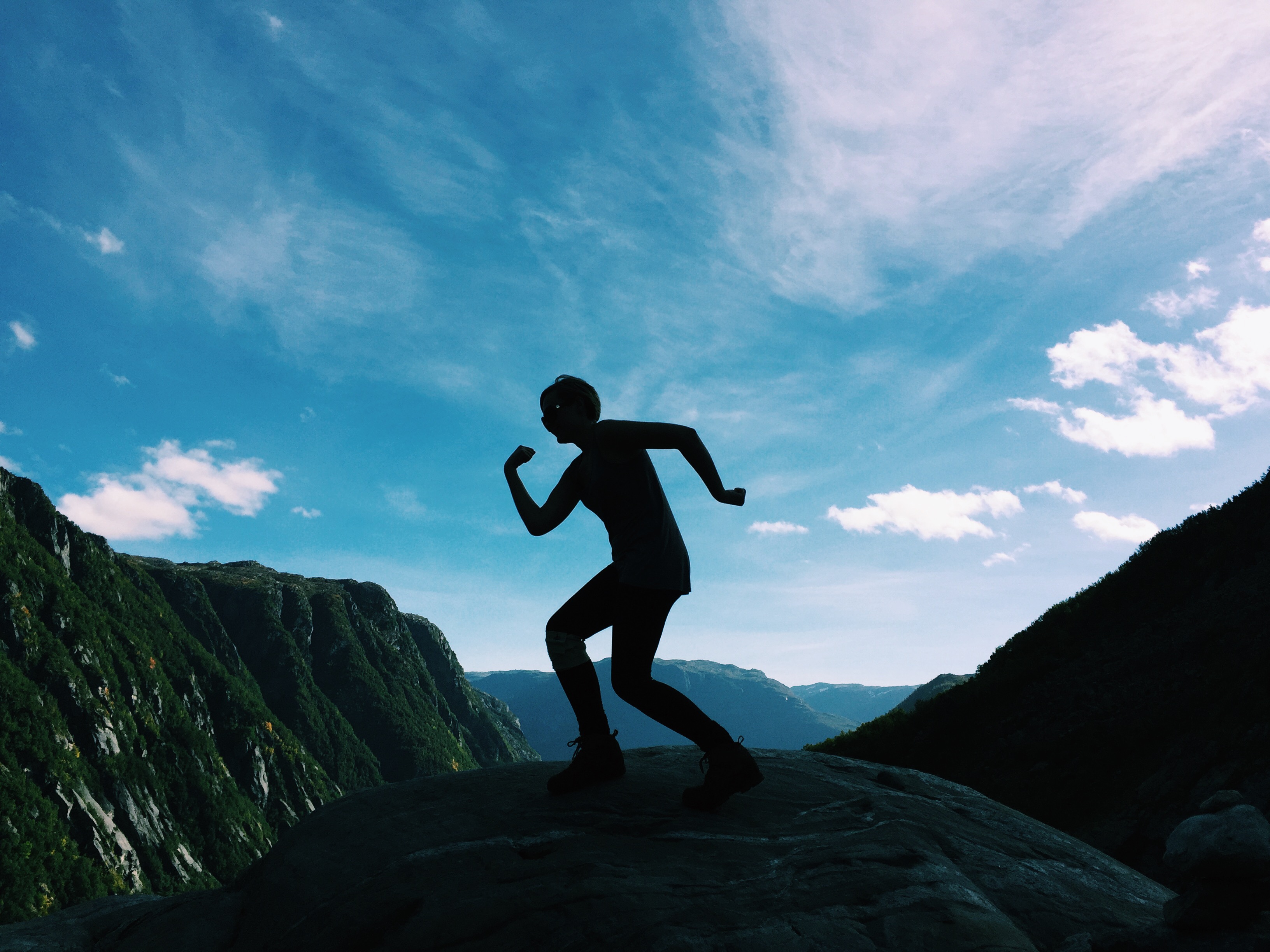 It got cold pretty quickly up there, not just because we had began to stand still, but we were feeling thirsty, so decided to put our hands into the water which had literally melted from the glacier before us. Our hands turned purple instantly and we spend the next twenty minutes with them tucked under our arm pits trying to get some feeling back! We passed a few people on the way down, some with babies, others just very unfit, but for some reason neither Kat or myself felt the need to break it to them that there was no way they were going to make up the near-vertical ropes to the top of the majestic Folgefonna Glacier.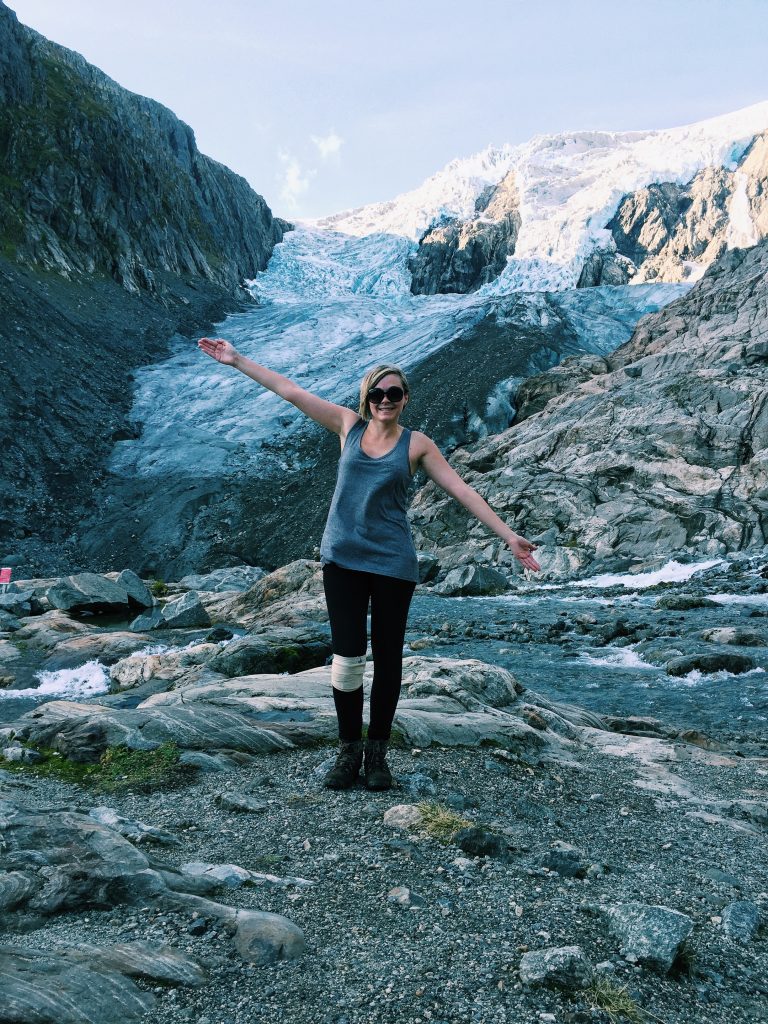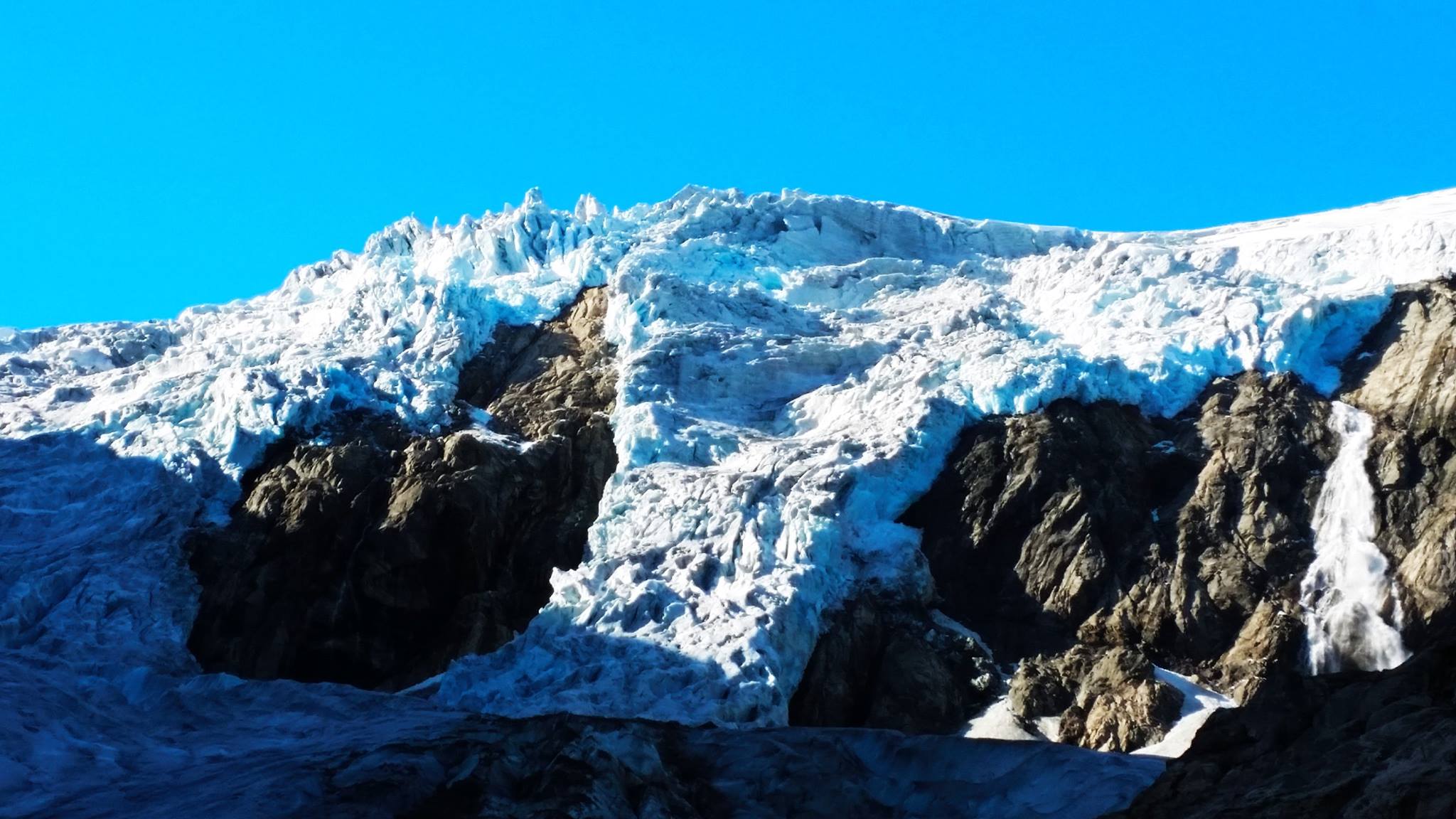 Our amazing time in Norway had come to an end, and we set off for the airport, stopping for a few last photo ops along the way. We even managed to get all the correct ferries and arrived at the airport to return the hire car just 11 minutes late (that's good considering it's us and the unimpressive journey outward).  All that's left to be said is that Kat paid £14 for a cheese sandwich at the airport – a fact that she resents to this day, but that's just Norwegian prices in a nutshell.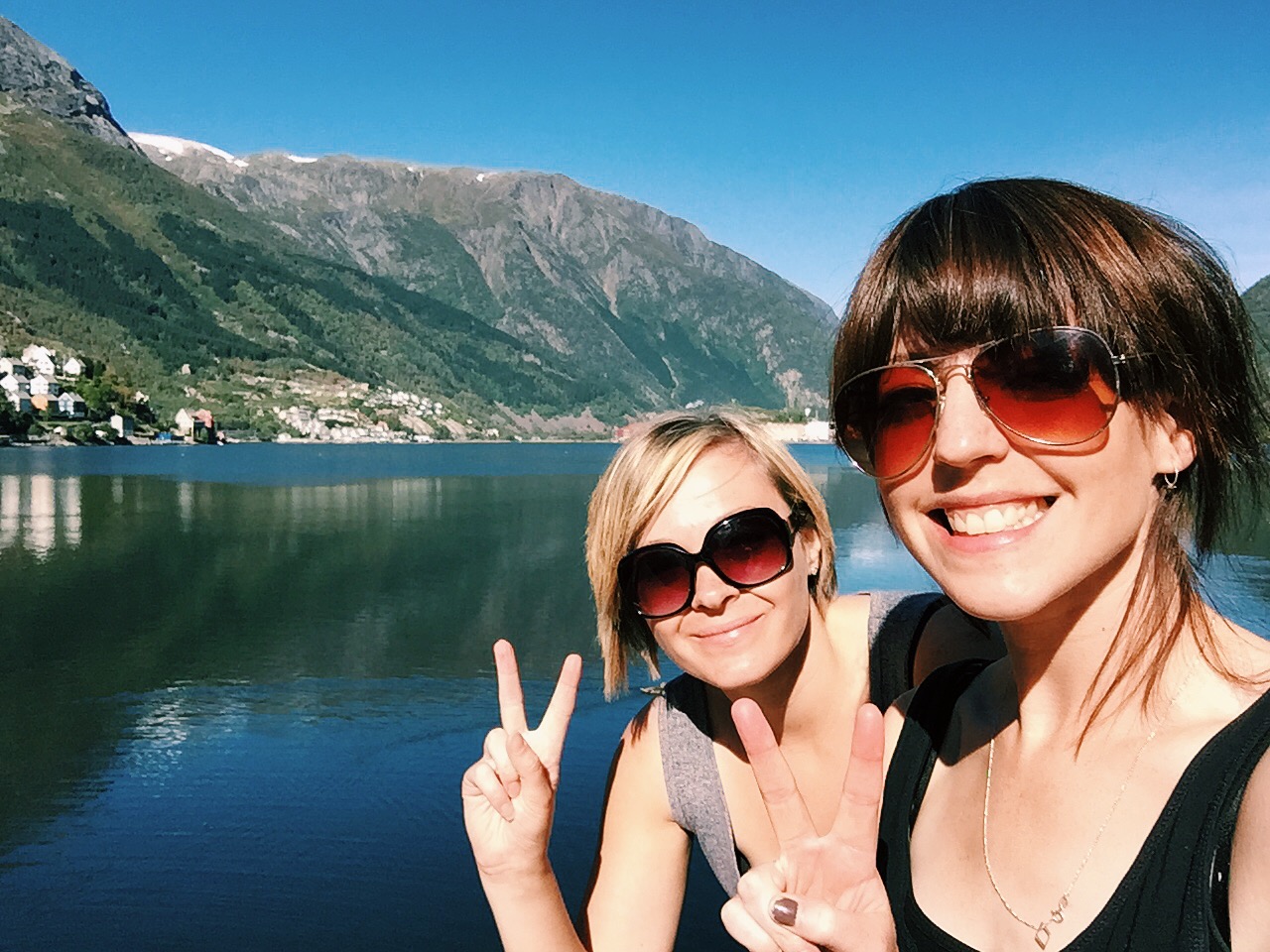 I really liked Norway. In fact, some day I hope to go back and take a roadtrip just that little bit further with far less ferry failures. The opportunities to hike are plentiful and the country is nothing short of stunning at every turn. Let's just hope there aren't any more opportunities for me to dice with death, because, this trip proved I am boundless and will do it if the opportunity presents itself… Say, have you heard of Kjeragbolten, the boulder stuck between two cliffs…?