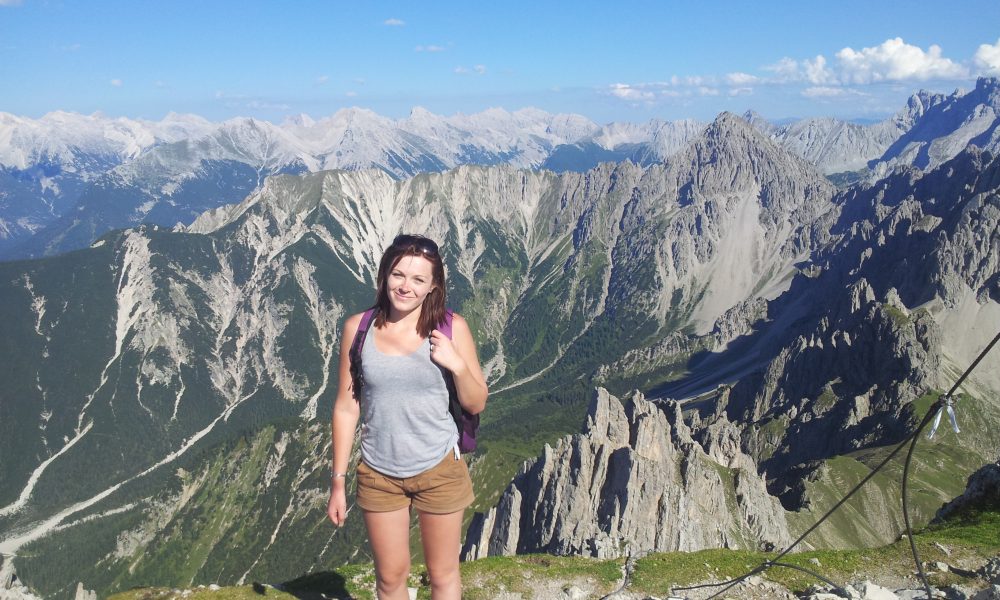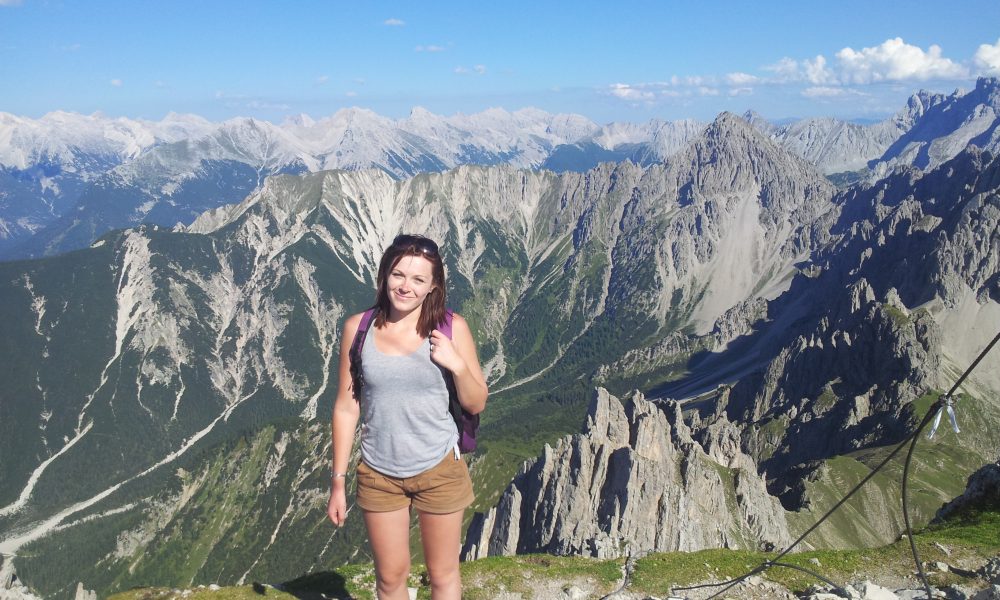 The first time I hiked what I'll describe as a 'real' mountain, I was woefully under-prepared. I rocked up knowing very little about what the task would involve, merely spurred on by the bragging rights of having reached the highest point in Malaysia. What I didn't know then could have filled a room, and ever since, it's been a learning curve that I've completed by virtue of lessons being learned the hard way. Here are a few nuggets of wisdom based on those lessons:
Get the Right Gear
I've lost count of the number of times I have gotten blisters or cut my hands scrambling rocks, and those are easily remedied, but one particularly bad memory was whilst climbing Mount Kinabalu. Weary and weathered, I could barely put one foot in front of the other and then it was that my rucksack broke. Queue utter panic. I asked every single person I passed on my way to our overnight stop if they had a sewing kit. Of course they didn't – why would they? This wasn't the knit and natter club my nan goes to on a Friday afternoon. This went on for many hours as I struggled up the mountain with my possessions spewing everywhere.
Fortuitously, when I reached the overnight hut I was bunking with a lady who happened to have a sewing kit, and even better than that, also happened to be a very competent sewer due to the fact that she was a vet. She stitched my rucksack up like a beloved family pet and sent me on my way, but ever since then I've always been an advocate of buying decent gear! At the moment I am using this berghaus rucksack.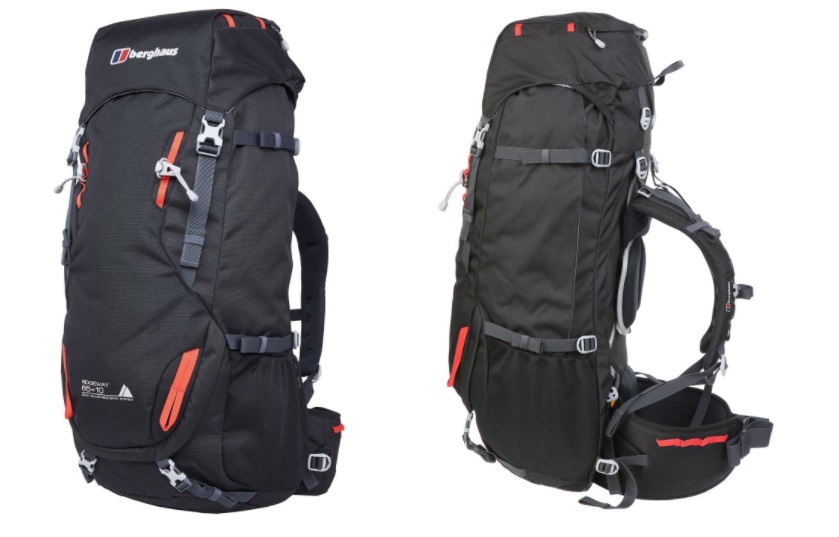 Not only is it sturdy and incredibly comfortable despite its generous size, but its expandable. Bear in mind that a backpack is essentially your portable wardrobe, kitchen and bathroom cabinet for the entirety of your trip, it wouldn't be completely out of line for me to say that it's clearly your most important piece of gear, so don't skimp on it!
Space and How to Use it
Another hurdle to overcome when hiking overnight for the first time – space and knowing what to do with it. As somebody who has the tendency to either i) overpack or ii) buy too many souvenirs, having a rucksack that's expandable can be a game changer. My rucksack is 65l + 10l expansion, and for me it's mind over matter – well, it's about tricking my mind. If I pack my rucksack like its capacity is 65l and imagine that convenient extra 10l doesn't exist, there's always contingency space. When it comes to the physical ordering of the contents of your bag, always think backwards. What's the last thing I'll do before bed? What will I be doing *all* day. Well, I read a disturbing article recently that claimed we check our mobile phones 500 times a day, so there's a good start, but other top-of-the-bag essentials include your camera, maps and things to keep you dry. At the very bottom should be your tent and foam pad (if you're using one), followed by your food and cooking gear on top, before rolling up your clothes into compact bundles. I learned all about the importance of utilising space when I overpacked a bag whilst backpacking in Asia, and it burst open in transit, causing me to lose a bunch of my possessions!
Do Your Research
This is me attempting to scramble the summit of the Hohe Munde in Austria.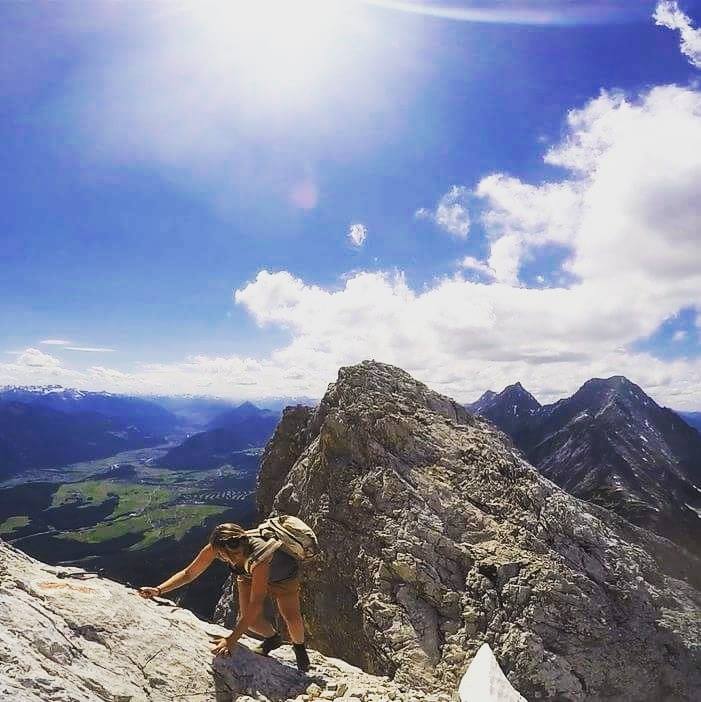 Yes, it's as high as it looks and yes, I was terrified. This was the time I learned my lesson on researching the difficulty of the climb ahead and the requirements in terms of gear. Prior to arriving in the gloriously green foothills surrounding the mountain, I'd done at least ten minutes of Googling and determined that I could climb this with the little experience I had due to it being an intermediate climb, illustrated by the red stickers you see on signposts all over. False. The route we had ascended was not "red" by any stretch of the imagination, it was in fact cold, hard, scary, sweat-inducing "black".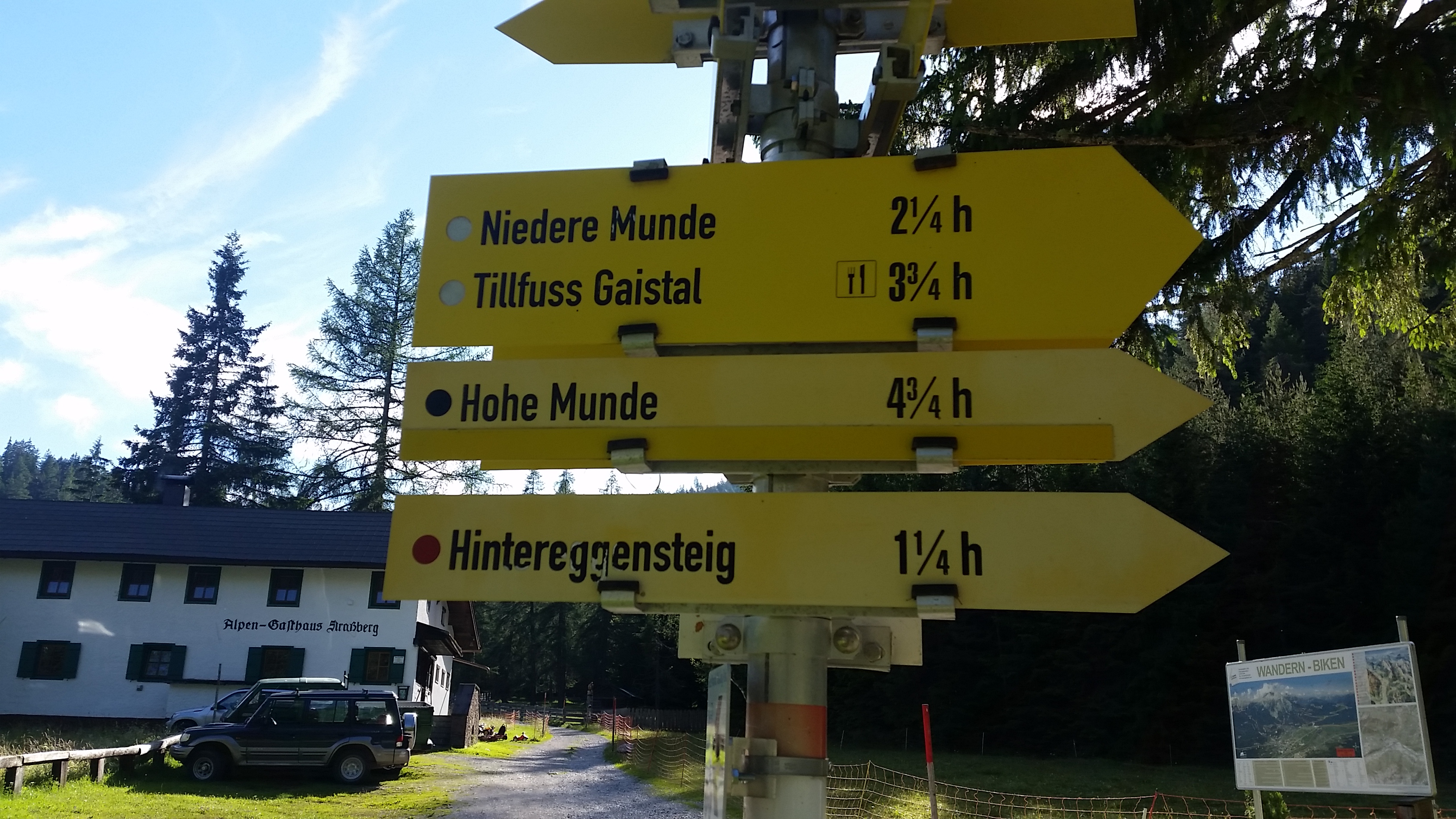 This wasn't something that became apparent until half way up (this photo was taken afterwards), so we figured we'd carry on as we'd come so far, but as we got closer to the top and found ourselves hanging off vertical cliff faces above snow, I will admit that I may have started to have creeping feelings of regret. Light air craft were circling beneath us and terrifyingly large black crows had started to follow me. Slightly unnerved, I persisted but did have a moment of panic where I froze and uttered the words "Call mountain rescue". It could have ended badly for us, but fortunately for us there were a bunch of people around to assist.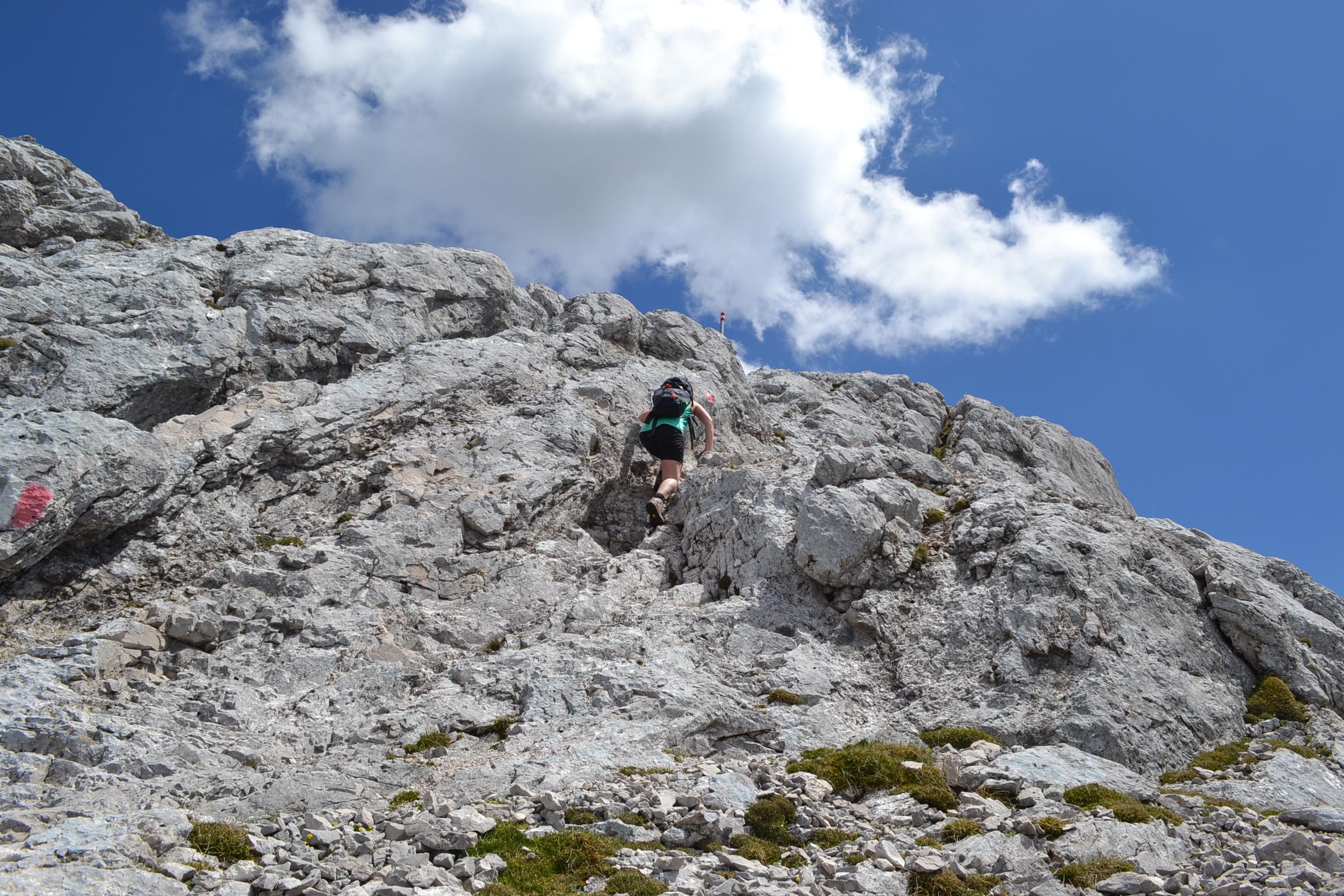 Choosing a hike that is suited to your ability is so incredibly important as it's what stands between you and a successful climb! There's no point walking before you can run, and there's certainly no point hiking where you should be mountaineering. Familiarise yourself with trails as much as you can prior to arriving via the realms of the internet, read what other hikers are saying, and make sure you know how long it should take so you are able to ensure you're on track. One technique for doing so is to calculate your average pace per hour when doing your practice hikes on relatively level ground, bear this in mind, and then when it comes to the big day, take this and add one hour of hiking time for every 1000ft of elevation you gain.
One word – train
They say that hiking is more mental than physical, but a little bit of training can indeed go a long way. Much like there comes a point in your life like when "falling over" becomes "having a fall", at some point you'll realise you're not as young and agile as you used to be. The diet consisting of purely donuts and sherbet that your body once freely metabolised is no longer an option. The need to go to the gym to maintain acceptable levels of fitness soon becomes part of the daily routine. And more importantly, as I learned, the ability to turn up to physical activity with zero preparation and feel absolutely nothing afterwards soon disappears. Not prepping for my first overnight hike on Mount Kinabulu was the worst mistake I made (way worse than the cheap rucksack, the food poisoning acquired from eating unwashed fruit and the decision to not bring anything that might deal with dodgy tummies) throughout the whole trip.
If you're taking on a one-day hike, you can likely get away with it, but anything with an overnight stint requires genuine preparation to stop your muscles becoming sore and prohibiting you from climbing the next day, as they enter restoration mode and begin to repair those tears. I live in the UK's flattest county, but these days, despite this, you'll find me getting the practice hikes in left right and centre. Even just walking long distances (10 miles+) or doing twenty minutes of cardio on a flight of stairs will ensure your muscles are capable of endurance. You should start with a comfortable distance and build on this the closer you get to the day, but nothing will compare to the event itself, so remember when the time comes that it's okay to take breaks – of course our bodies need these. And never underestimate the power of water!
This isn't Masterchef, but food can be good
When hiking in Australia for the first time, I was incredibly intent on living the classic Aussie outdoors lifestyle, AKA – I wanted to eat delicious barbecues every day, formed of exotic meats, freshly prepared salads and heck no was I going to eat anything that hadn't been marinated overnight! This was a terrible idea. Aim low guys and you shall succeed! I've since lowered my expectations and learned a bunch of hacks for eating on the road, which have made life a lot easier. Firstly, you should never be at the point where you feel physically hungry – if that happens you're doing it wrong. Stuff your bags full of things that contain heaps of energy and weigh next to nothing. I'm talking nuts and dried fruit mostly for breakfast as they're full of natural fats and sugars, but when it comes to cooking, you can get a little more experimental. There are now entire cook books out there written to highlight some of the ways you can become a master of gastronomy and nutrition on the road, but these are perhaps better suited to hiking with families and large groups. If you're lucky enough to own a dehydrator, these make for an excellent way of bringing along delicious meat-based dishes zipped away in a freezer bag, and they give you a little taste of home when you most need it. Otherwise, bring along things that are individually sealed, keep well and don't require refrigeration, such as tuna. Ramen is always a popular shout with people I have hiked with in the past as it's customisable, delicious and requires very little culinary talent! Despite what you might think, food on the road can be more than just sustenance, but it just requires a little planning and prep ahead, which can be done at home or in your hotel/at your campsite. And let's face it, who doesn't like a hot meal at the end of the day?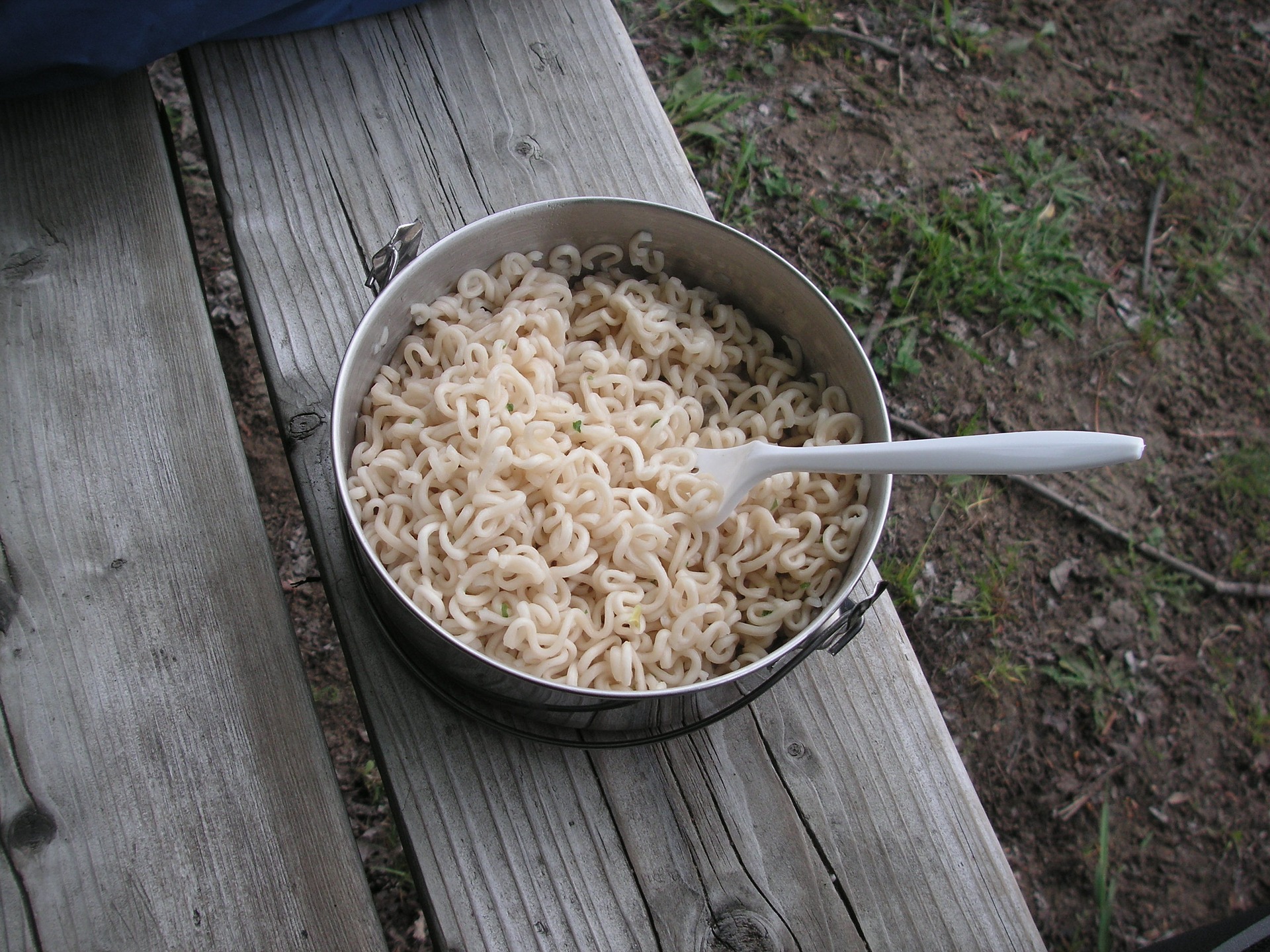 Post written in collaboration with Simply Hike