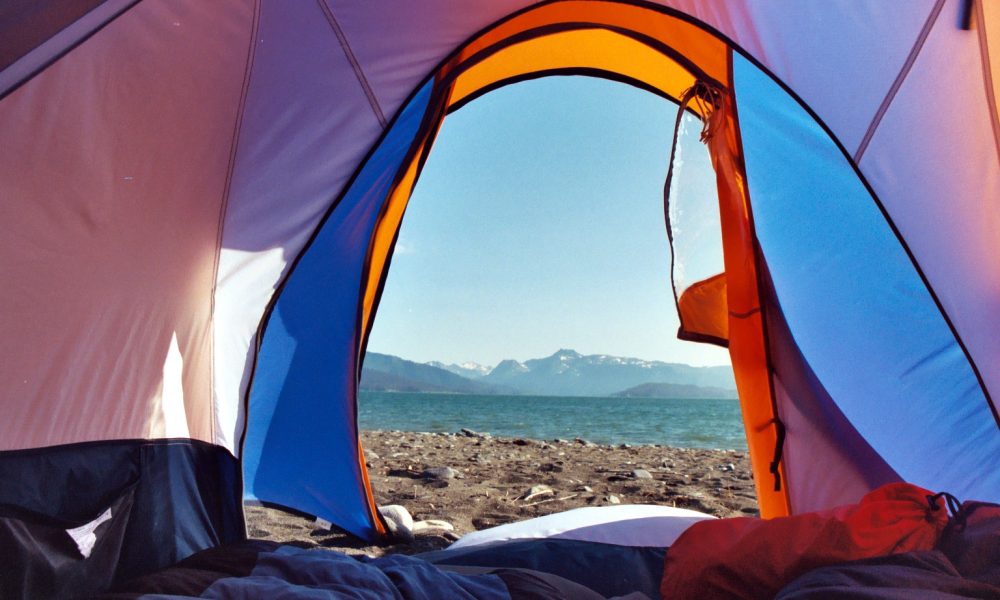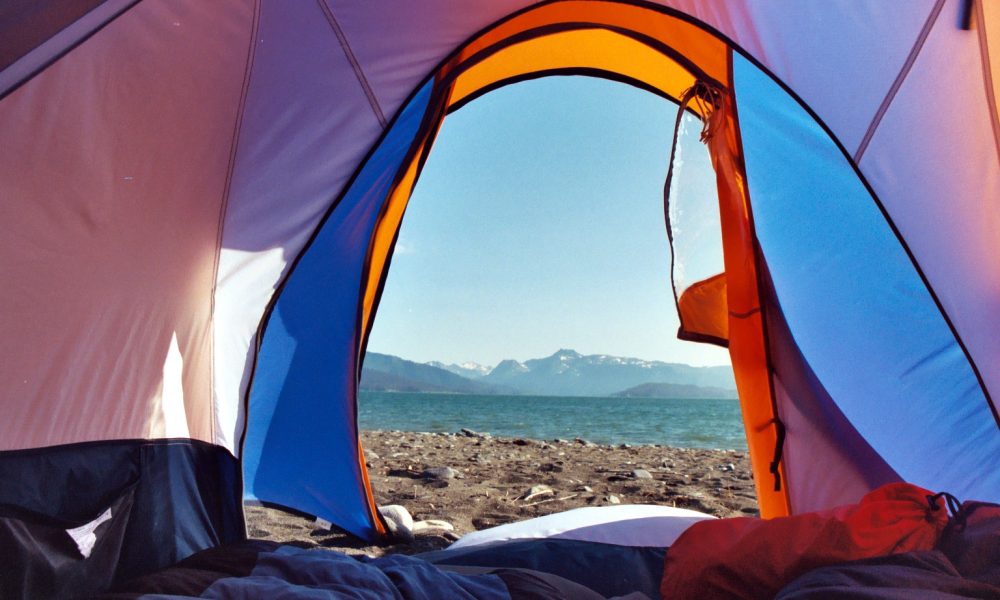 ONE WHO LIVES, SEES MUCH
ONE WHO CAMPS, SEES MORE
Rainy weather doesn't mean that your outdoor experience will be a disaster altogether. In fact, rain can add a lot more fun, thrill and excitement to your adventure! Staying home in fear of a few raindrops isn't a good idea at all, and by simply being well prepared before heading out, you'll avoid any rain-based emergencies for sure! Believe me; it's the coldest, wettest and most challenging outings you remember most fondly.
Here are a few tips for staying happy and dry when drops start falling from the sky.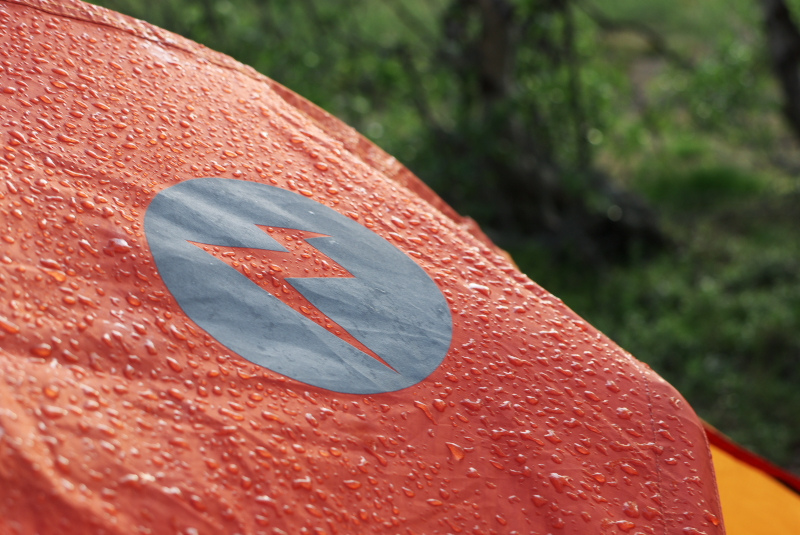 Image source Flickr
Be Ready to Get Wet
Wet but warm is the name of the game!
Prepare yourself to get wet and be ready for every piece of gear you own to get become drenched too. It's always better to prepare for the worst, and ensuring you bring pretty much just synthetic stuff will keep you dry and warm throughout your trip. Stay positive and simply enjoy the adventure!
Choose the Right Spot
Before pitching your tent, it's important to check the area and your surroundings properly.
Avoid slopes, soft ground and depressions

Avoid areas that look like they've flooded in the past

Avoid camping under large trees and branches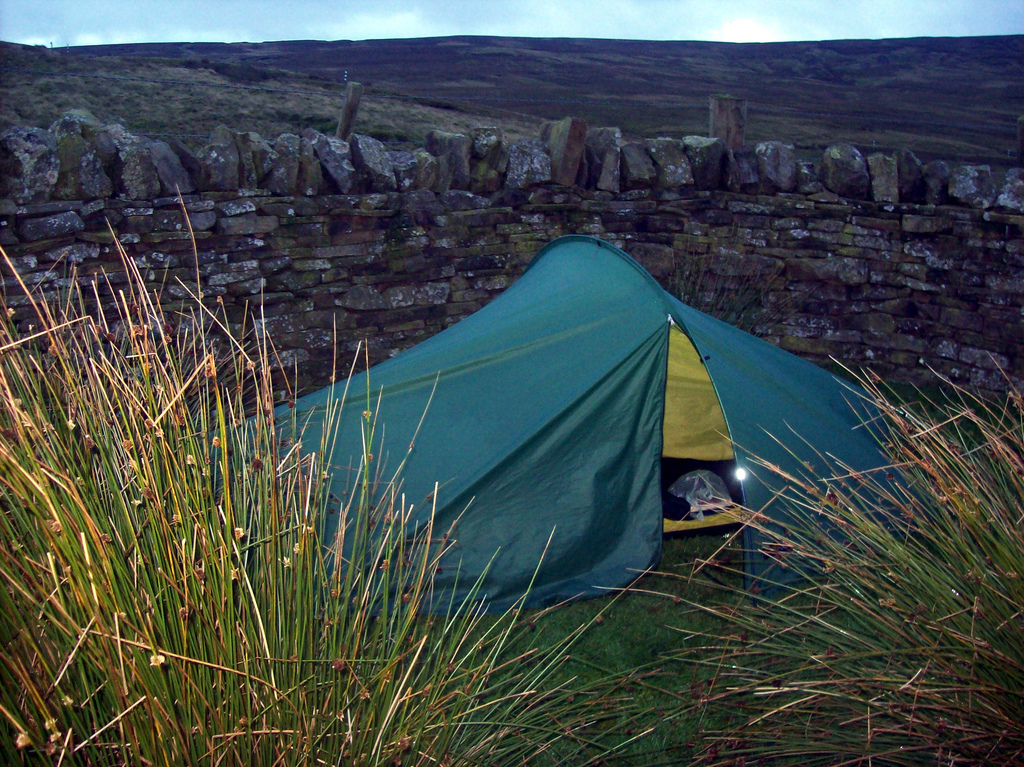 Image source Flickr
Take Tarp and Tents
The first step is to pitch a waterproof tarp shelter to protect against the rain and shield wind.

You can pitch one main tarp on your tents and use the other as a place to sit around, read or play an indoor game.

With tarp, you'll be able to enjoy yourself by simply sitting out beneath it to enjoy the rain. Let's face it – nobody wants to sit inside a tent the whole time just to stay dry!

Having ventilation in your tent is important for avoiding condensation, so placing a tarp over the tent should help to prevent rain sneaking in through the tent 'windows'.

Put down a waterproof groundsheet as it will

protect the tent floor from wear and tear, and from being torn or punctured by sticks or rocks.

Also, this way water running down the sheet will not be in direct contact with the tent.

Try not to touch the walls of the tent because touching the walls when the tent is wet from outside will just get you drenched inside the tent.

Check your tent and tarp properly for any damage before going out for camping.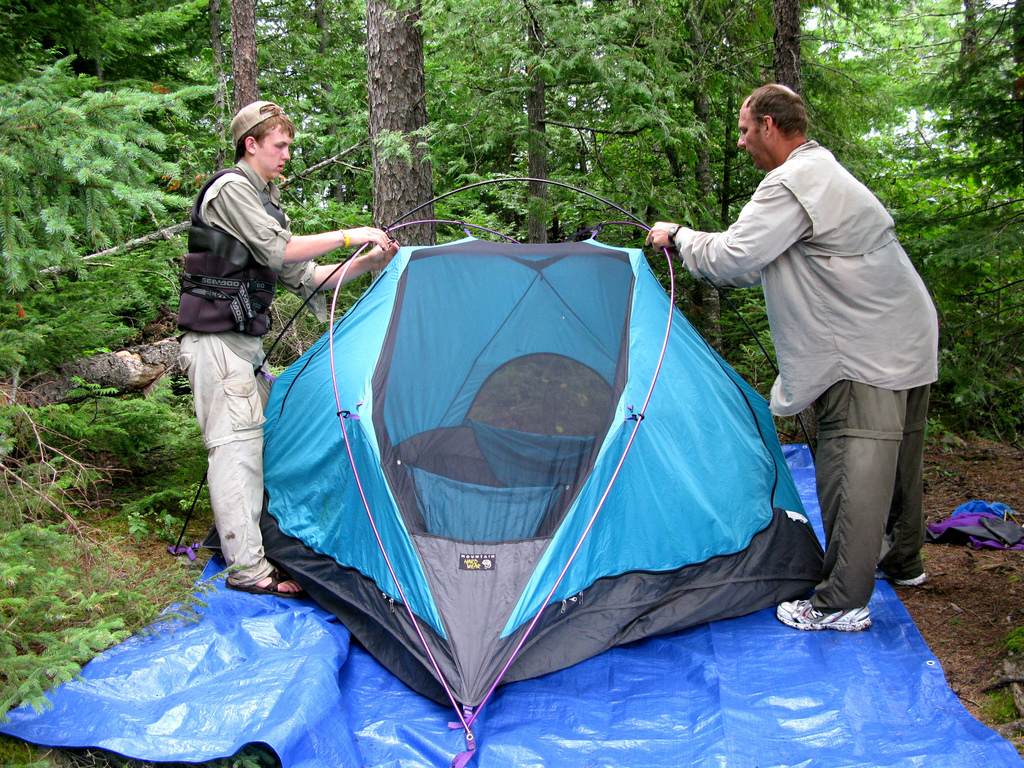 Image source Flickr
Pack some Morale Builders  
In case you're stuck in your tent waiting for the rain to stop, a few indoor games can come in handy, especially when camping with kids. You just need to use your imagination! Try:
A basket full of arts and crafts

Travel scrabble

A newspaper

A few books with some of the

best quality

glasses and reading torches you can buy. You may be able to read a few spooky stories at night to the kids! And if the kids are still asleep early in the morning, you've got the chance to relax with a good read and a warm cup of coffee!

A charged-up laptop, with one or two movies on it (you might not need it, but it will come in handy if there is a lot of rain during the day)
Be well-equipped
To minimise the impact of rain, it's imperative that you have the right equipment with you. Some items are:
Warm clothing

Raincoats

Beanies

Gloves

Rain ponchos

A few old towels for mopping up water

Plastic bags to pack your stuff as they're water resistant

Fire starters

Small, important items like a digital camera, memory cards, matches and important documents such as hunting/fishing licences, money and your passport

Pack some extra clothes in a waterproof bag for the worst-case scenario

Backup food is important, just in case the weather ruins your plans of cooking outside

Last but not the least, a good

pair of waterproof boots

 will protect your feet against the mud and water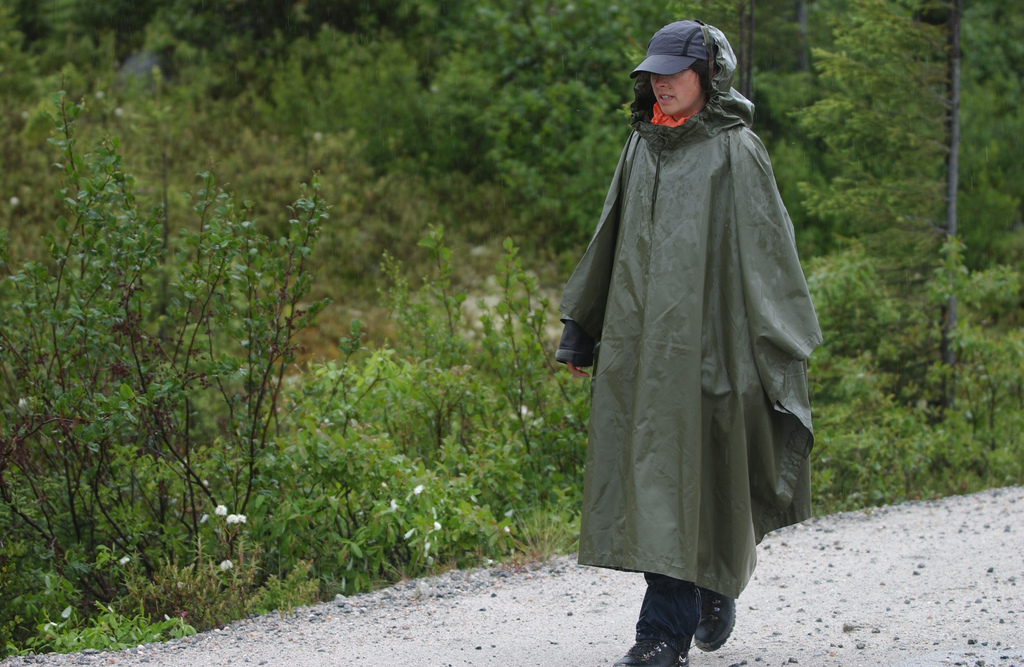 Image source Flickr
Collect Water for Yourself
Be positive during such rainy weather and take camping as a challenge for yourself. Avail this opportunity, do some constructive work for yourself by collecting some of the rain water for drinking purposes.
Put your open water bottle outside to catch the drops

Use the stretched corner of the tarp to funnel water into your bottle or cooking pot

Collect water that falls directly into your bottle

Water that slides down from a tree or branches or rocks can be dangerous – do not drink such water
Know How to Start a Fire
The fire is the main comfort of the camp. Keep in mind that the rainy weather will soon pass and then you'll be back to the basics of camping – making a fire, cooking food and relaxing. You must know how to start a fire as it plays an important role for your camp.
How to Start it:
Automatic

fire starters

are available on the market these days. You can use them to ignite newspapers, dried branches or anything else that's flammable.

Newspaper

can easily serve as a useful fire starter if the rest of the forest is waterlogged.

You can deploy

cotton balls

soaked in Vaseline. This petroleum-based product can even ignite while it's raining.
Why Fire is Important:
It will keep you warm and comfortable

It will help with cooking

It can be used for drying purposes – place your wet clothes and other stuff near a fire; it will make them both warm and dry in no time
Watch Out for Lightning
Be aware of lightning. It is one of the most treacherous aspects of camping in the rain. Lightning can be fatal as it can strike anytime. There are a few precautions that you need to take:
Get out of the water immediately if you're swimming or boating

Find a place that is not on or near the highest geographical point

Do not stand down under large branches or old trees – they could break and fall during a storm

Storms can be extremely scary for children, so try to divert their attention by talking or playing an indoor game with them
Keep the Inside of Your Tent Dry
Remove all your wet outerwear and muddy boots before going into your clean, warm and dry tent. Placing your wet items in dry plastic bags will prevent your sleeping bag and dry clothes from getting wet. Roll some dry newspaper into your wet boots; this will absorb much of the water, thus making them dry.
Stay warm
Due to rain, things can suddenly get cold and uncomfortable, therefore it's important that you keep your body warm.
Wear synthetic and fleece insulation only – it wicks away moisture and keeps you comfortable

A good waterproof and synthetic sleeping bag will keep you insulated

Fire will make the overall environment far warmer
Examine Wet Stuff
Once the weather returns to normal and the sky becomes blue, start to pack your gear. Some of it will still be wet, and some perfectly dry.  
It's extremely important that you properly air out your wet items. Unpack everything individually, from clothing to boots and from gear to tents – otherwise, bad odor, molds and fungus will develop. This will destroy all of the fabric, and rust will corrode metal items like tent parts and utensils.
Camping in the rain is not all about the bad times; it's just how we think and how we take it. At the end of the day, it's all about whether you're well prepared or not, and trust me – if you are, you won't be uncomfortable. So don't just sit back just because of few rain drops, go out and make beautiful memories that you will always cherish!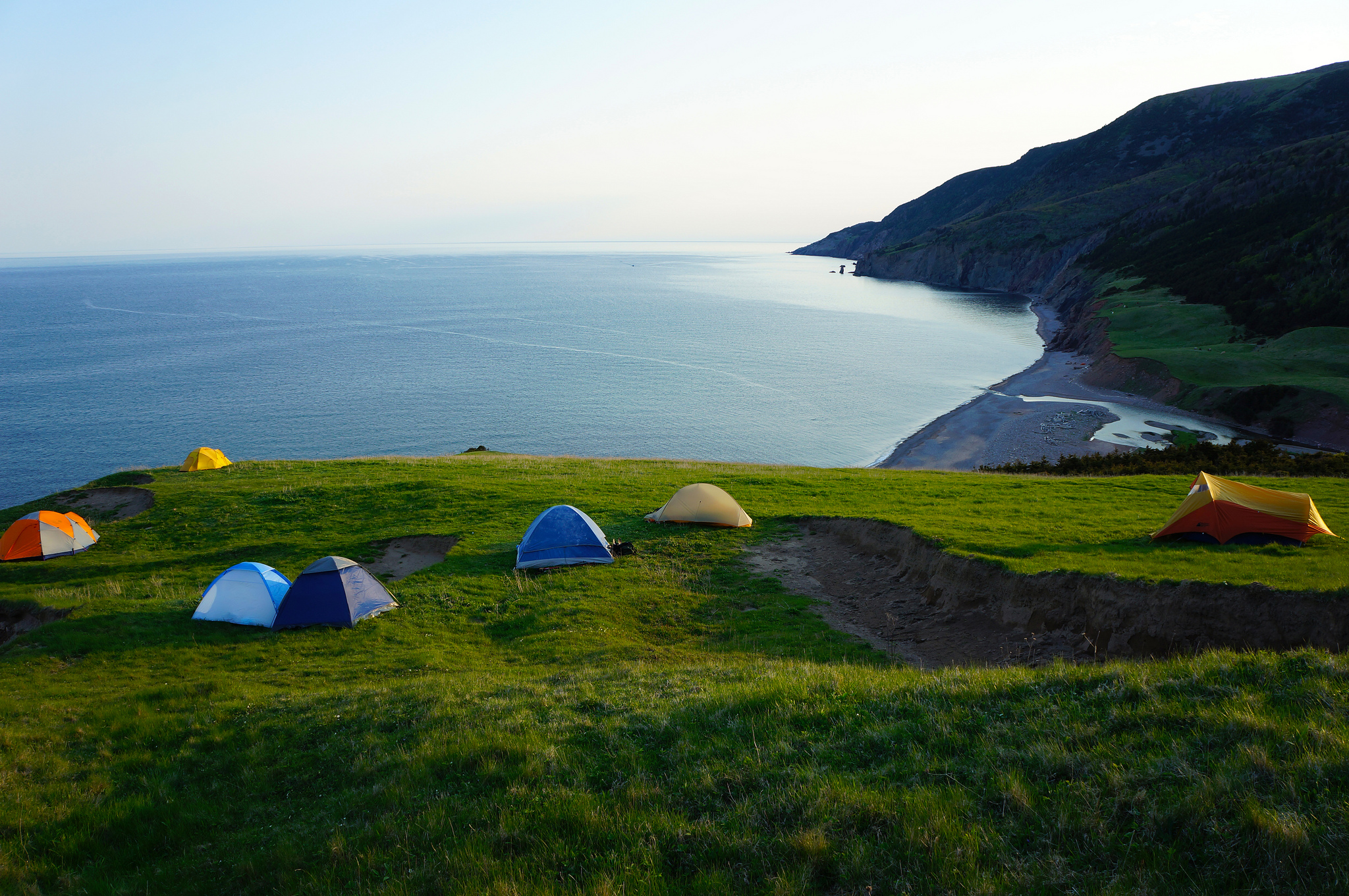 Image source Flickr
Author Bio:
Shawn Michaels is a blogger who loves to write about his outdoor experiences. He is also a passionate rock climber and loves traveling. Currently, he is studying and spends his free time reading reviews and gear shopping! He regularly blogs at Thesmartlad.com.
Banner image source Flickr